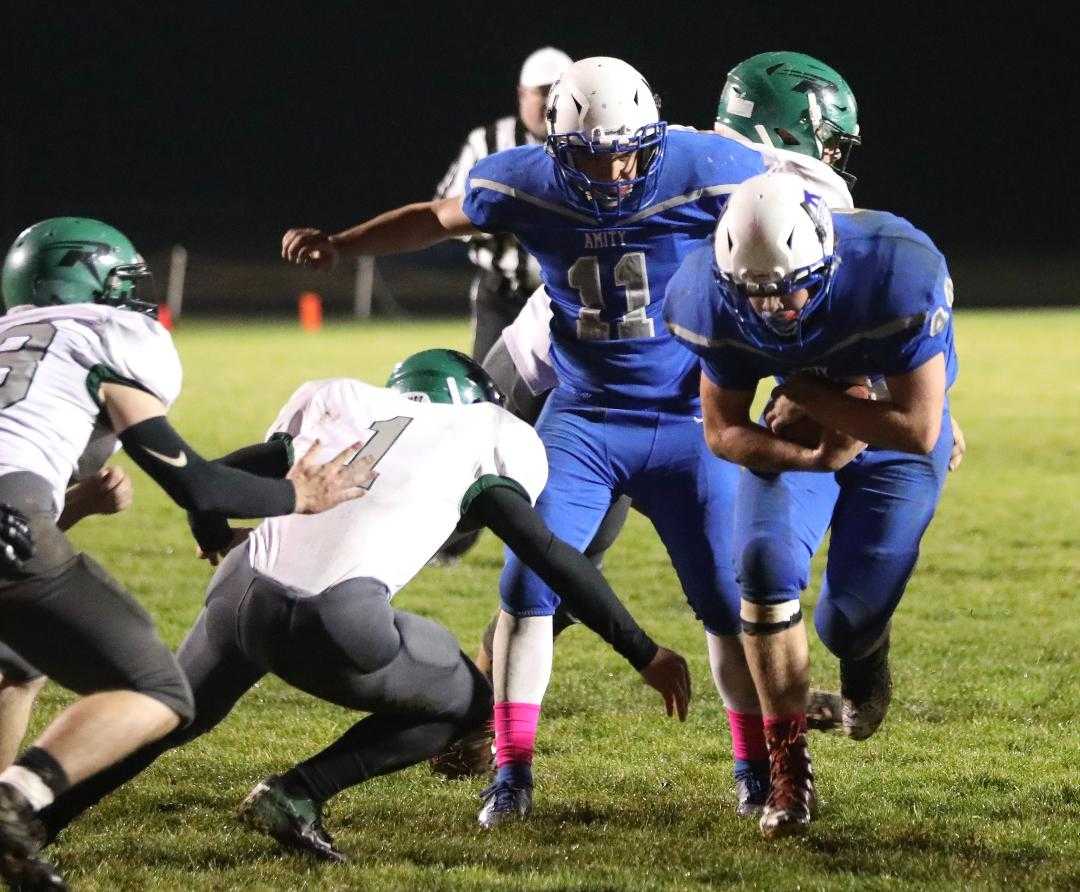 AMITY — It took one year, 46 minutes and 23 seconds to do it, but Amity finally found the cure for one of the biggest migraines in the school's football history.
It happened with 1:37 left in the Warriors' 3A bashfest with defending state champion Rainier on Friday night, when Warrior sophomore linebacker Enrique Martinez dragged Columbians' quarterback Kenney Tripp down on the Rainier 41.
The tackle killed Rainier's last offensive thrust and sealed third-ranked Amity's 24-20 victory over the seventh-ranked Columbians in a 3A Special District 1 West division game. But on a bigger scale it erased the sting of the two schools' epic clash last year, when the Columbians overcame an eight-point deficit in the last 2:24, then beat the Warriors 60-54 in overtime.
Well, sort of.
"I don't think this completely makes up for last year," said Warriors senior back Cody Dyche, whose five-yard touchdown reception from quarterback Keenan Graham late in the third quarter proved to be the game winner, "but this was more than a game for us. We were playing for last year's guys, too."
Indeed, both teams are entirely different this year. Rainier lost the bulk of the hulks who ran the team's pet "diesel" blast play at everybody and never found anybody to stop it.
Amity, too, lost big: 16 seniors.
But the depth of the rivalry is cavernous. There's a great deal of mutual respect between the two programs, not for the least reason that they both like to play the same way: Smashmouth ball out of two different philosophies.
The game was about as even as two teams can get. Each scored three touchdowns; the difference in the scoring was that Amity made all three of its two-point conversions while the Columbians made only one. Amity (6-1, 3-0) ground out 235 yards on a slippery field; Rainier (5-2, 1-2) managed just 215.
So somebody had to step up and make some plays. Somebody — on both sides — usually did.
Amity took an early command of the game with a 13-play, 60-yard, all-run drive that chewed up most of the first quarter clock. It ended when Russell Brown crunched in from a yard out.
So far, so good. But the home team hit a couple of special-team snags that yanked the door open for the visitors. The first was a punt that ricocheted off of a Warrior blocker and went over to Rainier at the Amity 23.
It took the Columbians just one play to tie the game. Tripp, operating out of the shotgun, took the snap and went back two steps — then he came right back up the middle and wiggled past every available tackler to tie the game.
A word about Tripp. He's only a sophomore and not at all like his older brother Joey, who quarterbacked last year's game. Joey was a wrecking ball who ran right at everybody and dared them to tackle him. Few did.
Kenney is smaller, maybe quicker, more elusive and harder to get a handle on. But he's just as dangerous.
"Kenney," observed Dyche, "is a great player."
Rainier got the lead when they drove 70 yards in 12 second-quarter plays, the last of which was a scramble by Tripp that ended when he threw into the corner of the end zone to Payton Smith for a 10-yard touchdown and a 14-8 lead.
There was only 3:03 left in the half when Amity got the ball back, but they needed something they hadn't show up to that point — a passing game — to get back in the game.
Turns out they do have a passing game. Graham, a junior, hit his biggest target — 6-6, 195-pound Josh Wart — twice in the clutch.
Wart caught a 19-yard pass on fourth down to the Rainier 43, then a play later sent Wart down the middle and hit him with a 35-yard touchdown pass with 18.5 seconds left in the half.
It was a big lift for the struggling Warriors. It not only gave them a 16-14 lead at the break, but gave them a jolt of confidence.
"That," Graham said, "was really, really big."
But it came at a cost. Wart is the Warriors' most versatile player on both sides of the ball — he ran the ball, caught passes, and is hard to block as a linebacker. He also lines up at free safety on passing situations.
But on the touchdown play, he suffered a shoulder injury and didn't come back out for the second half.
Still, Amity moved out to a 24-14 lead on Graham's pass to Dyche, and needed it big-time. Rainier scored with its last bullet on David Katon's short run with 7:56 left, but Amity held onto the ball until the Columbians were left with neither the time nor the time outs to stage one last comeback.
"That was so, what's the word, satisfying," said Brown, whose 67 hard-fought yards led both teams. "I have a pretty good sense when we're in trouble and when we're not, but I felt safe the whole time tonight."
He still wonders about last year.
"If we'd won at Rainier," he said wistfully, "we would have had the No. 1 seed and maybe have won the championship."
Friday night was not last year, though, and the pound of flesh was more than good enough.
-- Norm Maves Jr.