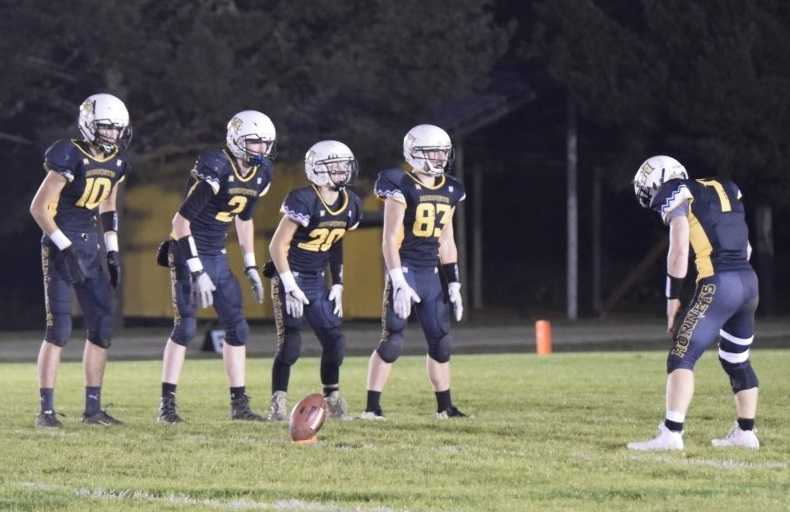 The Camas Valley football team finished off its third consecutive perfect run through 1A Special District 2 last week with a 68-22 win over Glendale.
The Hornets (7-0, 5-0), who have won 15 in a row in the district, have a bye this week before playing host to a first-round game. They are ranked third in the OSAAtoday coaches poll and fourth in the OSAA power rankings.
Camas Valley is led on offense by guard Max Brown, running back Jared Hunt, tight end Tristan Casteel and quarterback Jared Standley. The offense averages about 250 rushing yards a game, with Hunt leading the way with 130 yards per game. Casteel is the leading receiver.
The top defensive players are Hunt at middle linebacker, Collin Ewing at outside linebacker and Brown at defensive line.
"The key is how our defense is doing. We work really well as a team," Hunt said. "The biggest thing is that we've worked on the outside sweeps and have a good flow and can cut it back. We work really well on defense."
The Hornets are averaging 61 points per game. Their defense gives up 10 points per game, second among eight-man teams behind Hosanna Christian (3.0).
Camas Valley has high hopes for the postseason after losing in the quarterfinals last year.
"We're hoping to play St. Paul in the third round and make it a really good game," Hunt said. "We have the ability to make it to state championship this year. Our defensive coach, Pete Dancer, said we're as good as the team that won the title in 2011. We have the ability we just have to execute and do it."
Thursday's game against Glendale was played under temporary lights at Camas Valley, marking the first night home game in school history. The Hornets bolted to a 60-0 lead in the first quarter.
"The lights were really cool," coach Keri Ewing said. "We had talked about it at the beginning of the season. We then decided not to, however because of scheduling issues we had to move our game. We had to do it on Thursday night so that we could get refs. It was a great turnout."
Added Hunt: "It was pretty cool making history, something we've never done. It was exciting, although it was cold. It was fun for a lot of people, having the first night game under the lights."
Ewing is in his first year as head coach at Camas Valley, taking over for longtime coach Eli Wolf, who won two state titles. Ewing returns to his alma mater after coaching at several schools.
"The keys to the undefeated season have been a great group of hard-working kids," Ewing said. "We have stayed healthy, and the program here has been run very well for the past 19 years."
Camas Valley played six-man football until switching to eight-man in 1960. The Hornets won state championships in 1963, 1964, 1980, 1990, 2011 and 2012.