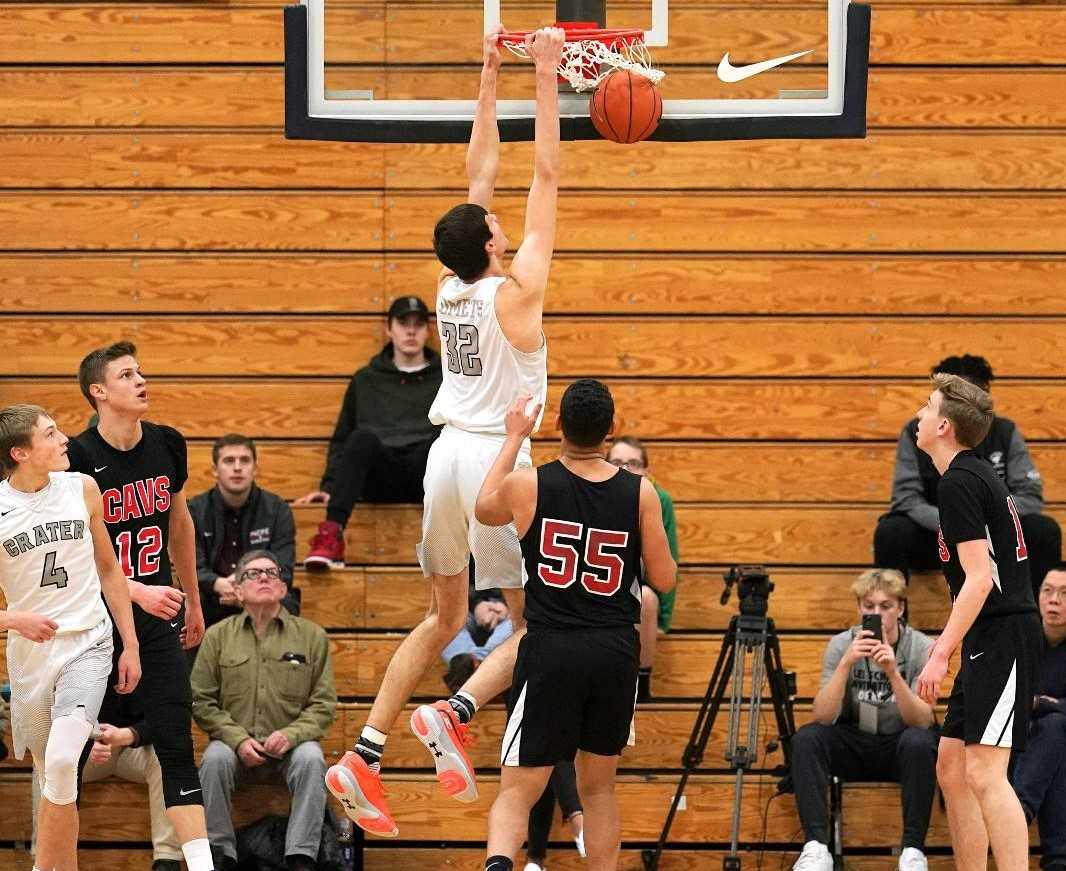 HILLSBORO -- Crater's boys basketball team came to the Les Schwab Invitational to gain some respect.
The 5A No. 3 ranked Comets earned it with a 71-54 victory over 6A No. 9 Clackamas in the first round of the 24th annual tournament at Liberty High School. Crater (4-1) broke open a close game with eight straight points to begin the fourth quarter, holding Clackamas (2-2) to one made field goal in the final stanza.
"We came up, because we want respect on our name at Crater," said Comets junior Nathan Bittle, the No. 13 ranked player in ESPN's class of 2021 rankings. "A lot of people overlook us. I think we are one of the best teams in Oregon, 5A, 6A, or whatever level."
The 6-foot-11 Bittle showed off an array of skills that make him the top-ranked player in Oregon. Bittle had three dunks early in the first quarter to get his inside game going, then drained four long three-pointers in the second half on his way to 41 points. Bittle also had 14 rebounds and three blocked shots.
"I like to try to start scoring inside-out," said Bittle, who finished 18 of 25 from the field, including 4 of 10 on three-pointers. "I got a couple dunks, then the and-one. Once I got my free throw down, I started to move outside."
Ben Gregg, a 6-7 junior for Clackamas ranked by ESPN as the No. 33 prospect in the class of 2021, had not practiced all week and is still nursing a sprained ankle. Gregg played through the injury and was active early, scoring nine points in the opening quarter and getting two early fouls on Bittle. But Clackamas couldn't capitalize as Bittle sat for the final three minutes.
"I think fatigue set in," Gregg said. "We came out with great energy, but as the game progressed, we got tired and our energy went flat. I think some of our guys gave up, which was tough to see, but hopefully we bounce back tomorrow."
After the two early fouls on Bittle, 6-6 senior Kruger Edwards picked up the assignment to defend Gregg. Edwards more than passed his test, as he held Gregg to 10 points in the final three quarters.
"He did a great job on Ben," Crater coach Chris Schmerbach said. "Kruger gets to guard this guy (pointing to Bittle) every day in practice and he's a pretty good player, so if you can defend him at times, you are going to be prepared to do some really good things. That's about as good defensively as I've seen Kruger play since he's been here. He did a tremendous job."
Said Gregg: "I wasn't expecting Kruger to guard me. That changed up the game plan. It was hard, because Kruger plays into me more and Nate plays off of me."
Crater held a 35-22 rebounding edge and had 22 assists. Six-foot senior point guard Jayden Vranes did a good job of penetrating and dishing for the Comets, finishing with a game-high 10 assists.
Ball movement has been a focus for the Comets this season.
"It was a big emphasis for us, the first three games and this week in practice," Schmerbach said. "We know if we move the ball around enough, we will get a good shot."
It was just another step on a journey that Crater hopes to end with a 5A championship this season.
"It was a great team win," Schmerbach said. 'If we want to get where we want to go, we have to have lots of guys doing things. Obviously, Nate is going to do his thing every night, because that is what we expect him to do. Other guys stepped up and played really hard on both ends of the floor tonight."
Crater advances to a quarterfinal against 6A No. 2 Jefferson at 5:30 p.m. Friday. The Comets are eager to test themselves against top competition.
"We picked this schedule this year, because we want to challenge ourselves, push ourselves and see what were made of," Schmerbach said.
Clackamas, with five junior starters, will get another shot at Crater when the teams meet again during the MLK day tournament on Jan. 20 at Portland State University.
"Hopefully we bounce back and show what we can do," Gregg said.
Gregg finished with 19 points, four rebounds and four steals. Junior Damon Erickson added 15 points and five rebounds for the Cavaliers, who shot 37 percent, including 3 of 20 from three-point range.
In addition to his strong defense, Edwards finished with 10 points, six assists and five rebounds. Junior Hunter Chubb added nine points and four rebounds for the Comets, who shot 58 percent, including 8 of 19 on three-pointers.