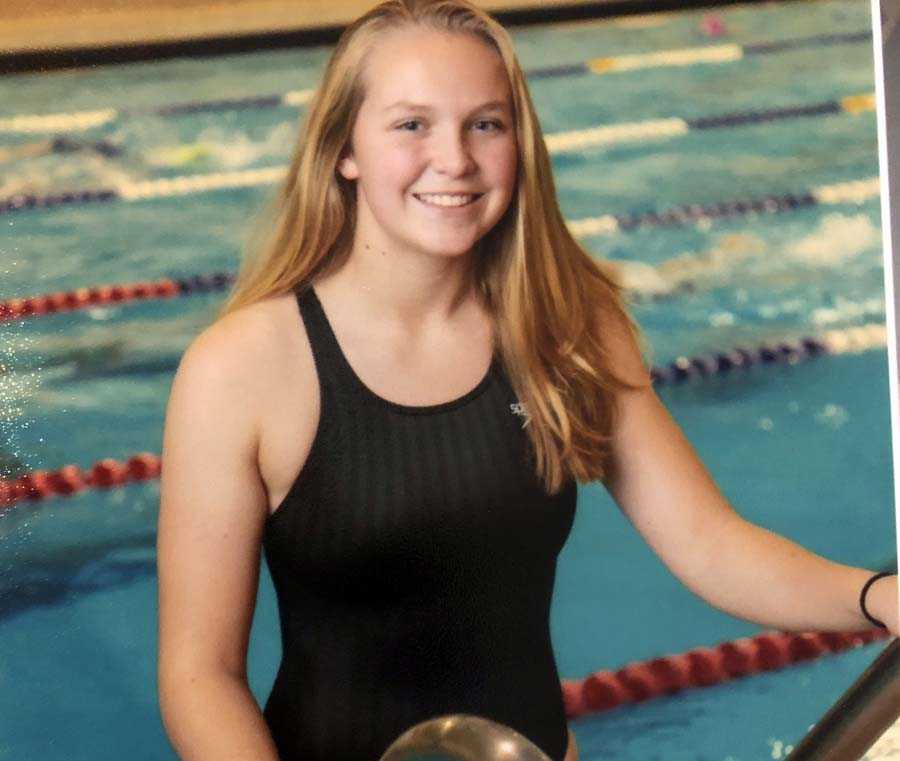 [Editor's note: "Take Five" is a recurring feature designed to offer a quick look at some of Oregon's most interesting high school sports standouts. Today, we meet Sammy Halferty, a senior at Taft HS in Lincoln City. Halferty has been swimming for 11 years and is a four-year varsity swimmer who twice has been to the state meet. She hopes to go again as a senior in the 100 breaststroke and 200 freestyle. We asked Halferty to answer five questions from the 25 we sent her way. This is how she responded…]
OSAAtoday: What kind of coach gets the best out of you as a swimmer?
Sammy Halferty: I need a coach who is going to give me something to do constantly. If I stop working for too long, I lose my motivation in practice and tend to goof off. I need a coach who is really good about keeping me motivated and in the best shape I can be. I need someone knows when I should take it easy and when I need to push myself, someone who's not afraid to yell at me when I need to get moving and a coach who can tell me what I'm doing and how I can improve my swim. Luckily, I've had that coach for the last 11 years and couldn't ask for better.
OSAAtoday: What Olympic sport do you think you'd be the worst at and why?
Halferty: Gymnastics, especially the balance beam. It's mesmerizing to watch, but I know for a fact that I'd break something trying to do what those Olympians do. I don't have very good balance and gymnastics takes a lot of practice and grit. Props to the gymnasts!
OSAAtoday: What about going to college scares the bejeebers out of you?
Halferty: Starting towards my goal and losing motivation. I can handle living on my own and managing my time and money, but the idea that I could throw away my dream because it's "too much work" or I just procrastinate working towards it until it's too late...that is the scariest part of college for me right now.
OSAAtoday: What is your favorite class in school and why?
Halferty: I'm taking a psychology class right now and I never knew just how fascinating the mind is until now. I feel like I've learned so much in this class and I'm interested in the subject because I can apply it to everyday life.
OSAAtoday: What is the most interesting or unusual thing about you?
Halferty: My freshman year, I went on a medical mission trip to Kenya and got to stay on a University campus. There was a hospital on the site and we worked there trying to provide as much free medical attention as we could in the short time we spent there. I worked mainly in the pharmacy or the eye clinic. It was really exciting to give glasses to people who needed them and never had any until then. I worked with some of the college students at the school and made some really good friends while I was there. I'm really happy that I went because that was one of the most moving experiences for me.
Read other Take Five articles published in connection with the 2019-2020 school season:
South Umpqua outside hitter Shalyn Gray
Lincoln distance runner Mia Kane
Madras football player Treyvon Easterling
Gladstone soccer player and cross country runner Derek Johnson
Canby soccer standout Ruby Kayser
Exceptional Scappoose athlete Emma Jones
Siuslaw harrier Brendon Jensen
Wilsonville volleyball attacker Lindsey Hartford
Lake Oswego runner Brogan Deem-Ranzetta
St. Mary's Academy long distance runner Fiona Lenth
Heppner hooper Madelyn Nichols
Sherwood swimmer Hunter Stewart
South Salem swimmer Julian Melton
West Albany swimmer Taylor Kelley
Wilsonville wing Keegan Shivers
Stanfield / Echo wrestler Kaitlyn Lemonn