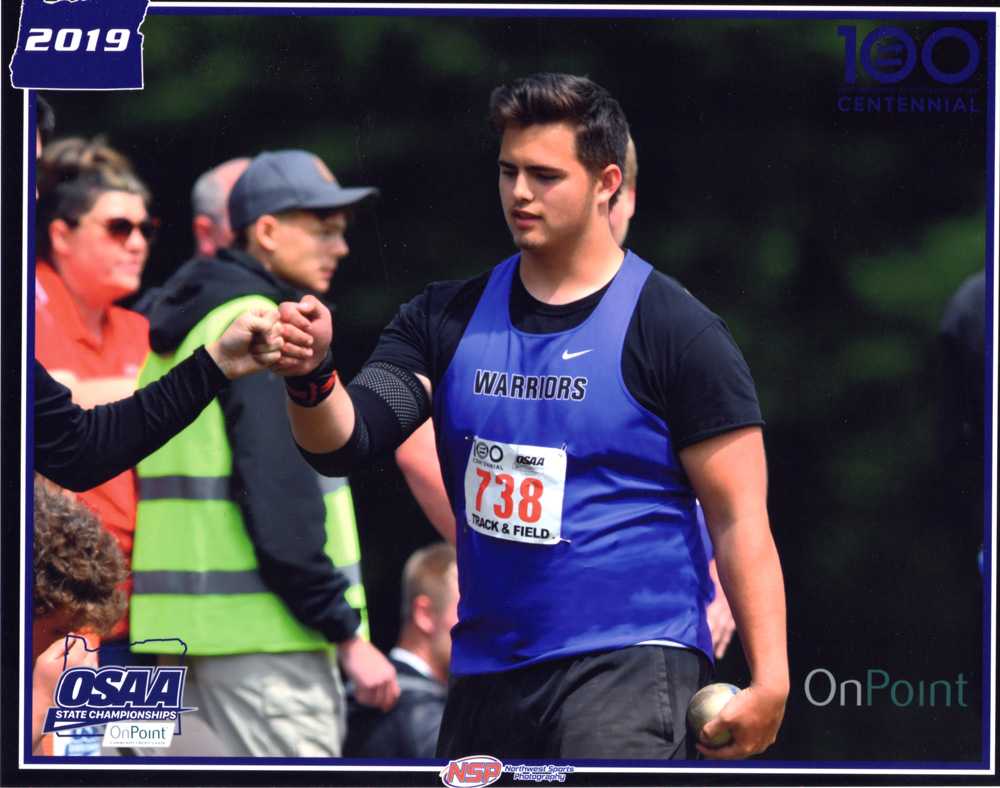 [Editor's note: "Take Five" is a recurring feature designed to offer a quick look at some of Oregon's most interesting high school sports standouts. This spring, Take Five will focus exclusively on seniors, whose final high school seasons have been canceled by the coronavirus. Today, let's meet Mark Warren from the coastal town of Warrenton. Warren is a highly successful field athlete for the Warriors and the reigning 3A state champion in the shot put. Warren also finished fourth at the state tournament in discus and third in javelin as a junior, a year in which he was district champion in all three events. He also has recently started throwing the hammer! We asked Warren to pick five questions to answer from the 25 we sent him. Here's what we learned…]
OSAAtoday: What was your first big success as an athlete and how did it impact you?:
Mark Warren: My first big success happened when I was a sophomore at The Meet of Champions, which is a meet where the top athletes in the state compete against each other. That's where I set our school record in the javelin. I had been striving for it for a long time, worked really hard pre-season in order to achieve it, and eventually it paid off. It was a really big moment for me.
OSAAtoday: What Olympic sport do you think you'd be the worst at and why?
Warren: I believe I'd be the worst at gymnastics because I don't believe I'd have nearly enough control or balance that most of those athletes have.
OSAAtoday: When the lights are out and you're just about to fall asleep, what do you think about it?
Warren: When the lights turn off, I think about tomorrow. When I don't know what will happen tomorrow I think about yesterday. If yesterday wasn't that good of a day I think about how I can make tomorrow better than yesterday.
OSAAtoday: What is your favorite class in school and why?
Warren: My personal favorite class would have to be physics. I find it very interesting, and I enjoy the capability it has with hands-on learning where you can see what you're learning happening in front of you.
OSAAtoday: Tell us about a specific failure and how you learned from it.
Warren: I failed at state my sophomore year. It was the first day of competition, and I was going to be throwing the shot put that day. I wasn't very confident in my capabilities as a shot putter, and I didn't want to look stupid in front of the crowd and the other guys I was competing against. Due to this need to not look stupid, I ended up not placing at state when I could have easily secured a position if I was confident in myself. I came to understand what I was trying to avoid only made me look dumber than if I just went all out. After that day, however, throughout the rest of my high school career I never really cared about looking stupid again. The next day I was competing in the javelin and I only focused on doing the best I could, and it paid off I was able to come out with second place. This was a valuable lesson that I learned. Although I wish it didn't happen I'm glad I was able to benefit from it.
Read other Take Five articles published in connection with the 2020 spring season:
Monroe softball pitcher Tyler Warden
North Salem sprinter Maliyah Thompson
La Grande catcher Logan Paustian
Lake Oswego thrower Parker Williams
Lakeridge netter Nicole Rogers
Westside Christian sprinter Alvin Lai
Stayton softballer Emma Heuberger
Westview outfielder Maddie Curaming