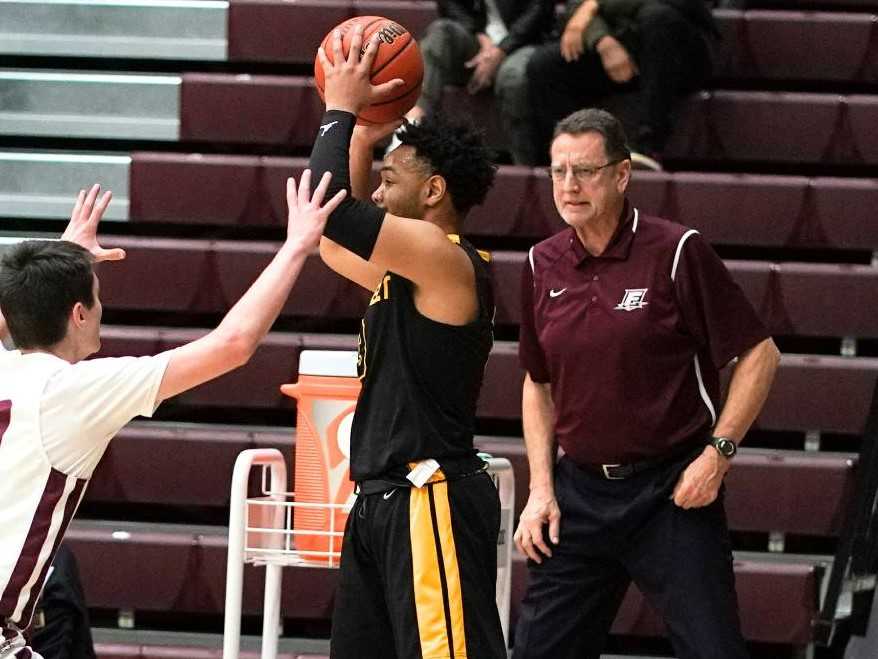 Scott Aker knew his time as a basketball coach was ticking down in 2017 when he returned to take over the boys team at Franklin, where he first became a head coach in 1991.
Still, the end of his 36-year coaching career – made official by his retirement announcement this week – came more suddenly than he had anticipated.
"I'm 67, and the thought of this pandemic that's going on, do I really want to be out among a bunch of high school kids, and I don't know if they have it or not?" Aker said. "That was part of it. The other part, it's a young man's game in terms of energy level."
Would Aker have come to his decision if not for the coronavirus crisis?
"I probably would have come back for one more year," he said. "I have a couple of kids that are just solid kids that need some direction and motivation, and I felt really bad leaving them. I probably would've made it through this next year's senior class if there were no health concerns."
In 29 seasons as a head coach, Aker compiled a 351-347 record. He went 77-78 in seven seasons in his first stint at Franklin (1991-98), 245-225 in 19 seasons at Wilson (1998-2017) and 29-44 in three seasons in his return to Franklin (2017-20).
In 2008, his Wilson team shared the Portland Interscholastic League title with 6A champion Grant, splitting with the Generals in league play. He led Wilson to the state tournament in 1999 and 2009.
Aker, who served as athletic director at Franklin (1994-98) and Wilson (2006-14), retired from teaching in 2014. He landed back at Franklin after a conversation with the school's athletic director, Scott Santangelo, at the 2017 state tournament.
"I'd always had kind of a special place in my heart for Franklin," said Aker, who coached in the programs at Milwaukie (1984-86) and Marshall (1986-91) before taking over at Franklin. "They saw something in me, gave me the opportunity."
Aker hired Jon Koch, who assisted him in his first stint at Franklin, to rejoin him on the bench. Franklin finished 2-22 in Aker's return in 2017-18, but improved to 14-11 and 13-11 the last two seasons.
"It was kind of like you never left," Aker said. "To me, it's the best way I could think of to end my coaching career. The Franklin community is a really strong community. When I came back, the basketball program was in a little bit of a rut. So I jumped on board with that."
Santangelo credited Aker with getting the Franklin program headed in the right direction.
"Hopefully we can get somebody to take that needle and move it forward from where he left it," Santangelo said. "It's in a great place. He's got great kids coming back, and he's set them up."
Aker told his six returning varsity players of his retirement on a video call Wednesday.
"I wanted so bad to talk to them face to face," Aker said. "We teach our kids to look people in the eye when we talk to them. It was really difficult for me. I tried to get through it without crying."
Throughout his career, Aker said, his players did more for him than he did for them.
"The best part of my day was going to practice," he said.
Santangelo said the school will miss Aker's professionalism and commitment. The program's cumulative GPA of 3.54 this year reflected on Aker, according to Santangelo.
"The team structure and culture he brings is unbelievable," Santangelo said. "He's just the kind of guy that when the game's over, he won't leave until everything is put away. Attention to detail, responsibility, setting a complete culture for the kids to infect the building in a positive way. An adult walks by, they shake their hand.
"He's been great for Franklin. He does it right. I've been lucky enough that he's a mentor to me."
Aker grew up in Oklahoma and Montana and graduated from high school in Rapid City, S.D. He spent six years in the Navy and was discharged after an assignment on Swan Island.
"I had really grown to like Portland," he said.
The 6-foot-5 Aker did not play basketball in high school, focusing on football and baseball. He played basketball in the Navy and made the team at Portland State as a freshman walk-on at age 27. He followed that with one season at Clark College and two seasons at Concordia.
Among the outstanding players Aker coached at Wilson were Chris Rodgers (Arizona), Ian Anderson (UNC Charlotte) and Trevor Ritchie (Colorado School of Mines). At Franklin, he coached sharpshooting guard Nate Williams (Whitworth).
Aker coached both of his sons at Wilson, Cody and Gage, who graduated in 2004 and 2008, respectively, and went on to play at Concordia. Cody is the athletic director and boys basketball coach at Gladstone; Gage is a police officer in Irvine, Calif.
Aker said he and his wife, Karen, plan to spend plenty of time with their four grandchildren.
"I'll kind of move on to the next step," he said. "We want to get out and do some traveling. I might do some scouting for Cody."