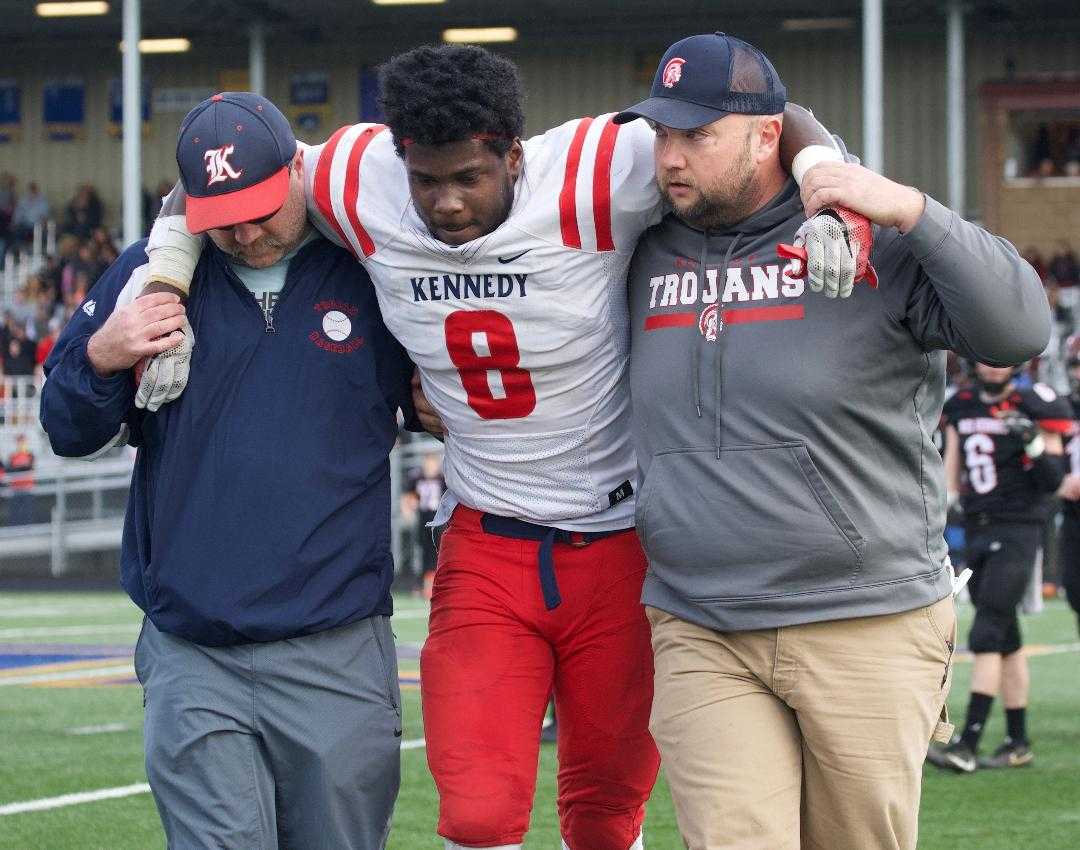 On Nov. 24, 2018, everything seemed to be going just perfectly for Emorej Lynk.
The 6-foot-3, 210-pound running back had rushed for 140 yards and two touchdowns in the first half of the 2A football final, helping lead Kennedy to a 28-0 lead over Santiam.
The state championship performance was going to be the exclamation point to a spectacular junior season for Lynk, who was being recruited by Pac-12 and Big Sky college programs.
Then, in an instant, his world got turned upside-down. On the last play of the first half, Lynk went down in a heap at the end of a 16-yard run.
"There was no contact. I just planted wrong and twisted my knee," said Lynk, who rushed for 1,585 yards and 23 touchdowns in 2018. "I didn't think it was serious. When I got off the field, that's when the pain started hitting me."
It would be the final play of Lynk's high school football career. He was carted to the locker room, did not play in the second half of the Trojans' 31-20 win and was diagnosed with tears of his ACL, MCL and meniscus.
Lynk waited until the following February to have surgery, for insurance purposes, and after transferring to 6A South Salem for his senior year, he missed the 2019 football season. His once-promising college career hung in the balance as major programs, who had been intrigued by his potential as a safety and outside linebacker, backed off.
It took a while, but Lynk finally has charted his course, signing a letter of intent last week with Western Oregon University, an NCAA Division II program. It's not the route he had anticipated, but he believes it is the right place for him to make his mark.
"With the Division I schools not communicating with me, I just felt like Western was the place to be," Lynk said. "I've been there multiple times, and I like it."
Lynk said he has plenty to prove to the major college programs that passed him up.
"It kind of sucks for them, honestly," Lynk said. "I can't let up at all. I've got to go 100 percent, all the time. I've just got to have that killer mindset."
He said that prior to his injury, UCLA, Washington, Arizona and Utah State stopped by Kennedy to see him and Montana State, Weber State and Portland State stayed in touch. After the injury, "it started dying down," he said.
"Oregon State was the last school really talking to me," Lynk said. "They were still talking to me after the football season at South Salem. But once basketball season started, they stopped communicating with me."
Lynk said he was healthy enough to play at the end of the 2019 football season for South Salem, but when the Saxons struggled at the end of the year, missing the playoffs, he opted to focus on basketball.
"I was hopeful to get back to playing last season," he said. "When they lost their last couple games, I was like, 'It's not worth trying to play or practice with them.'"
His explosiveness had returned and he was dunking two weeks before the basketball season. He was a starting guard for a South Salem team that took a 23-3 record and No. 2 seed into the 6A tournament, which was canceled on the day of the quarterfinals due to concerns about the coronavirus.
"Basketball, I feel like it was a really good test for me," Lynk said. "I took my rehab serious, and it really paid off. I was moving pretty good, honestly."
Lynk said he now is up to 6-4, 220, and his knee is holding up just fine in workouts.
"I've been doing a lot of activities without my knee brace, and it feels fine," he said. "It's not giving out at all. No regression or anything."
Now Lynk has the summer to prepare for what he hopes will be a breakout freshman season at Western Oregon, provided there is a season. Much remains up in the air, including where Lynk will line up on the field in his first game back.
"If I would've went Pac-12, they would've put me at safety or outside linebacker," he said. "I don't think I would've been a running back because of how tall I am. But Big Sky schools, like Montana State, they wanted me at running back."
Lynk said that Western Oregon has left the decision up to him.
"I've got to see where I want to play," he said. "I would go for running back or linebacker. I kind of told them, wherever they need me. I can play any position, it doesn't really matter."