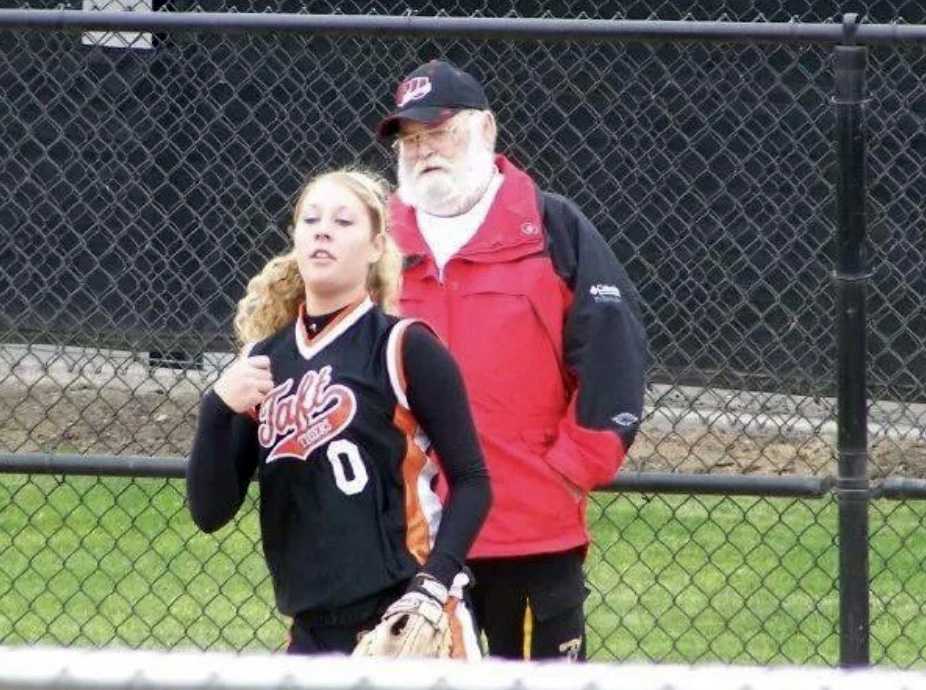 Ashley Birdsong had the kind of career that is beyond the imagination of most Oregon high school softball players. Playing for 3A Taft High School in Lincoln City from 2002 through 2005, the pitcher won 77 games and lost just 14. She tossed 62 shutouts and 22 no-hitters. "Birdie," as she was called, had a career earned run average of 0.17 and struck out more than 1,300 batters while walking only six! She was First Team All-State all four years, twice Oregon's Gatorade Player of the Year and, as a senior, led Taft to its only state softball title.
Birdie, however, isn't known for those gaudy statistics and career accolades. She is known for this:
Fifteen perfect games.
15!
How impressive is that? The next highest career total in Oregon history is four, which was achieved by three players. Birdsong's career perfect games total is equal to the combined totals of the next four pitchers in the Oregon state record book!
***
Birdsong grew up around pitching. Her grandparents had a pitching school in Southern California called "Birdie's School of Fastpitch." Birdsong inherited more than her grandpa's nickname; she inherited his love of pitching and his talent, too.
"I grew up around pitching, but did not grow up around the game of softball," Birdie said. "So until I started playing in the local city league, I actually didn't realize that there was more to the game than pitching!"
Having a great teacher and an immense love of the game provided a wonderful foundation for Birdsong.
"Grandpa would always say each day was a chance to be better than you were yesterday," she said.
Birdie's grandpa was very competitive. It's another trait she comes by honestly.
"He would always tell me, 'I don't care if it's me up there in the batter's box, you better strike me out,'" she recalled.
***
Birdie threw her first perfect game at Taft in her freshman year, then threw an astounding eight as a sophomore. That total ties her for third all-time nationally in a single season. She doesn't remember her first perfect game but remembers the day she first achieved perfection by striking out all 21 batters in a game, something she did twice in her career.
"That was something my grandfather had always talked about wanting to do as a pitcher and coming close, but not quite doing it," she recalled. "So the perfect game when I had 21/21 strike outs I do remember that. And when it was over I just remember feeling relieved! And excited! I couldn't wait to go and give my grandpa a hug!! Right as soon as the game ended I ran over and gave him a big hug!"
Birdie said that her prodigious strikeout totals didn't come from having overpowering stuff.
"My grandpa taught me not to focus on speed but to focus on spin," she said. "So I had a lot of different pitches and was able to make the ball move in any direction. He also emphasized accuracy. Movement and accuracy were huge components in being successful. And being competitive probably helped a little, too."
Birdsong went into her senior year having already thrown 10 perfect games and added five more to that total.
"Throwing a perfect game is not only about you as a pitcher but also about the team that you have behind you," she said. "A perfect game is about controlling batters as a pitcher, but it also about your team having your back. So without my teammates playing errorless softball behind me there would be no perfect games. So I am thankful that each one of my teammates always gave it their best effort and left it all on the field. I knew that if the ball was hit each one of my teammates would do everything that they possibly could to make that play. So I feel blessed to have been a part of something that was truly special."
Birdie capped her career by leading Taft to the 3A state title in 2005. She didn't throw a perfect game or even a no-hitter in the Tigers' 6-0 win over Cascade. But she went the distance, yielding just two hits while striking out eight and walking no one and that was more than enough.
"Winning state was indescribable," Birdie said. "It was something that we had been working towards each year and each year we got closer. "What a great way to complete a high school career. It was something not only all of my teammates worked hard to achieve, as everyone played a part and a role in getting us there and ultimately winning the state championship, but also the coaches, Tom Trunt and Jerry Palmer. They worked hard with us day in and day out. It was like a dream come true; an experience I will never forget."
***
Birdie went on to Bradley University in Peoria, Illinois. She led the Braves in strikeouts all four years and, in 2020, was named to the Bradley University Hall of Fame! She currently lives in the Sacramento area and still pitches competitively, in a men's fastpitch league. She is married, with two step-children. The youngest, Katie (15), plays softball. She plays catcher.
"It fits her personality," Birdie said. "She's a bulldog."
Birdie added that Katie's been going back and forth about whether to try her luck in the pitcher's circle.
"If she wants me to teach her how to pitch, I'm available," she said.
***
Are Birdsong's 15 perfect games an unbreakable Oregon record?
Thurston coach Heather Holte said she was surprised to learn the record was "only" 15 because of all of the amazing pitchers the state of Oregon has produced over the years.
High school softball coaches wear many hats, she said, and often don't focus on keeping all stats and records.
"I can't speak for all high school softball coaches, but shutouts, strikeouts, wins, ERA and no-hitters are about the only stats on my pitching radar. So with all that I think the 15 perfect career games will stand as it's a stat that tends to get overlooked."
"I would say this record would definitely go untouched unless we get a once in a generation pitcher coming through our state," noted West Albany coach Ryan Borde. "Travel ball has become more prominent since Ashley's time and there are so many more girls playing softball nine to 10 months out of the year. The talent level in Oregon and throughout the country has been raised significantly as girls devote more year-round attention to the sport. That is not to take anything away from Ashley's record, because it is a remarkable feat that I don't think we will ever see matched."
Western Christian coach Greg Loyd said that while it was unlikely that anyone would approach Birdsong's mark, the record should not be viewed as unbreakable.
"If you had a girl - obvious D1 or D2 pitching prospect as a freshman at a small school - 4A or below - and she doesn't get tempted to transfer to a larger school, I certainly could see her dominate and throw quite a few perfect games - especially if they had no other viable options at pitcher on her team," he explained. "She would only need to average 4 per season and you would think she would get better each year. Knowing that she would pitch league games in the small school level she would have ample opportunity to throw against schools that may not have a single player who plays even low-level summer ball. The things that could get in the way are the quality of the defense behind her and her control."
*This is part of a summer series…Mondays…
Read the other articles in the series…
The day Rainier terminator Breana Edwards shattered the single-match kill record