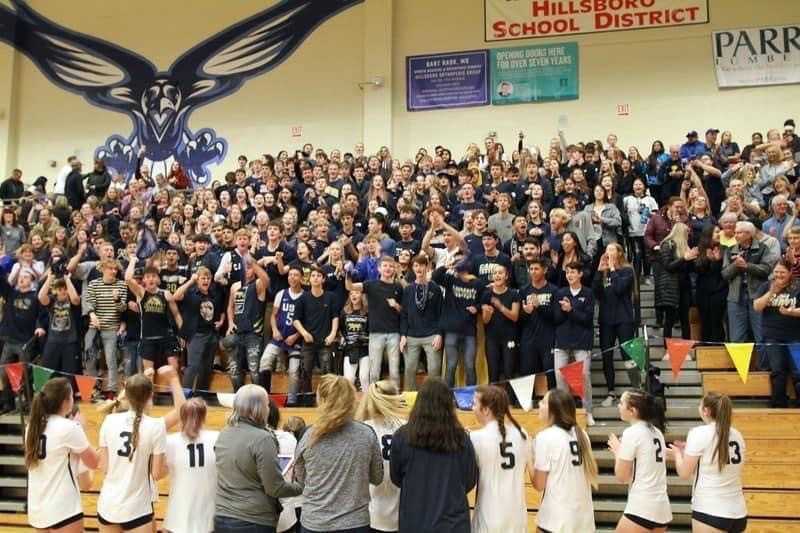 Defying Expectations
By Ruby Kayser, captain and setter, Canby volleyball
My favorite memory of high school sports happened at the end of my senior season of volleyball this year.
Our expectations at the beginning of the year were honestly pretty low. In most of our minds, we would probably get 3rd or 4th in the league (if we were lucky), make the playoffs and then lose in the first round. That was kinda the norm. Every year since I was a freshman we had lost in the first round, which was still making the playoffs, so usually everyone was happy with that.
Last fall, with lots of hard work, determination, and team camaraderie, we made the state tournament for the first time in over ten years. We were the 11th seed and matched up against the third-ranked Mountainside High School in our first match. Mountainside was more athletically gifted than us and everyone expected them to win, so you could definitely call us the underdogs.
We lost the first set of the quarterfinal but it was pretty close. Then we got absolutely slaughtered in the second set, 25-11.
During the second set the Mountainside students must have thought they had the match in hand because they turned their attention to the other quarterfinal match being played on the court next to us. It was Central Catholic vs. Sunset High School. The Mountainside student section started to cheer for Sunset. That match ended in a quick three-set victory for Central Catholic. The kids from Central Catholic then started to cheer for us.
What happened next felt like it was straight out of a movie. The Central Catholic students came walking around the gym and started to fill in our student section, leading them in cheers and chants that helped give the Cougar fans more power and direction. The whole gym was rocking when they teamed up to cheer for us, which gave us the boost we needed going into the third set.
I remember looking into the bleachers and seeing the hundreds of Canby supporters joined by the Central Catholic fans. The bleachers were so full they looked like they might collapse. It was a sea of navy blue from the bottom to the top. They were still cheering loudly for us even though we had just got our butts kicked.
My head felt like it was under water; my ears plugged from the noise, I could barely hear myself think let alone call out the plays loud enough for my team to hear!
We all huddled up. I looked at my team and we all started laughing. It lightened the mood. Then we knew we had to get to work right away. We all looked into the crowd and realized that we couldn't give up that easy. All these people came to watch us play volleyball. We had to at least give them a good match. Finally, we settled down and started to play our game.
We ended up doing what seemed like the impossible: getting a reverse sweep. Down two sets to none, we won the next three sets in a row to win the match. I have never felt more proud of my team. I honestly don't think we could've made that comeback without the support that we had from our fans and a little help from Central Catholic. How could we lose with so many people cheering us on? Just the fact that so many people showed up to support us; it gave us the extra push we needed to make the comeback. I can't even put into words how big of an impact it made to see hundreds of "Cougar Faithful" up in the bleachers to cheer us on. It still brings tears to my eyes to think of that moment. It felt like a movie.
We wound up 3rd in the state, the highest Canby High School has ever finished. We were the underdogs that ended up becoming Cinderella at the ball! It was a memory that I will never forget.
**The best thing I have experienced (so far) in Oregon High School sports is a feature that will run every Friday during summer. Anyone wanting to submit an essay (no more than 600 words; current player or coaches preferred) may email their essay to johnt@osaa.org. We will publish the 12 best we receive.