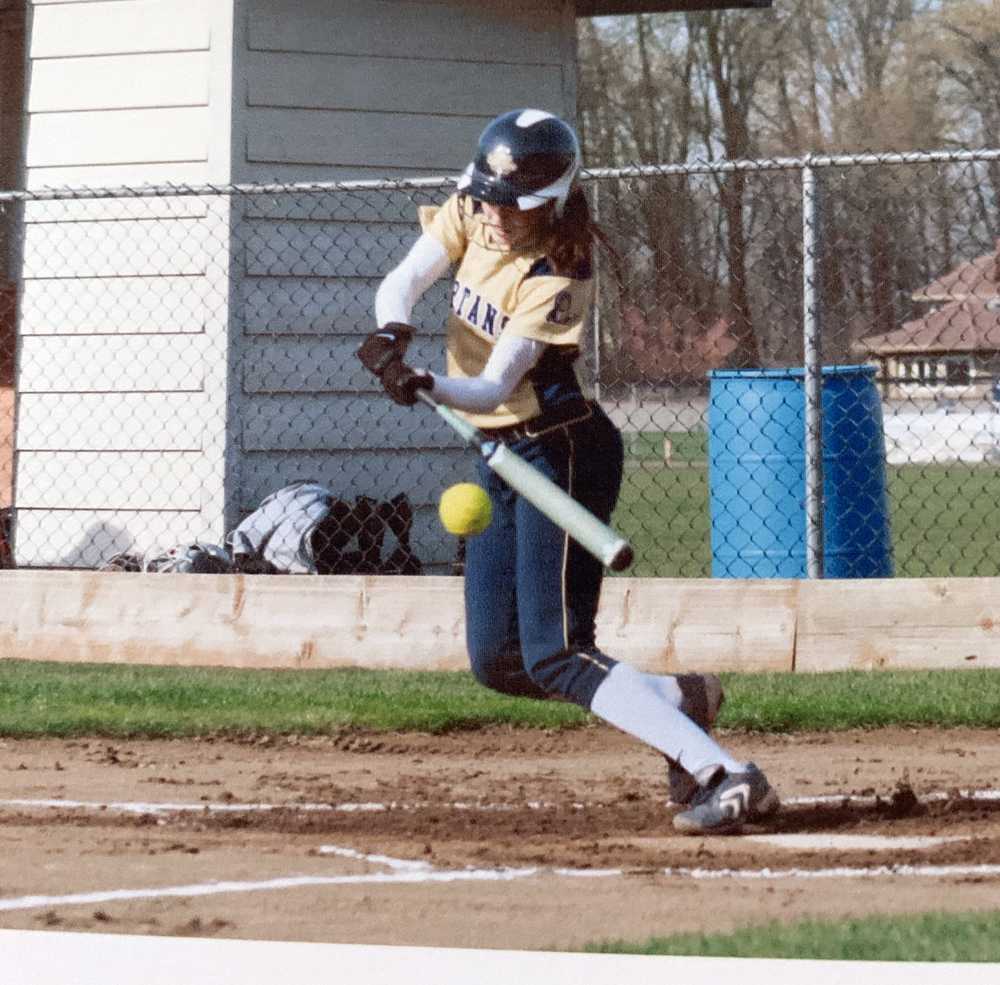 Before Kayla Braud first strode to the plate as a freshman leadoff batter for the Marist Catholic softball team in 2006, the national high school record for consecutive games with a hit stood at 46.
The swift, left-handed swinger broke that mark early in her junior year.
She never stopped.
By the time she was done, Braud had helped Marist secure two state titles and her hitting streak stood at 103 games, 57 more than the previous national record and almost double Joe DiMaggio's fabled 56-game baseball streak for the New York Yankees. ESPN Rise called Braud's streak the No. 1 record to break in high school sports.
"She was such an all-around talent," said Tom Mauldin, a legendary softball coach in Oregon and former national softball editor for MaxPreps. "She had speed, could drag bunt, slap hit and hit with power. That's a tough combination to defense."
***
Braud was born into a softball family. Her mother, Kelli, played softball at Louisiana Monroe and her grandfather, Bob Hammitt, was a premier travel ball coach. Braud was in the dugout watching her cousin, Chelsey, by the time she was a pre-schooler and was so invested in the game by age 10 that she transitioned from being a right-handed batter to a lefty stick to better utilize her blazing speed.
By the time she got to Marist, the expectations for Braud were sky high. She raised expectations even further by going 3-for-3 as the Spartans' lead-off batter in each of her first two games.
Braud batted first her entire high school career, a spot in the lineup that she said suited her personality.
"I love it," she said. "I want the pressure on. To be a good leadoff hitter you have to be fearless and hungry and believe that you are better than the pitcher. I know my job is to set the table. I know my job is to have a quality at bat and to give information [about the pitcher] back to my teammates."
***
Hammitt coached Braud at Marist. When Braud was a sophomore, Hammitt started to think that his granddaughter was on the verge of doing something special. She'd hit in every game since the fourth game of her freshman year. He thought she might be on the verge of breaking the state record. When he did some digging, he realized that Braud was on the cusp of eclipsing the NATIONAL mark. He didn't tell his granddaughter about the streak until after she'd broken it to take some of the pressure off. Besides, the streak itself wasn't all that important.
"What was important was we won games," said Hammitt. "If we lost those games, we couldn't care less about the hitting streak. Winning the two state championships in a row was much more important to us than the streak was."
OSAAtoday's Jerry Ulmer wrote this for The Oregonian about Braud's streak when it reached 100:
"Braud's streak, in some respects, is more remarkable than DiMaggio's, considering pitchers traditionally dominate her sport, softball games are seven innings instead of nine, and many Marist games end in five innings because of the 10-run rule."
Indeed, Braud's streak included 31 five-inning games and eight six-inning games. She had teams pitch around her – she walked 55 times over her career – and, in several games, the streak-extending hit didn't come until her final at-bat.
"Being ultra-competitive helped me get past the pressure," Braud said. "Every at-bat mattered and I was so focused on how I could get on base. It's like a light switch turns on at the end of a game and I won't be defeated. I always wanted to beat my competitor and win at everything I did."
***
Over Braud's four-year high school career, she batted .612, scored 211 runs and stole 111 bases. She was All-State all four years, league MVP all four years and twice Oregon's 4A Player of the Year. She also was a two-time state champion, leading Marist to 4A titles in her junior and senior seasons.
Braud, who went on to star at Alabama (she hit .505 as a freshman and a school-record .438 over her All-America career), said she was just trying to help the team win.
"I understood my role," she explained. "I was the fastest kid on the field 99 percent of the time and knew my skills on offense would always challenge the defense. I understood the odds of the game, assessed the defense and determined – bunt, slap or hit away -- what would give me the best chance to get on base.
Mauldin was coach at league rival Sisters during Braud's time at Marist and explained what made her such a tough out:
"In one game, she led off the game against us with a bunt base hit, so we brought the corners in closer for her next at bat. She drove the ball over the center fielder's head for a double. Third time up, she hit the first pitch in the right-centerfield gap for a triple. So, for her fourth at bat, we moved our outfielders a little deeper and she slapped a double down the left field line. Her fifth — and thank goodness, her final at bat that game — she hit a routine ground ball to our shortstop who made the throw to first a split second after the umpire called her safe.
"We could invert our defense by bringing SS and 2B in and moving corners back even with the bag. We were trying to force her to swing to get the ball by us … and she would, usually displaying her power. We'd play deep and she'd play the short game on us…"
Hammitt said that the streak was accomplished against difficult competition on the mound.
"We faced some of the best pitching in the state and on the West Coast during that streak," he explained. "We went to Las Vegas over Spring Break those years and played top teams, like Bishop Gorman. It wasn't done against weak pitching."
Braud said that the streak to her meant that she was consistent.
"It's something really cool and shows that I enjoyed and loved the game and was successful," she explained. "It shows I was very consistent, which is important when you look at any aspect of your life."
***
Is Braud's 103-game streak an unbreakable Oregon record? Consider that the mound was moved back from 40 to 43 feet in 2011 to promote more hitting and, even so, no one has approached the streak NATIONALLY. A girl from Michigan got within 12 from 2011 to 2014, but no one else nationally has gotten within 37 games
"It's possible but would take skill and luck," said Hammitt. "If it ends up happening it would have to be in a weak league when they're not facing good pitching all the time."
"Her record of 103 consecutive games will be a long-shot to be broken," said Mauldin. "Put odds on it and it should read something like 100,000 to one long-shot."
"I feel all records are made to be broken, but this one is pretty amazing," said Jesuit coach Jimmy Speciale. "In high school softball you get 26 games a year not including playoffs. So if you figure 26 games a year, a 4-year starter gets a total of 104 games. If you make it to the state championship game every year, add 20 more games. So in a 4 year high school career with four endowment games, the max game total is 128 games. Getting a 103-game hitting streak is pretty amazing.
"You have to have luck on your side. How many kids have you had that hit shots during a game and the opposite team makes every play? Some of the balls hit during this kind of streak need to be seeing-eye-dog hits or the ball falls in on not a great at-bat.
"I watched Kayla Braud play and she was an amazing player. This will be a tough one to break."
*This is part of a summer series…Mondays…
Read the other articles in the series…
The day Rainier terminator Breana Edwards shattered the single-match kill record
The night Aloha back Thomas Tyner ran wild!
The Taft pitcher who knew what it was like to be perfect
The wrestler who knew when it was time to raise his hand
The girl who ran faster than the wind