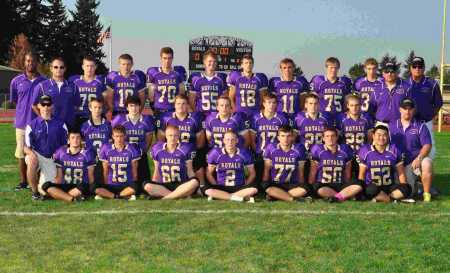 The clincher
By Cal Szueber, head football coach, Portland Christian from 2011-2013 (current head coach, David Douglas HS)
It was gut-check time.
Third down and eight from the 38 yard-line. Four minutes were left in the contest. A steady rain was falling that night at Cottage Grove High School.
We were clinging to a six-point lead, with a trip to the 2012 state championship on the line.
The next play call would be an important one. Everyone in the stadium knew it was a passing situation. The defense had been dropping eight on passing downs all night.
I called a QB draw.
Our junior quarterback (who would later be named 1st Team All-State) dropped back two steps, then took off down the field. I was hoping he would pick up a few yards, maybe get close to a first down. Instead, he zigged and zagged his way 38 yards for the touchdown that clinched sixth-seeded Portland Christian's 25-13 win over a very good Lost River squad and the Royals' first-ever trip to the 2A State Championship game.
After that game-clinching play, I nearly dropped to my knees and had tears in my eyes. It is one thing to experience the joy of seeing young men rise to the occasion in big moments, but it is also the most gratifying part of the job to see the excitement and joy of a team, coaches and an entire community when climbing to the top of the mountain together for the first time.
Never mind that we would lose the championship game the next week against a strong team from Oakland. Defeating Lost River was a culminating moment for a team that had been 3-7 just two years before and was now clinching a spot to play for the best in the state at our level.
Not everyone gets to experience going that far, but I wish everyone could, at least once, like we did. The memories of the battle to get there, from summer camp to daily doubles to the daily grind of practices, to the excitement of games each week; this is all a part of the joy of the sport. Oregon high school sports, regardless of the sport, are a unifying effort for all who participate. They create a lifetime of memories and create character, grit and determination along the way. I wish everyone could experience it! I am glad I have been a part of it for many years.