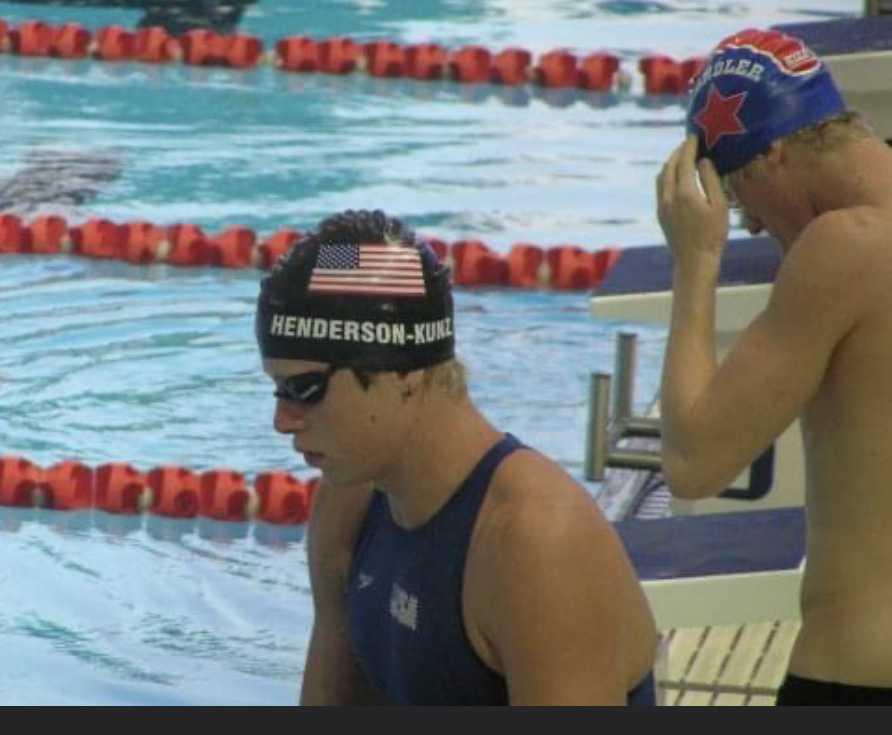 Morgon Henderson-Kunz crouched on the block, waiting for the gun to go off that signaled the start of the final individual race of his high school swimming career. Competing for Westview, the senior had already won six individual state titles spanning four years.
The sprinter was about to do something he'd never done before; something no one in the state of Oregon had ever come close to doing; something no other Oregon swimmer has ever come close to doing since…
***
Morgon Henderson-Kunz started swimming at the age of five, following in the footsteps of his older sister, Christine. By the time he was a high school freshman, the tall, well-trained freestyler was already a standout. He won the 100-yard freestyle race at state in 2006 in a time of 46.78 seconds and helped Westview finish in second place overall.
Henderson-Kunz would go on to win the 50 free his sophomore, junior and senior years. He was impressive in the 50, and held the state record in the event for almost a decade; but he absolutely dominated the 100 free. He was head and shoulders better than everyone in the "underwaters," that time after each turn when a swimmer dolphin kicks to the surface. As a sophomore, he repeated his 100 free win at state. His time of 45.20 broke the previous state mark, set 13 years before, by more than half a second. He won the 100 free again as a junior, and lowered his state record to 45-flat.
Those who watched Henderson-Kunz in the water appreciated that he was built for speed.
"Morgan was close to, if not, 6-4," noted former Newberg swim coach George Sampson. "He also possessed all attributes that we swim coaches desire: long torso with a large lung capacity; short legs with a substantial set of thighs; great flexibility especially in his ankles; large hands and feet; well-muscled but not bulky. He was extremely well conditioned and well trained."
***
Henderson-Kunz qualified for the 100 freestyle final his senior year by winning a preliminary heat the day before in a time of 46.51. He swam just fast enough to qualify for the final, saving energy for the swims that really counted. Now, crouched on the block on championship Saturday, he was ready to give it everything he had.
"I was feeling very pumped and a bit nervous." Henderson-Kunz recalled about that February day in 2009. "I always found that being nervous before a race was a good indicator of what would be a good swim, so I was happy that I was feeling the nerves and was ready to go!"
Henderson-Kunz had a little extra adrenaline running through him when he hit the water. Not only was this the final individual race of his career, he also knew that Westview was close to winning its first-ever state team title after finishing runner up the previous three seasons.
"My race strategy for the 100 was always to work my underwaters as much as possible, try to win the first 25 while swimming as smooth as I could, then the last 75 just give everything I possibly had to give effort wise," he recalled.
Henderson-Kunz didn't just break his previous mark of 45-flat in winning his fourth straight 100 freestyle title, he crushed it. 43.70 seconds. In the history of Oregon swimming , no one has come within 1.4 seconds of that time. It was the fastest 100 free time in Henderson-Kunz' career by more than three-quarters of a second!
Sampson was on the pool deck for the 100 free final as the assistant coach for Newberg and described what he witnessed:
"In the 50 freestyle earlier in the evening, Morgon swam a 20.32, eclipsing his own state record by .35 seconds. That's a huge drop in the 50. Morgan's first half in the 100 was a fast time of 21.57, but for a guy that went 20.32 earlier, it appeared effortless….
"The telling point in this swim was Morgon's second half. What really set Morgon's swim apart were his second and third turns. Entering into the second turn, Morgon's stroke count and distance aligned so well that there was absolutely no speed dropped from the end of the last stroke and the start of the turn. A great breakout and swim set up another prefect turn and breakout that put open water on the field. With a back half in at 22.13, adding only .56 seconds to his first 50 gave him the record of 43.70. Swimmers usually add 1.0 to 1.4 seconds on the back end of a 100."
Henderson-Kunz was elated to win his fourth straight 100 free title and happy with his time but still "a little disappointed," he admitted.
"One of the hallmarks of a great athlete is never quite being satisfied with their performances," he continued. "A friend of mine in Texas, Jimmy Feigan, had a week or two earlier set the national high school record in the 100 free of 43.2-something. That was my goal time to beat, which I fell slightly short of."
Henderson-Kunz went on to anchor Westview's winning 200 free relay and 400 free relay teams, helping the Wildcats clinch that elusive state title. That capped an incredible career where he won seven individual state titles and five relay state titles.
***
Henderson-Kunz earned a scholarship to swim at USC but never competed for the Trojans. Shortly after arriving in Los Angeles, he decided that competitive swimming was no longer right for him and returned home to Portland to complete his undergraduate work there.
"As it turns out this was a great move for me, because when I went home I began coaching for my old team (the Tualatin Hills Thunderbolts)," he explained. "It turned into something that I loved doing, and later it also turned into a career."
Henderson-Kunz now lives in Northern Virginia and coaches high-level swimmers for one of the best teams in the country, Machine Aquatics.
***
Is Henderson-Kunz' 43.70 an unbreakable Oregon record? It's been 11 years and no one has come close.
Sampson believes it's only a matter of time. He thought Casper Corbeau of Sunset would have a shot, because he was 6-6 and had all the tools. But the current Texas Longhorn chose not to compete in high school swimming his senior year.
Still, Sampson is confident that day will come.
"There will be swimmer that appears on the deck and the record will fall," he asserted.
*This is part of a summer series…Mondays…
Read the other articles in the series…
The day Rainier terminator Breana Edwards shattered the single-match kill record
The night Aloha back Thomas Tyner ran wild!
The Taft pitcher who knew what it was like to be perfect
The wrestler who knew when it was time to raise his hand
The girl who ran faster than the wind
The lefty who was a hit when he wasn't giving up any
The leadoff batter whose hitting led to a run
The day Tommy Skipper's record vault also cleared a hurdle