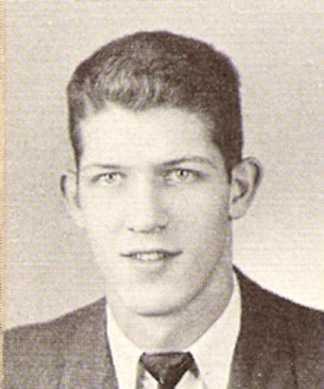 A boys basketball player from Lincoln High once scored 1,035 points in a season. The year was 1952. Over the ensuing 68 years, only Kevin Love has come within 100 points of that mark.
Harvey Wade Halbrook moved to Portland from Arkansas for the start of his sophomore year. He was uncomfortable in his own skin and uncomfortable on campus. Nicknamed "Swede" even though he was of German and Dutch descent, he considered transferring to an all-boys' school but stuck it out. His game blossomed under the tutelage of Lincoln coach Jimmy Partlow and, as a senior, Halbrook led the Cardinals to the state Class A title, 66-44, over Central Catholic.
Halbrook scored 712 points during his first two seasons at Lincoln, but averaged more than 38 points a game as a senior, when he shattered the Oregon record for points in a season.
In his senior season, Swede also scored a state-record 71 points in a single game in February. That record was broken just one day later when Jerry Crimins of McLoughlin scored 73, a record that still stands to this day. Indeed, the four highest scoring games in Oregon history all happened in 1952, including a 66-point effort from Halbrook versus Molalla in January.
In the state championship game, Halbrook scored 51 of Lincoln's 66 points and made a state-record 24 field goals.
How did Halbrook score so prolifically? He stood 7-foot-3 and, at the time, was billed as the tallest basketball player in the world.
"He was 7-foot-3 playing in a 6-foot lane," longtime Oregon State assistant and head coach Paul Valenti told Kerry Eggers of the Portland Tribune back in 2002. "He was a man among boys."
Because he was so tall, Halbrook attracted a lot of attention, whether he was just walking around or menacing opponents on the basketball court. He did not like any of it. Opposing fans were especially ruthless and the riding he took made him moody and emotionally wrought.
In the state final, when he walked off the court for the final time in a Lincoln uniform, the spectators, even from Central, stood up and gave him an ear-shattering ovation that lasted for several minutes. Genuinely touched, Halbrook reportedly remarked, "It gave me a sort of feeling that maybe it was worth it all."
***
The story does not have a happy ending. He was a star at Oregon State but was asked to leave before his senior season because of academic and disciplinary issues. Similar enigmatic behavior cut short his NBA career. Halbrook returned to Portland and did odd jobs until a heart attack on a Portland city bus took his life in 1988 at age 55.
***
Will Hallbrook's 1,035 points in a season ever be broken? Consider that Love, the state's all-time career scoring leader, averaged 33.9 points per game as a senior in winning Gatorade National Player of the Year honors, yet only came within 86 points of tying the Swede.
"As a freshman in high school, I remember watching Brian Jackson play for Knappa and he was unbelievably dominant at that level (2A)," said JD Hill, the head coach at Santiam. "He probably could have broken that record, but he had great teammates around him. It would take a Brian Jackson type situation with poor teammates to necessitate even taking enough shots to score that many points."
One player who could threaten the record is 6-11 Nate Bittle of Crater. Considered one of the top players in the nation, Bittle has the kind of inside/outside game capable of scoring points in bunches. The graduation of the Comets' other principal inside scoring threat, Krueger Edwards, makes it likely that Bittle's scoring average of 25 ppg as a junior could rise dramatically in his senior season. Is Swede's 68-year record about to fall?
***Information from the Portland Tribune, The Oregon Encyclopedia, Sports Illustrated and Wikipedia was used in preparing this article. Thanks to all of you for your exceptional reporting.
*This is part of a summer series…Mondays…
Read the other articles in the series…
The day Rainier terminator Breana Edwards shattered the single-match kill record
The night Aloha back Thomas Tyner ran wild!
The Taft pitcher who knew what it was like to be perfect
The wrestler who knew when it was time to raise his hand
The girl who ran faster than the wind
The lefty who was a hit when he wasn't giving up any
The leadoff batter whose hitting led to a run
The day Tommy Skipper's record vault also cleared a hurdle
The day Morgon Henderson-Kunz destroyed his own record in the 100 freestyle
The quarterback whose receivers found the end zone and got him a record
The Bulldog who pulled the strings on 88 straight wins during her North Bend tennis career