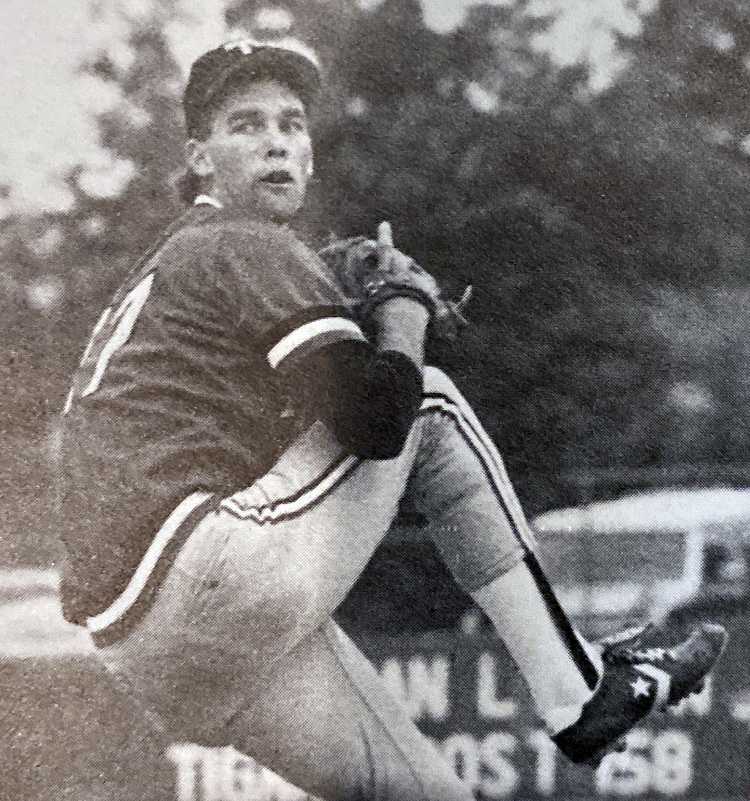 Steve Cooke may not be an Oregon record holder, but he might qualify as the most unique athlete in the history of Oregon high school sports. Over his three-year career, which concluded in 1988, the Tigard High School standout excelled in three sports for the Tigers. In fact, you could say that he had a hand in their success. Hands actually. So much so that "He did what?!!!" describes his exploits perfectly.
***
Cooke was born in Hawaii and moved to Oregon in middle school. He was a great athlete but did not maximize his gifts until he matured into his 6-foot-6, 235-pound frame. One thing he always was, however, was ambidextrous.
On the football field, Cooke was a right-handed quarterback and First Team All-League performer as a senior in 1987. Retired Tiger baseball coach Tom Campbell remembers Cooke throwing some passes left-handed when he was rolling out that way, but Cooke mostly threw the ball the right way.
"He was a freak athlete and unbelievably coordinated," noted one high school friend and teammate. "He could have been a Pac-10 quarterback without a doubt, but he threw too hard in high school. He didn't have the receivers who could handle it."
Cooke played in the post for the Tigard basketball team and was an easy scorer around the basket with either hand, but he shot and dribbled predominantly with his right hand. The Third Team All-State pick was such a prolific scorer that LSU offered him a basketball scholarship!
Cooke also golfs right-handed and, on those rare occasions when he got to swing a baseball bat, he came at the task from the right side.
So there was Cooke on the mound versus Beaverton in the 1988 AAA baseball state championship game throwing left-handed! Not just throwing, dominating. The State Player of the Year struck out 18 in the 2-1 win that capped his high school career! He never once threw a single pitch with his right hand.
Why left-handed?
"I get asked that all the time and honestly have no clue myself," Cooke said. "The best way to explain it is that it just naturally feels right to throw a baseball left-handed and play football and hoops right-handed."
"He could throw a baseball with both arms but had clearly more arm strength left handed," remembered Campbell. "He threw a baseball smoothly right-handed and you wouldn't think he was more left-handed. He could have pitched right-handed if he had built up better arm strength when he was younger."
***
Cooke was drafted by the Philadelphia Phillies out of high school but did not sign. Instead he went to junior college at the College of Southern Idaho to bolster his academics and to play both basketball and baseball. He was drafted again, by the Pittsburgh Pirates, and developed into the top prospect in the organization with a four-pitch mix that included one fastball that rose and another that sank. He spent parts of seven seasons in the major leagues.
"Throwing the baseball left-handed was a blessing in disguise," Cooke said. "Right-handers are a dime-a-dozen and being left-handed gave me an advantage."
***
Now before you go concluding that the only thing Cooke did left-handed was throw a baseball, get this: he eats, writes and brushes his teeth left-handed.
That should give you pause. And affirm that he used both of his.
*This is part of a summer series…Mondays…
Read the other articles in the series…
The day Rainier terminator Breana Edwards shattered the single-match kill record
The night Aloha back Thomas Tyner ran wild!
The Taft pitcher who knew what it was like to be perfect
The wrestler who knew when it was time to raise his hand
The girl who ran faster than the wind
The lefty who was a hit when he wasn't giving up any
The leadoff batter whose hitting led to a run
The day Tommy Skipper's record vault also cleared a hurdle
The day Morgon Henderson-Kunz destroyed his own record in the 100 freestyle
The quarterback whose receivers found the end zone and got him a record
The Bulldog who pulled the strings on 88 straight wins during her North Bend tennis career
The year a "Swede" dominated the American game of basketball in Oregon