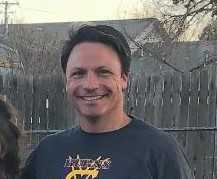 As Harney County's newly elected district attorney, Ryan Hughes will assume a weighty responsibility when he starts the job in January.
And if that's not enough for Hughes, he has taken on a heavy burden as the new head cross country coach for rising state powerhouse Burns, which won the 3A boys title in 2018 and the 3A/2A1A girls championship last year.
Hughes, 42, has assisted at Burns the last three seasons while working in the district attorney's office. He will replace Andrea Letham, who resigned after resurrecting the Hilanders program during her six seasons as coach.
"Andrea really built the team up," Hughes said. "She was really good at getting the kids engaged. I'm a little bit more workout focused. Andrea and I worked very well together in striking that balance."
Hughes ran cross country in Iowa for Cascade High School and Loras College, an NCAA Division III program. He moved to Burns in 2016 and joined the Hilanders staff as a volunteer coach. It was his first high school coaching job.
"It's something I kind of always wanted to do," he said. "If I hadn't gone to law school, I probably would have. Our office is very community-based, so they were like, 'Yeah, as long as you can make up the time and make it work.'"
The Burns program was languishing when Letham established a middle school program in 2012. She became the Hilanders coach in 2014 and guided them to their first state championships.
Now it's up to Hughes to carry the torch for Letham. He learned by watching her but said that he has room to grow in creating a fun environment for athletes.
"I kind of came from a college mentality," Hughes said. "We were out because we loved it, and the coaches didn't have to build in the fun. It's different. Andrea was very good at motivating kids. I brought kind of our training program from college and just modified down for the high school athletes, with some tweaks to it."
The Burns girls cruised to the state title last year, outscoring runner-up Union 43-110. With four of their top five runners eligible to return in sophomore Brooke Smith (third), juniors Riley Morris (seventh) and Olivia Winn (eighth) and sophomore Mattie Woodbury (15th), the Hilanders will be heavy favorites to repeat at state.
"I told them that this year people are definitely going to be gunning for them," Hughes said.
Hughes said he knew that the girls team, which placed third at state in 2018, was something special last year when it began throttling the competition early in the season.
"Once we saw our first meet or two, I remember looking at Andrea, and I had goosebumps," Hughes said. "I was like, they're going to be the team to beat, and for a while. That was exciting. The girls were just dominant."
The Burns boys defeated Enterprise by two points for the title in 2018 and finished second to Enterprise by three points last year. The Hilanders hopes for a repeat title were dashed.
"I told them that we're not a team that's just happy to qualify for state anymore," Hughes said. "We're competitive, and we're a team with a target on our back. It was really, really hard to see the boys lose last year. I was crushed for them."
The boys graduated their top three state placers but can build around junior Masson Shaw, sophomore Carter Lardy and junior Spencer Johnson, who finished 12th, 14th and 20th, respectively, at state.
Hughes said his biggest challenge so far has been keeping the team engaged during the COVID-19 crisis. Summer workouts were limited, the Steens Mountain High Altitude Running Camp was canceled and training was interrupted by the Harney County Fair and wildfire smoke.
With the season pushed back to March, he faces the prospect of getting the Hilanders ready through a cold eastern Oregon winter.
"We've had a few core members of our team that have stayed engaged fairly well," he said. "I think a couple of them could definitely run in college. That's why I really hate seeing this season kind of altered, because there are a couple of kids that have some great potential."