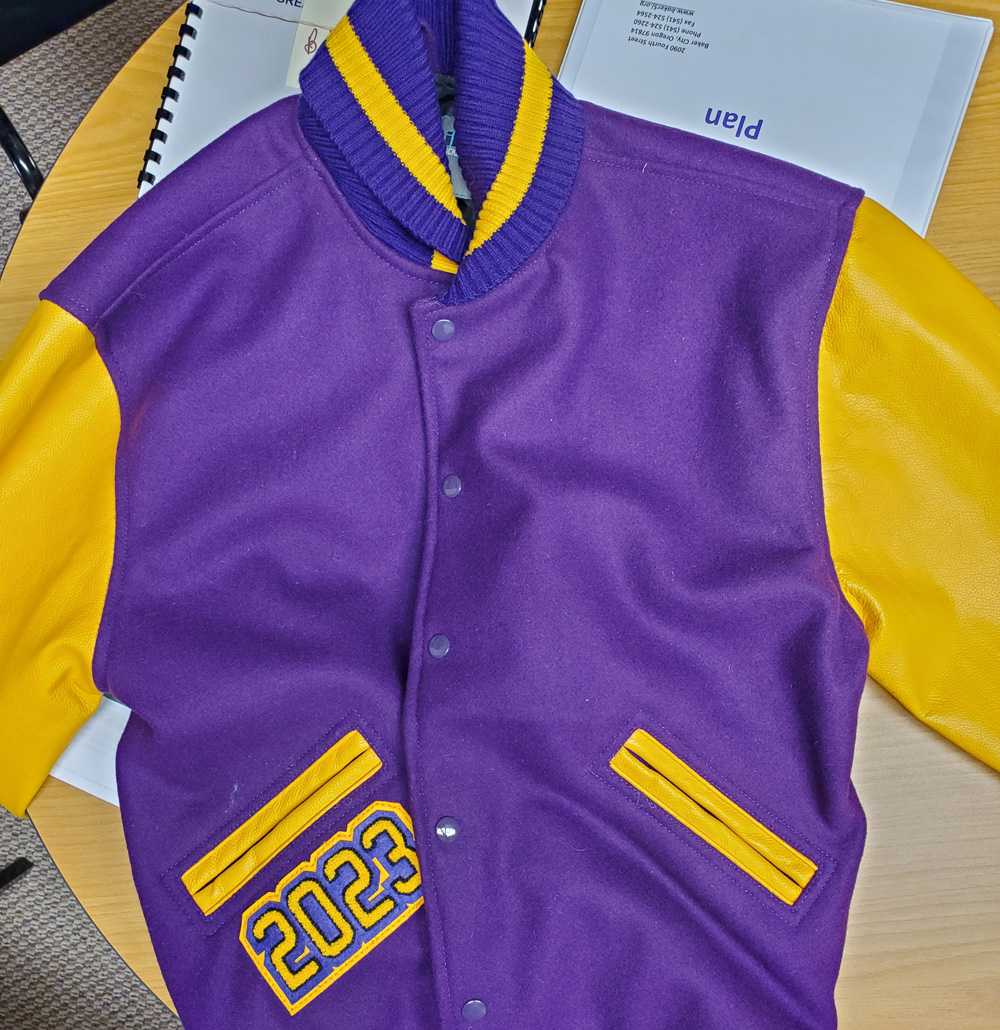 [Editor's note: The idea behind "Alphabet Stories" is to write one noteworthy athletics-related story about each OSAA-member school. We started with Adrian HS on Sept.18. Today's story is about Baker HS. The goal will be to write two per week. While we will be relying upon athletic directors to furnish story ideas, anyone may offer suggestions by emailing johnt@osaa.org]
In the early 1990s, Buell Gonzales, Jr. roamed the halls of Prairie City HS wearing his lettermen's jacket. It was a source of pride and school spirit.
"You bought it as soon as you got your varsity letter," he said. "That's just the way it was. Other schools did the same."
An educator for the past 20 years, Gonzales began noticing the decline of the lettermen's jacket on Oregon high school campuses about 10-15 years ago. They were expensive – often several hundred dollars – and were purchased, if at all, only by those who could afford them. Lettermen's jackets became a symbol of status not achievement.
That did not sit well with Gonzales. When he was hired last year as Baker's first fulltime Athletic Director, he was determined to do something about it.
"When I got to Baker, I didn't see a single jacket…not one," he said.
The school has a rich history, including eight state championships since 2000; and the Baker City community takes a lot of pride in Bulldog Athletics. What better source of pride than a lettermen's jacket?
Gonzales talked to his coaches about how to bring them back. Cost was the biggest factor. So he decided to resurrect the Baker High Lettermen's Club, which previously disappeared in the early 1990s.
"The intent is to provide a Lettermen's Jacket to every varsity letter earner," he said, adding that FFA and FBLA members also qualify for them. "The idea is to purchase jackets for every letter winner in every sport/activity, sew on the patches and award the jackets to the athletes and the end of year banquet."
Gonzales found an online company willing to sell jackets for $100 each for 10 or more and a local group that would sew on the patches. The Lettermen's Club needed only to raise the money.
"I have a fundraiser where the goal is to raise around $5000," Gonzales said. "That would be 50 jackets."
"We will start with the seniors and make our way down," he added. "I am hoping to get the first order of jackets by January. Once we get the jackets out to everyone and get caught up it will take less money upfront and we can put more money from the club into other endeavors."
The Lettermen's Club also hopes to build "Bulldogs by the Decades" display cabinets similar to those at Marshfield and North Bend.
"There's lot of tradition and history here," Gonzales said.