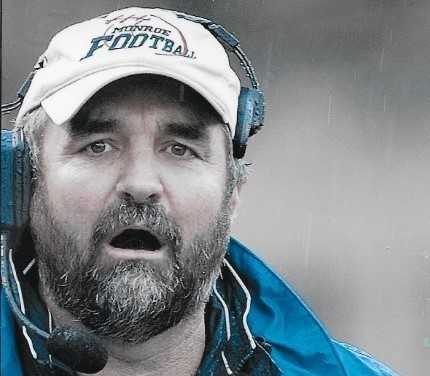 After coaching teams to 11 league titles in 17 seasons, Max Wall decided to concentrate on his highly successful construction business when he stepped away from football in 2012.
But Wall, who coached at Monroe (1995-2009) and Central Linn (2011-12), didn't take his eye off the game.
"I was just watching from a distance and waiting," Wall said. "I was just looking for one of these jobs to open up. I didn't know if I'd be wanted or not."
Finally, he spotted an opportunity that appealed to him, and the interest was mutual. Wall, 62, has been hired as the coach at Junction City. He will succeed Richard Milne, who went 23-37 in seven seasons.
"Now I'm 90-percent retired, and I thought it was time to do a little more coaching before I get too old," Wall said. "I think a lot of people look and go, 'A 62-year-old guy, how are you going to relate back to these kids with the social media and the internet and the video games, all that stuff?' But kids are still kids."
Wall is hoping to resurrect Junction City. The Tigers have a history of success, winning 3A titles in 1993 and 1995 and finishing as runners-up in 1997 during the 25-year tenure of coach Mark Henderson (1988-2012). But they have only one playoff win since 2005, haven't had a winning record since 2014 and went 1-14 the last two seasons.
"They've had a difficult time the last few years," Wall said. "The seniors really want to win. It's not out of the realm of possibility. I sense a lot of excitement."
Due to its recent struggles, Junction City will drop from the 4A Sky-Em League to the 3A Special District 2 North Division this season. Wall said he made it known during the interview process that he would prefer to play in 4A.
"As quick as I can get us back in the 4A, that's where we need to be," Wall said. "I look around at teams that have dropped down over the years, and I always say, 'What did it do for them?' I'm an advocate of staying where you are and getting better. So the kids go out and win, and we've got to wait two years to put us back up. I think we should be playing at the level we belong at."
Junction City athletic director Craig Rothenberger said the school opted to play 3A football after "quite a discussion."
"We actually surveyed the kids, too," Rothenberger said. "In the end, the decision was to go in that direction. We're actually in a league with a number of schools that we used to be in a league with."
Things are looking up for the Tigers considering their freshman/sophomore team went 6-2 last year, finishing second in the Sky-Em to Marist Catholic. The current junior class has consistently had 20-25 players.
"We're in a good place," Rothenberger said. "We've got a group of athletes that have some potential to have some success. We went through a couple years with not very many upperclassmen. We have a solid junior class, and another good class behind them, and not a bad-size senior class. It's a better mix.
"It's going to maybe take a year or two. I'm confident Max will get everything out of them that they have."
When Wall took over at Monroe in 1995, the Dragons hadn't won a playoff game in 25 years, but he took them to the 2A quarterfinals in his first season.
He went 101-44, won 11 league titles and made three quarterfinal appearances at Monroe. He resurfaced two years later at Central Linn, where the Cobras finished 7-3 in 2011 and 10-3 in 2012, reaching the 2A semifinals.
Wall has built his success on the running game. At Central Linn, he ran the spin series single-wing attack, a throwback to the 1920s. He plans to create a hybrid form of it at Junction City.
"We'll do a spread series, with single-wing concepts of running the ball," Wall said. "Still power-run the football, but we spread the field in different formations.
"I'm still going to maintain a power-running game, especially this year, practicing in February and playing in March. Junction City's got a grass field, and it's going to be muddy, so we've got to be able to run the football when we need to."
Wall said he is comfortable at Junction City in part because of relationships he has developed over the years with members of the community, including Rothenberger.
"He's known me for a long time," Wall said. "He watched me over at Monroe and followed what we did closely. I know a lot of people in Junction City. I've lived within 10 miles of there my whole life."
Wall is in the early stages of putting together a coaching staff. The Tigers have been competing in a parent-led passing league in recent weeks and will begin official workouts under Wall on Wednesday.
"Football is a simple game to me," Wall said. "Kids need to believe in what you're doing. You teach fundamentals, but the kids have got to feel confident in what they're doing to be successful."