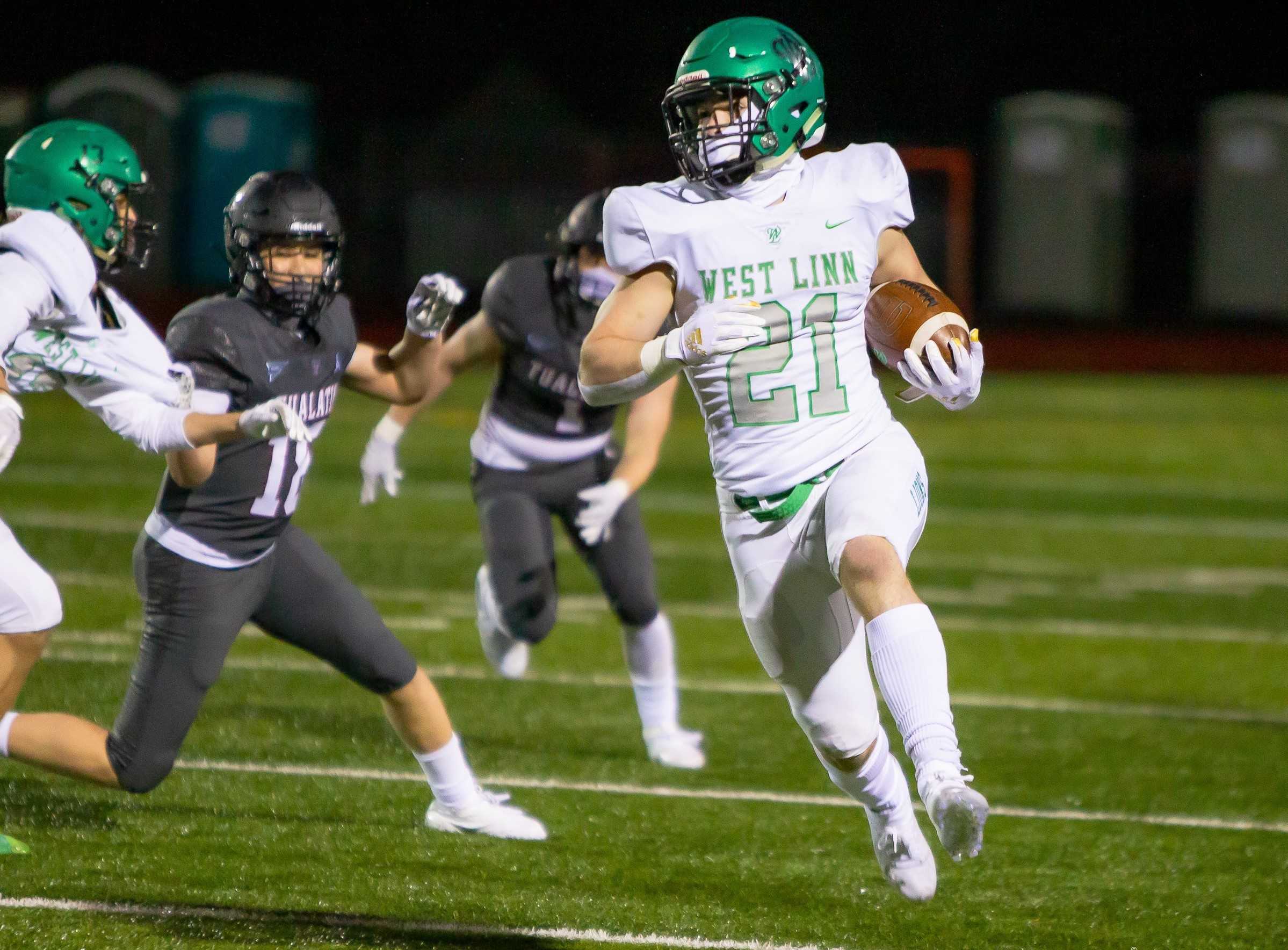 The first two games of the football season have done nothing but confirm what West Linn coach Chris Miller believed about his team.
"It's one of those groups that I felt like could be a 14-game-season group, which we've done twice before in my six years," said Miller, who led the team to two 6A finals, winning one in 2016.
Unfortunately for the Lions, they are scheduled for only six games this season. A title isn't in the works, but if they hope to bolster their argument as the state's best team , a win Friday at perennial Three Rivers League powerhouse Tigard would lend credence, even if the Tigers are in the midst of a rebuild.
Tigard has won the last four meetings between the teams, including 24-21 in the 2017 state quarterfinals and 42-21 last season, when the Tigers ran the table in the Three Rivers.
"It's a good, successful program with strength in numbers," Miller said of Tigard. "It's a thriving area, much like we are. They run a well-disciplined, well-organized crew. We're excited about the opportunity to go over there and compete."
So far, West Linn has made it look easy, winning at Tualatin 37-6 and at home against Lakeridge 41-2. The only points the Lions have allowed came on a touchdown against reserves and on a safety.
The defense has been suffocating. Senior inside linebacker Cole Peters is "the glue," according to Miller. The defensive line – which features senior Zach Holmes (6-3, 285) and senior ends Mitchell Duea (6-6, 232) and Kaanan Huffman (6-4, 230) – is big and athletic.
The secondary is locked in behind the leadership of senior free safety Thomas McNamara, the unit's quarterback, and senior cornerbacks Clay Masters and Brenden Crouse, a lacrosse player who has two interceptions in his first two football games, returning one for a touchdown.
Lions senior quarterback Blake DeBisschop is proving more than capable at running the offense. He threw for 332 yards and three touchdowns in his first varsity start and passed for a touchdown and ran for a score against Lakeridge.
"If I was an FCS school, I'd be offering him in a minute," Miller said of the 6-4, 191-pound DeBisschop. "He's got a chance to be really special. He's really starting to mature. He's got that Tom Brady and Joe Montana cool and calm demeanor about him in the pocket, which is a very unique trait. He and Tim Tawa have had the most of that of my quarterbacks."
The Lions feature one of the state's top running backs in senior Gavin Haines, who has committed to walk on at Oregon State. Haines has rushed for six touchdowns and is a threat as a receiver, too.
"He's kind of the thing that makes it tick," Miller said. "He's 6-1, 205 and runs a 4.6. He's kind of got that game speed where he very rarely gets caught."
Tigard coach John Kemper knows his team will have its hands full with the Lions.
"It looks like they have playmakers all over the field," Kemper said. "He's got five guys he can distribute the football to. Their running back is special, the quarterback can sling it. Defensively, they fly to the football. Top to bottom, they're a good, physical, athletic football team."
Tigard lost all but one starter on offense and two on defense from 2019, when it earned the No. 1 seed to the 6A playoffs before exiting in the quarterfinals with an overtime loss to No. 16 seed Mountainside.
One of the key losses was quarterback Drew Carter, who would have been a fourth-year starter this season but opted to get a head start on his college career at Colorado.
Senior Zach Chesler, the JV starter and varsity backup last season, has taken over at quarterback. He was steady in the team's 34-16 season-opening win at Oregon City last week, making good decisions on throws and even showing his athleticism by chasing down an errant snap to turn a potentially big loss into a 12-yard run.
"We kind of messed with him and said that we were going to text Drew and tell him, 'Ches is faster than you,'" Kemper said with a laugh. "He had some huge scramble plays for us when things broke down Friday."
Senior Hewitt Sullivan, the Tigers' No. 3 running back in 2019, rushed for 229 yards and four touchdowns against Oregon City. Senior safety Spencer Kuffel, sidelined since suffering a torn ACL in 2018, made a splash return with three interceptions, returning one 85 yards for a touchdown.
A look at some of the other top matchups for Week 2:
Games are Friday unless otherwise noted
McNary (2-0) at Sprague (2-0): McNary will try to extend its Mountain Valley Conference winning streak to 11 when it visits revitalized Sprague, which already has matched its win total from each of the past two seasons. McNary's Jack McCarty threw four touchdown passes in a 42-7 win over McKay last week.
Grant (2-0) at Clackamas (1-1): Grant is off to a flying start, cruising to a 26-0 win over Barlow – a 6A semifinalist in 2019 – and blitzing past Roosevelt 60-20, getting four touchdown passes from Logan Going. But the Generals have a tough task against the Cavaliers, who are looking to bounce back from a 20-12 loss to Jesuit.
Silverton (1-1) at Marist Catholic (2-0): The Spartans have posted two impressive road wins against traditionally strong programs, beating 5A North Bend 42-14 and 4A Cascade 35-21, and this week is home to face Silverton, a 5A semifinalist last season. Lucas Tuski has run for six touchdowns for Marist Catholic.
Hood River Valley (2-0) at Pendleton (2-0), Saturday: Two of 5A's best running backs will be on display in a game between two fast-starting teams from Special District 1. Hood River Valley senior Tanner Fletcher has rushed for 423 yards; Pendleton senior Tyasin Burns is coming off a 131-yard rushing performance.
Banks (2-0) at Seaside (2-0): In 2018, Banks beat Seaside 10-7 for the Cowapa League title and 31-20 in the 4A final. Last season, Banks handled the Seagulls 34-6 for the league title. Seaside, which outscored Valley Catholic and Milwaukie 92-10 in two games, will be looking for some payback.
Crook County (2-0) at Gladstone (2-0): Crook County hasn't had a winning record since 2015, which also was the last time the Cowboys beat the Gladiators. But Crook County appears to be much improved in defeating reigning conference champion North Marion 18-8 and Molalla 28-0 to start the season.
Amity (2-0) at Philomath (2-0), Thursday: Philomath hasn't won more than two games in a year since the school canceled its 2016 season for disciplinary reasons. The Warriors, who opened by beating 2A Glide 37-7 and 3A Dayton 7-0, face their biggest challenge yet against 3A power Amity, which defeated Dayton 42-8 in its opener.
Oakland (1-0) at Monroe (2-0), Thursday: Monroe, the reigning champion in the Central Valley Conference and a 2A semifinalist in 2019, puts its 18-game conference winning streak on the line against Oakland, which made the quarterfinals last season. Monroe has won the last two meetings 48-0 and 44-0.