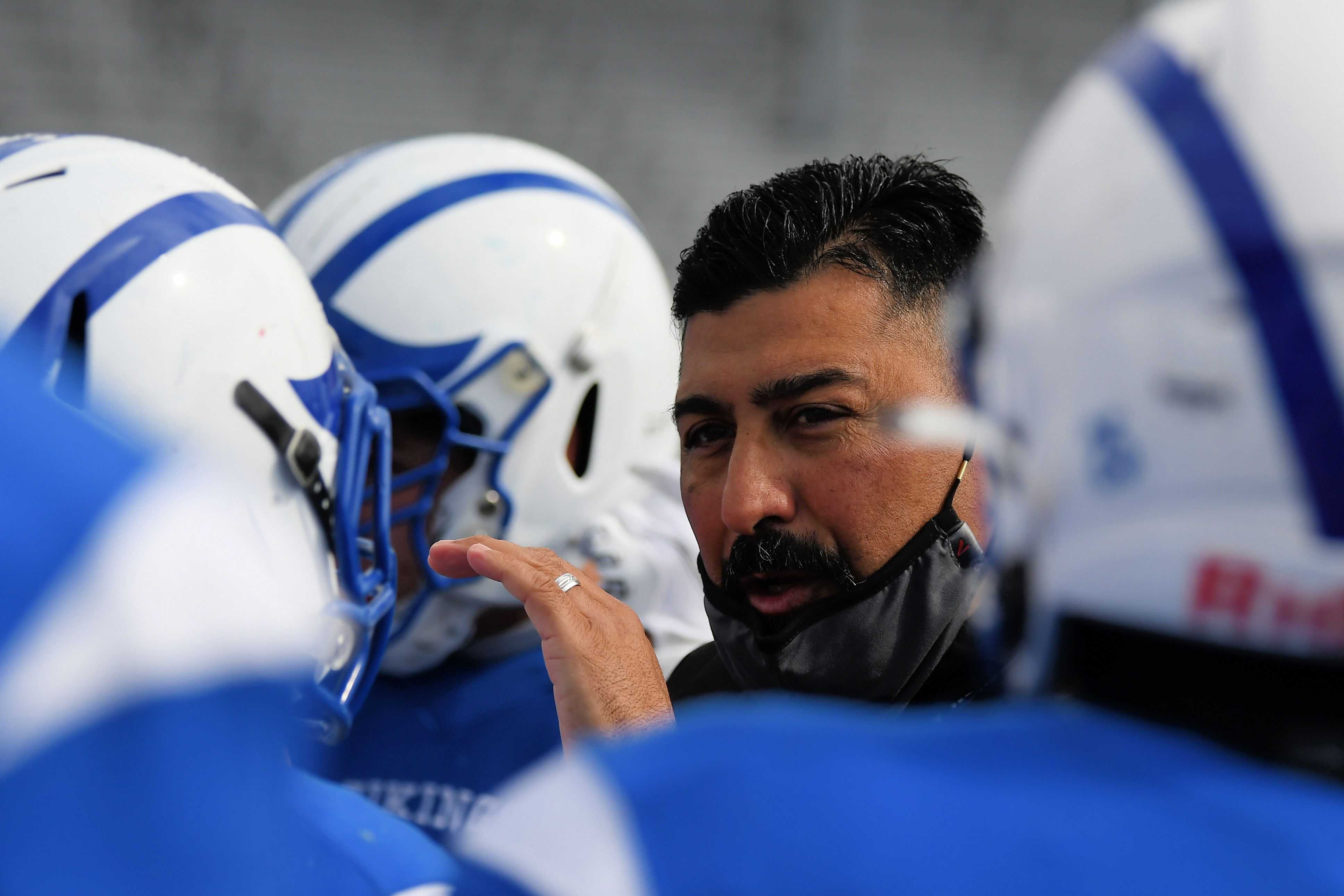 Mazama football coach Vic Lease has never cared much for field goals. In fact, before Thursday night, the last one he tried in a game was in 2017, when his daughter Maddy was the team's kicker.
But it was the ticket to victory Thursday at two-time reigning 5A champion Thurston as senior Colby Anderson booted a 31-yard field goal on the game's final play to give the Vikings a 23-21 win.
Facing second-and-goal at the 14-yard line with 2.9 seconds left, Lease heeded the word of offensive line coach Eric Mills, who told him over the headphones that the kick was within Anderson's range.
"When he said that to me, it just clicked," Lease said. "I said, 'We're going, field goal, field goal.' He had room. It was a beautiful kick."
Mazama (4-0) – No. 1 in the first BCS-style 4A playoff rankings released last week – rallied from a 21-6 deficit to end the Colts' 20-game winning streak. It was the biggest win in years for the Vikings, who have never played in a state championship game.
"I think everybody in the stands thought we won the Super Bowl," Lease said. "I'm getting emails and text messages and everything from guys all over the state that are happy to see the success we're having.
"We've been working hard for this. It's not a state championship, or anything else like that, but it's a huge accomplishment for these young men. This is something they'll remember for the rest of their lives."
Mazama had not allowed a point this season but Thurston (3-1) scored three touchdowns in the first 13 minutes – including an 88-yard kickof return by junior Gavin Knights – to lead 21-6.
"We weren't stunned," Lease said. "Thurston is a great football team. We knew they were going to score. We had not played a team as physical and athletic as they are, ever.
"We told our kids all week long, 'This is going to be the best team you've ever played in your lives.' I think it took a second for them go to, 'OK, the coaches were right, we've got to play.'"
Mazama rallied to within 21-20 with 3:32 left in the game on a 14-yard touchdown pass from senior Tristan Lee to senior Cole Brosterhous, but a two-point conversion attempt failed.
The Vikings got the ball back at their own 15-yard line with about 1:15 left and drove to the Thurston 9-yard line with nine seconds remaining. On the drive, Lee connected on passes of 32 yards to senior Aidan Kindt and 17 yards to Brosterhous.
Mazama finished with a 312-228 edge in total yards as its defense tightened up on the Colts. Lease credited defensive coordinator Beau Fullerton.
"The way he has prepared our kids every single week, and how they have bought into the way we play defense, it's just unreal," Lease said.
Auto-boot
South Medford and Grants Pass played a game for the ages Friday night as the visiting Panthers prevailed 56-55 in triple overtime at Mel Ingram Field.
And in the end, the difference turned out to be a soccer player.
Senior Jude Pannell, a goalkeeper on the soccer team who is playing his first football season, made all eight of his extra-point attempts, including the game-winner in the third overtime.
"I don't really like to single out kids, but on the bus ride home, I just couldn't help myself," South Medford coach Bill Singler said. "I told them there's one kid that needs to be singled out, and that's Jude Pannell."
The Panthers were in desperate need for a kicker this season after their expected starter decided not to play. So Singler approached the 6-4, 200-pound Pannell, who also plays forward on the basketball team.
"We asked, 'Do you want to try this?' And he said, 'Sure, let's go for it,'" Singler said. "So we worked it out with the soccer coach. He comes over early for specialist period, and our special teams period, then he leaves and goes to soccer practice."
South Medford shuffled its soccer schedule to help accommodate Pannell, moving games that had been set for Friday nights to Saturday. Singler said that Pannell started the season well, but "got into a bad rut" before finding a good stroke this week.
"He had a really good week of practice," Singler said. "We needed all eight PATs, and he kicked all eight of them really well. It's really great to see him have success. The kid has never had this kind of experience."
Pannell has yet to try a field goal in a game.
"He can kick them. Maybe we'll need it this week," said Singler, whose Panthers (3-1) will take on rival North Medford (3-1) on Friday.
South Medford led Grants Pass 35-21 with nine minutes left but the Cavemen forced overtime with two touchdowns. The teams traded touchdowns in the first two overtimes, and Grants Pass took a 55-49 lead in the third overtime, but the ensuring extra-point attempt hit the left upright.
The Panthers made it 55-55 on a three-yard run by Garrett Henderson, setting the stage for Pannell's winning kick.
Grateful Rocket
Perhaps no one is savoring the football season more than Mike Baleztena, the coach of 1A Pilot Rock.
Baleztena was diagnosed with Stage 4 kidney cancer last summer and had surgery in August at Oregon Health & Science University Hospital in Portland. He is making steady progress in his recovery as he participates in a clinical trial.
"I'm doing really good," said Baleztena, a 1986 Pilot Rock graduate who is in his fifth season as the team's coach. "I've got two more treatments left, and hopefully that's it. I'll be done with it."
It's been a rebuilding year for the Rockets, who lost three key players (including star running back Tyasin Burns) when Nixyaawii switched its co-op affiliation to 5A Pendleton.
With new starters at all but two positions, and four freshmen in the lineup, they opened by losing to 1A power Dufur 60-14 and reigning state champion Adrian/Jordan Valley 60-18 on the road. They bounced back to beat Imbler 30-24 and Ione/Arlington 60-22.
"What a learning curve," Baleztena said. "It was an eye-opener for them."
But for Baleztena – who in 2019 led the Rockets to first place in the West division of Special District 3, unseating Dufur – the season has a much deeper meaning than wins and losses.
"It's outstanding. I'm so glad they had a season," Baleztena said. "It seems weird doing it in the spring, but just to be able to go out and play, and be out with the kids, it's so much fun. I'm more appreciative of it."
Baleztena said the support he is receiving has been "humongous, especially in my hometown." A Go Fund Me account was set up to help him with medical expenses, and when he arrived back in Pilot Rock after undergoing surgery in Portland, he was greeted by fire trucks, ambulances, police cars and other well-wishers.
"Everybody was standing there on the sides of the streets, waving. It was huge," said Baleztena, whose son, Bryson, is a freshman on Pilot Rock's cross country team and daughter, Breann, is a student at Blue Mountain Community College.
Baleztena said as soon as he finishes his last treatment, he will get to work in regaining his strength. He said he plans on coaching for a long time.
"It's more like a gift now," he said. "So I'm happier to be anywhere out there. It just makes me really happy."
Scots, Eagles return
It took a little extra time, but David Douglas and Centennial finally joined the rest of 6A in playing full-contact, 11-man games this week.
The teams were unable to get started on time because Multnomah County was in the high-risk category and the schools did not offer at least limited in-person learning. The best they could do was a 7-on-7 contest against each other March 10, won by David Douglas 15-12.
When the county moved to moderate risk March 12, David Douglas and Centennial were able to start full-contact practices. They met the minimum number of practices to play games this week.
David Douglas opened with a 35-6 loss at 5A Wilsonville and Centennial fell to Reynolds 43-32.
"It was kind of interesting to get out there and play against after all the delays," David Douglas coach Cal Szueber said. "We weren't sure we were ever going to get in pads."
Facing Wilsonville (4-0), one of the top teams in 5A, was a bit overwhelming for the Scots. On their second play from scrimmage, they fumbled, and Wilsonville's Rochne Beecham returned it for a touchdown. David Douglas trailed 28-0 at half.
"It was a good learning process for them," Szueber said. "They made a lot of mistakes in the first half, and we started shoring them up at halftime. They played a lot better in the second half.
"What stood out to me was our defense. Last year it was a weakness for us, and Thursday they bailed us out of a lot of situations, because the offense didn't do much. The kids' attitudes were incredible, even being behind in the game."
Of the 34 players the Scots dressed for the game, four were seniors and five were juniors. Szueber said he lost much of his senior class because they lost their connection with the program during the shutdown.
"I just wish we had a few more kids so we could have a JV team for all our young kids," Szueber said. "There's going to be quite a few coming back next year, so we're excited about that. We've had a huge setback for our program, but it's going to be a very positive outlook in the future because we've got a lot of dedicated kids and great parent support."
Back in class
The last time Warrenton played in 3A, the Warriors went 0-9 and 1-8 in back-to-back seasons and met the OSAA criteria to drop down to 2A.
But after two seasons in 2A, in which they finished 5-4 and 7-3, they have returned to 3A with a vengeance.
Warrenton held off Yamhill-Carlton 42-34 on Friday to improve to 4-0 and take over first place in the North division of Special District 1. The Warriors got some payback against the Tigers, who beat them in nonleague games in each of the last two seasons.
For Ian O'Brien, who returned for his second stint as Warrenton's coach in 2017, the win stood as a testament to the dramatic progress the team has made in the last few seasons.
"This is our fourth year back, and we've got a group of seniors that just kind of bought in," O'Brien said. "It's a real credit to our kids and the commitment to bettering themselves in the weight room. I'm real proud of our kids."
Junior quarterback Hordie Bodden Bodden led the way against Yamhill-Carlton, throwing for 157 yards and four touchdowns and rushing for 125 yards and one score on 16 carries. Junior Joshua Earls caught two touchdown passes and had a big night at safety with two interceptions, a forced fumble and 11 tackles.
The 5-10, 175-pound Bodden Bodden, who started at receiver the last two seasons, has thrown 14 touchdown passes and one interception in his first season as a quarterback.
"He's one of the better athletes in our league," O'Brien said. "He's done a really good job. He's got potential. We don't live in the 7-on-7 world of the metro area, but if this kid was playing on one of those teams, he'd be a guy."
The 5-7, 145-pound Earls also is excelling this season. He had interceptions in wins over Blanchet Catholic and Rainier.
"He's not the biggest guy in the world, but he flies around and plays like he's 6-foot," O'Brien said. "He has played out of his mind."
The two-year switch to 2A gave Warrenton's program a boost. The Warriors made it to the 2A quarterfinals in 2019 before losing to eventual state champion Heppner 32-7.
"We did it because it was the right thing for our program in the long haul, not because we could drop down and be a winner," O'Brien said. "Not having a ton of success, our program wasn't in a great place."
O'Brien said that 2A Special District 1 was a good fit because it includes traditional rivals Knappa, Vernonia and Nestucca.
"Our town and our community identified with a lot of the schools we played in 2A," O'Brien said.
Highlights from Week 4 games:
6A:
Newberg improved to 4-0 by thumping McMinnville 56-9 as Levi Durrell threw four touchdown passes, two to Owen Hawley, who had 143 receiving yards. Price Pothier rushed for 136 yards and three scores. … Tanner Volk returned a punt 53 yards for a touchdown, scored on a four-yard run and had the game-clinching interception as Aloha edged Southridge 19-14. … Sunset stayed unbeaten, routing Beaverton 63-31. Kyle Jaekel completed 16 of 20 passes for 292 yards and four touchdowns, two to Chase Limbocker, and ran for a score. Caleb Kim rushed for 231 yards and two touchdowns on 17 carries. …
Nick Kennewell caught two touchdown passes and Kameatrous Johnson-Gibson returned a punt for a score in Clackamas' 35-0 win over Sandy. … Clay Peden rushed for 108 yards and two touchdowns and Cody Hall returned an interception for a score to help Sherwood down Glencoe 34-10. … Tualatin got four touchdown passes from Jackson Jones – two to Cole Prusia – and 126 rushing yards and two scores from Malik Ross to run away from Oregon City 43-13. … Nate Garcia rushed for 240 yards and two touchdowns for West Salem, which edged McNary 28-20. …Reynolds rushed for 288 yards -- getting 204 yards and three touchdowns on 33 carries by Miles Wilson -- to down Centennial 43-32. ...
Lincoln ran for 380 yards to beat Wilson 28-18 behind Brady Kopetz (10 carries, 100 yards, two touchdowns), Justius Lowe (seven carries, 151 yards, one touchdown) and Jack Franzen (14 carries, 104 yards). … Mountain View's Luke Roberts scored on a 1-yard run with 30 seconds left for a 7-3 win over Summit. … North Medford held Roseburg to 29 yards in a 35-0 shutout. Colby Neron threw three touchdown passes and Devan Blankenship returned an interception 79 yards for a score for North Medford. … Sheldon sophomore quarterback Brock Thomas threw two touchdown passes to Keegan Line and rushed for 98 yards in a 27-7 win over Churchill. …
Quarterback Hiro Diamond ran 18 yards for a touchdown with 36 seconds left to give Liberty a 32-28 win over Century. … Blake DeBisschop threw for 253 yards and four touchdowns as West Linn dispatched Lake Oswego 42-7. … Jesuit pulled out a 21-14 win over Mountainside as Michael Rincon rushed for 222 yards on 30 carries, including a 24-yard touchdown in overtime. Mountainside's Andrew Simpson caught seven passes for 160 yards and two scores. … Lakeridge defeated Tigard 34-17 as Ryan Oliver passed for 316 yards and five touchdowns. ... Cyle Calcagno threw two touchdown passes for Barlow, which opened a 21-0 halftime lead and cruised past Gresham 28-0.
Other classifications:
Pilot Rock freshman Austin Ford had a massive game, catching six touchdown passes and racking up 283 receiving yards in a 60-22 win over Ione/Arlington. Tanner Corwin passed for 358 yards and six touchdowns and freshman Efren Castro rushed for 151 yards and two scores for the Rockets. … Austin Smith rushed for 202 yards and five touchdowns to lead Lowell past Central Linn 39-0. … Corey James scored on an interception return, kickoff return and a run in Estacada's 36-6 win over Astoria. … Joey Laing threw three touchdown passes to Hagan Stephenson in the second quarter as Marist Catholic downed Elmira 34-14. … Gladstone throttled Molalla 60-21 as Sabastian Peiffer ran for five touchdowns. …
Ryan Lorence rushed for 134 yards and three touchdowns and threw two scoring passes for Umatilla, which led 41-0 at half in beating Irrigon 55-8. … Willamette got interceptions from Dane Woodcock, Connor Bendele and Braden Derrickson in dominating Springfield 42-7. … Monroe rolled over Reedsport 41-0 as Dylan Irwin rushed for 177 yards and three touchdowns on 12 carries. … Quarterback Blake Eaton connected with Dawson Douglas for three touchdown passes in the second half of Crater's 28-7 win over Eagle Point. … Dallas remained unbeaten, blasting Crescent Valley 62-0. Jace Grillo and John Hofenbredl returned interceptions for touchdowns. …Reigning 2A champion Heppner held Weston-McEwen without a first down and to minus-28 total yards to win 41-0. Jayden Wilson passed for three touchdowns and ran for 121 yards and one score. ...
Sam Martin completed 16 of 22 passes for 233 yards and three touchdown for Cascade Christian, which thumped South Umpqua 37-0. Matthew McPheeters had two touchdown catches and Kristian Fralich ran for 122 yards and caught a scoring pass in the win. … Brandon Wigzell returned a fumble 60 yards for a touchdown and Chase Rogers had a kickoff return for a score as Yoncalla/North Douglas turned back Camas Valley 44-30. … In the last two minutes, Elkton's Cooper Peters had a 48-yard touchdown run to tie and a 55-yard touchdown catch from Jayce Clevenger for the go-ahead points in a 60-53 win over North Lake/Paisley. Peters rushed for 236 yards and four touchdowns and had 159 receiving yards and three scoring catches.. He also had 10 tackles and a fumble recovery. …
Michael Scott caught a touchdown pass and had an interception to help push Parkrose past Madison 12-6. … Vicente Alcantar caught a 29-yard touchdown pass from Cole Collins with 2:58 left to lift Oakland past Creswell 26-20. Corbin Picknell rushed for 189 yards for the Oakers. … Dom Montiel threw four touchdown passes, two each to Pierce Davidson and DJ Daugherty, and ran for a score as Marshfield dropped North Bend in the Civil War rivalry game. … Sean White ran for a touchdown and returned an interception for a score to propel Bandon past Glide 16-13. … Canby's Tyler Mead ran for 207 yards and four touchdowns on 17 carries, had a touchdown catch and returned an interception 77 yards for a score as the Cougars outlasted Scappoose 42-27. …
Redmond recorded its third shutout by dropping previously unbeaten Pendleton 28-0, getting three touchdown passes from Hayden Parrish. Redmond, which has allowed 22 points this season, had three interceptions and held the Buckaroos to fewer than 100 yards. … Wilsonville got three touchdown passes from Jayce Knapp in rolling past David Douglas 35-6. … North Salem stopped South Salem 41-30 in the first Mayor's Cup game since 2017. Josiah Davis ran for three touchdowns, caught a scoring pass and returned a kickoff for a touchdown and freshman quarterback TC Manumaleuna ran 30 yards for the go-ahead score for the Vikings. … Gabe Gambleton threw three touchdown passes and ran for two scores for Baker, which defeated Ontario 41-8. …
Tillmaook's Miguel Niemi rushed for 145 yards as the Cheesemakers held off Seaside 18-14. … Enrique Arellano rushed for 238 yards and two touchdowns as Stanfield, suiting up only 12 players, defeated McLoughlin 46-19. … Reigning 3A champion Santiam Christian handled Junction City 34-7 behind Marcus Fullbright, who rushed for 194 yards and three touchdowns on 22 carries. … West Albany shut down Lebanon 28-0, getting four touchdown passes from Michael Cale, three to Caeden Zamora, who also had an interception. Zach Cehrs rushed for 143 on 22 carries for West Albany. … Carter Steeves threw four touchdown passes to Brady Hankins in Corvallis' 29-8 win over South Albany. ... La Pine stopped Vale 24-18. Both teams scored three touchdowns, but La Pine made three two-point conversions and Vale failed to convert.