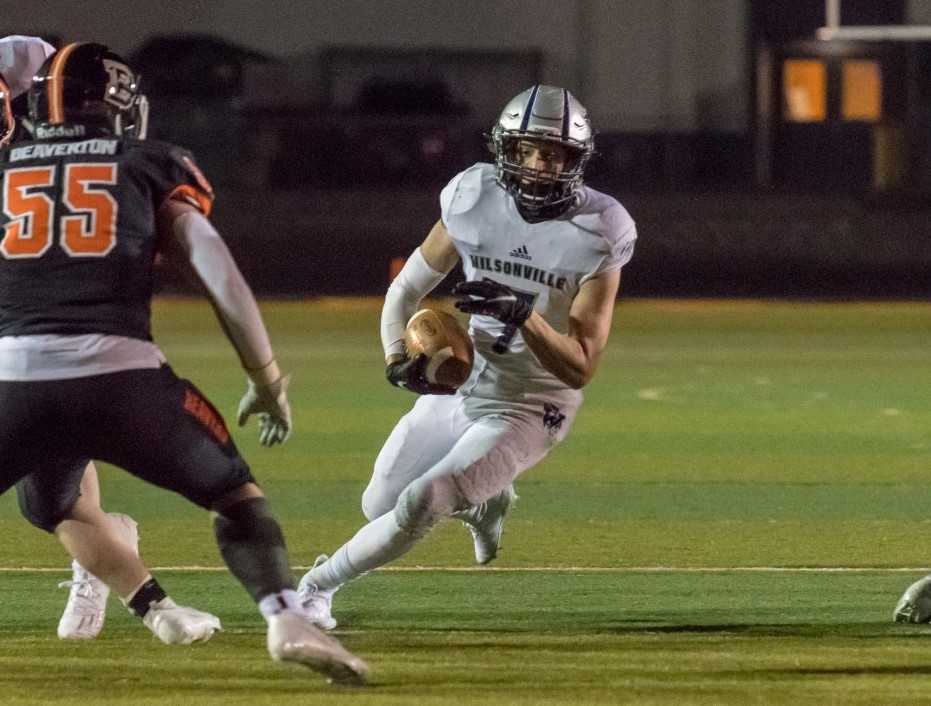 The curtain will go up Friday on what could become one of the state's better high school football rivalries.
Canby, which moved from the 6A Three Rivers League to the West division of the 5A Northwest Oregon Conference this season, will make the short trip to play traditional conference power Wilsonville for the first time.
It seems like a natural matchup between programs that are separated by eight miles on opposite sides of the Willamette River. Canby struggled in the rugged Three Rivers but promises to be a player in the NWOC, where Wilsonville has been dominant.
"It's something Canby's never really had," Canby coach Jimmy Joyce said of the potential rivalry. "This is a chance for us to establish something right across the river. A lot of these kids know each other and grew up together. It could be the start of a great rivalry in the state of Oregon."
Canby (3-1) and Wilsonville (4-0) are tied for first place in the division at 2-0, so Friday's winner can claim bragging rights, even if there is no official division title.
"We're excited for Canby," Wilsonville coach Adam Guenther said. "They played good ball in the TRL, it's just they were in the TRL. Now they rolled down, and they're playing well. They've done what people expected them to do. They're very similar to us as far as numbers go."
Joyce took over as Canby's coach in 2019 and the team won its final two games to finish 2-7, ending a 22-game losing streak. The Cougars opened this season with a 32-15 loss to 6A Clackamas but bounced back beat 5A Hillsboro 48-0, 4A Cascade 28-27 and 5A Scappoose 42-27.
"I think it's been steady progress, trying to find our identity," Joyce said. "Our offensive line has come together and gelled very well. Our running game finally has clicked in the last few weeks."
Last week, senior running back Tyler Mead rushed for 207 yards and four touchdowns and scored on a catch and 77-yard interception return against Scappoose. The 6-foot-1, 190-pound Mead, who switched from receiver this season, has rushed for 465 yards and eight touchdowns, averaging 11.3 yards per carry.
"We knew that once he settled into his new role, he was going to be dynamic," Joyce said. "If we had a regular fall season, there are a lot of colleges that would be looking at Tyler Mead."
The Cougars suffered a blow when senior receiver Chance Miller, who has signed with Air Force, was lost for the season after tearing a tendon in his ankle against Cascade. In a little more than two games, Miller had two touchdown catches and scored on punt and kickoff returns.
"It really kind of disrupted our gameplan," Joyce said. "He kind of made everything go for us."
Canby junior quarterback Mikey Gibson, who last season threw 14 touchdown passes in five games, has thrown for 831 yards and six touchdowns with four interceptions. He left last week's game with a knee injury, however, and is questionable for Friday. The backup is senior Zackary Markell.
Wilsonville returned starters at 19 positions from a 5A quarterfinal team. The Wildcats followed a 34-15 win over Scappoose by beating 6A teams Beaverton 30-14, Forest Grove 59-22 and David Douglas 35-6.
"It's a shame that this has happened this year because this group is very similar to our group from two years ago," said Guenther, referring to the 2018 state runner-up team. "They're very senior-heavy. Any other year, I think we make a good run, and this year we'll just make our run of six."
Guenther said the Wildcats are "a bunch of football rats. They love playing the game. They put together their own 7-on-7 team last fall when we couldn't have access to them. They're excited to get whatever they can get."
Wilsonville has two capable quarterbacks in junior Chase Hix and senior Jayce Knapp.
Knapp was the NWOC West offensive player of the year in 2019, when he threw for 30 touchdowns, but transferred to play at Del Valle, Texas, last fall. He moved back to Wilsonville and started the season as the backup to Hix. When Hix left the second game with a strained pectoral muscle, Knapp took over as the starter.
Hix returned to practice this week, but Guenther said he is unsure whether Hix (401 passing yards, five touchdowns) or Knapp (358 passing yards, four touchdowns) will get the call Friday.
Senior Lucas Graves has rushed for a team-high 292 yards and two touchdowns. The leading receiver is senior Payton Dart, who has 15 catches for 210 yards and two scores.
Senior lineman Jake Moore (6-2, 255) has been a force on offense and defense for Wilsonville. He has committed to College of Idaho for football and track.
"He's just an absolute beast," Guenther said. "They're getting an absolute steal. That kid should be a Big Sky kid. He's just got a motor."
A look at some of the other top matchups for Week 5:
Games are Friday unless otherwise noted
Jesuit (2-2) at Sunset (4-0), Thursday: Unfortjnately for Sunset, its best team in years won't get a chance to make a playoff run. For the Apollos, though, a win over Jesuit would make their season. They haven't beaten the Crusaders since a 28-24 decision in 1993, losing 26 in a row. Sunset's Caleb Kim and Jesuit's Michael Rincon rushed for 231 and 220 yards, respectively, in wins last week.
North Medford (3-1) vs. South Medford (3-1) at Spiegelberg Stadium: The Black Tornado and Panthers collide in the 31st Black & Blue Bowl. In 2019, North Medford rolled to a 52-21 win, ending a streak of three South Medford victories. The teams enter the game coming off much different wins. North Medford blanked Roseburg 35-0, holding the Indians to 29 total yards. South Medford won at Grants Pass 56-55 in three overtimes.
Sheldon (2-0) at Thurston (3-1): Sheldon has long been the gold standard in the Eugene area, but Thurston made a statement in 2019 by beating the host Irish 34-19 on its way to a 5A repeat. Now Sheldon will get a chance for some payback on the Colts' field. The Irish have a breakout sophomore quarterback in Brock Thomas, who has passed for 401 yards and five touchdowns and run for 232 yards and four scores in two games. Thurston has junior running back Gavin Knights (452 rushing yards, seven touchdowns).
Newberg (4-0) at Mountainside (2-2): Newberg's dramatic rise is reminiscent to when Aloha won the state title in 2010. The Tigers can make another bold statement with a win over the Mavericks, who are coming off a 21-14 overtime loss to Jesuit. Newberg's Levi Durrell has thrown 10 touchdown passes – five to Owen Hawley – and Price Pothier has rushed for seven scores. Mountainside's Andrew Simpson has 26 catches for 371 yards and six touchdowns.
West Albany (3-1) at Silverton (3-1): The Bulldogs and Foxes have ruled the 5A Mid-Willamette Conference the last two seasons. They shared the conference title in 2018, with Silverton winning 17-14 in the regular-season finale and West Albany prevailing two weeks later 20-16 in the quarterfinals. Last season, West Albany claimed the conference crown by beating Silverton 28-21 in the final regular season game. West Albany's Zack Cehrs has rushed for 620 yards.
Hidden Valley (2-0) at Henley (2-1): On the sideline since March 12, Hidden Valley returns to action to face the Hornets. The teams last met in 2017, when Henley won 56-6 in a 4A Skyline Conference game. Hidden Valley dropped to 3A the last two seasons, making the state final in 2019, and has bumped back to 4A. In the 4A BCS-style rankings, Henley is eighth and Hidden Valley 10th. Still unbeaten, perhaps Hidden Valley could make a bid for the top four with an impressive win. Henley's only setback is a 35-0 loss to No. 1 Mazama.
Bandon (3-0) at Coquille (2-1): Bandon, 3-0 for the first time since 2005, can complete a perfect run through 2A Special District 4, but standing in the way is two-time reigning district champion Coquille. Since 2008, the Tigers have lost 11 in a row to Coquille, which has won 13 consecutive conference games dating back to when it played in the 3A Mountain Valley Conference in 2017. The Red Devils, who are 2-0 in the district, are coming off a 34-28 loss to 3A Douglas.
Joseph (4-0) at South Wasco County (4-0): A rematch of last year's unofficial six-man state final, won by South Wasco County 19-6. That victory avenged a 25-13 loss to Joseph three weeks earlier. The only other unbeaten six-man teams are Alsea (3-0) and Gilchrist (3-0).
Central Catholic (4-0) at Clackamas (3-1), Saturday: Reigning 6A champion Central Catholic will try to get to 5-0 and put itself in position for a meaningful culminating week game against another top state contender. Rams junior quarterback Luke Johnson has thrown for 821 yards and 12 touchdowns, including five to junior Jordan King, who has 22 catches for 339 yards. Clackamas rebounded from losing to Jesuit 20-12 to beat Grant 19-12 and Sandy 35-0. The Rams won at Clackamas 48-7 last season to claim Mt. Hood Conference supremacy.
Marshfield (4-0) at Marist Catholic (3-1), Saturday: The last two seasons, the Pirates and Spartans have met in the final regular season game to decide the 4A Special District 4 title, with Marshfield winning 21-14 in 2018 and Marist Catholic prevailing 27-21 in 2019. The stakes are high again this season considering Marshfield and Marist Catholic are second and third, respectively, in the 4A BCS-style rankings, which means the winner will have a strong argument for a spot in the No. 1 vs. No. 2 game. Marshfield's Dom Montiel has thrown for 1,008 yards and 15 touchdowns, seven to DJ Daugherty.
Adrian/Jordan Valley (4-0) at Dufur (4-0), Saturday: Two of the state's best eight-man teams square off. In 2019, Adrian/Jordan Valley smashed Dufur 66-8 on its way to the 1A title, ending the Rangers' four-year reign. The Antelopes are powered by junior quarterback Conley Martin, who rushed for 333 yards and six touchdowns against Crane on March 19. Dufur outlasted Powder Valley 48-36 last week in a battle of unbeaten teams.