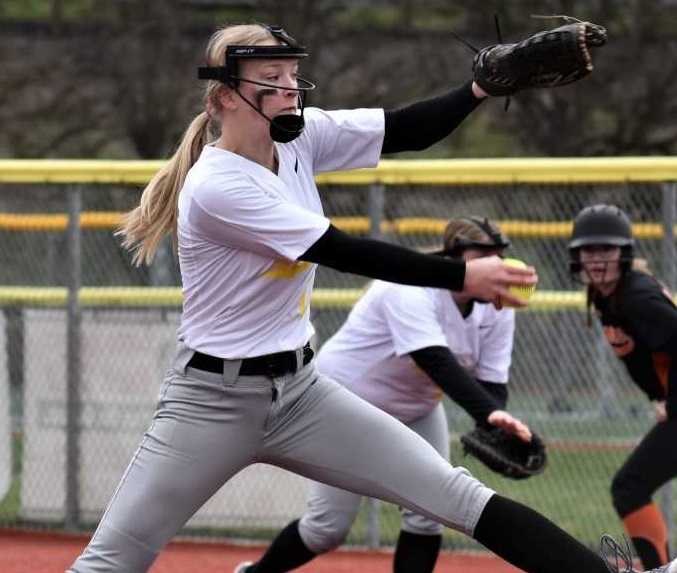 Looking back at last season, South Umpqua's softball team believes it had many of the necessary ingredients to make a run at the 4A title.
Except one critical item was missing in the Lancers' 6-3 semifinal loss to Henley.
"Henley came in more confident than we did, and it helped them," South Umpqua coach Joelle McGrorty said.
Confidence shouldn't be an issue for South Umpqua this season. Not only do the Lancers bring back their entire starting lineup, but they have dropped down to 3A, where they are ranked No. 1 in the OSAAtoday coaches poll.
South Umpqua has never won a softball title. It could be the school's best chance to win its first state championship in any sport since the football team tied Siuslaw in the 1981 final.
The Lancers (8-1) are starting to find their groove. They have reeled off eight consecutive wins since opening the season with a 6-5 loss at 4A No. 4 Elmira.
"The girls are working really well together right now," McGrorty said. "I'm pretty pleased with where we are. We set our goals pretty high. We know every game matters when you want to make it to the end."
South Umpqua has three fourth-year starters in pitcher Tayah Kelley, catcher Aailyah Rudy and third baseman Kalie Mann as well as a heavy-hitting junior in shortstop Shalyn Gray. Kelley and Rudy have chemistry going back to their days in youth softball.
"They can read each other without even having to talk," McGrorty said. "Aailyah provides a lot of support for Tayah. She's really confident in Aailyah's ability. And Aailyah's stepped up this year in really trying to take control of the field, and being loud and guiding the team."
Kelley, who has signed with Linfield, has thrown five shutouts this season. In 35 innings, she has allowed 16 hits, struck out 59 and walked 18. She threw a one-hitter and had another game with 17 strikeouts.
"She's really been sharpening up her pitches," McGrorty said. "She can throw a lot of different pitches, and she throws them all really well. She so likeable, the girls have so much respect for her. The team leans on her a lot for leadership and guidance.'
Gray has fueled the offense early, leading the team in batting (.517), home runs (three) and RBIs (19). Kelley is hitting .500 and Mann is batting .400 with two home runs.
South Umpqua was undone by walks and errors in the opening loss to Elmira, but after allowing six runs in that game, the Lancers held their next eight opponents to a combined six runs.
"It was disappointing when we came out for the first game and we weren't quite ready," McGrorty said. "Since then, I've seen them play much more confident."
The Lancers won at home over reigning 3A champion Dayton 8-1 and beat 5A No. 10 Churchill 6-2 and 3A No. 6 Taft 2-0.
The next week should be revealing. They play host to 4A No. 3 Junction City on Tuesday, have tentatively scheduled a game against 4A No. 1 Henley for Friday and go on the road for a rematch with Dayton on April 10.
"That'll be good for us. That's the kind of competition we'll see in the playoffs," McGrorty said.