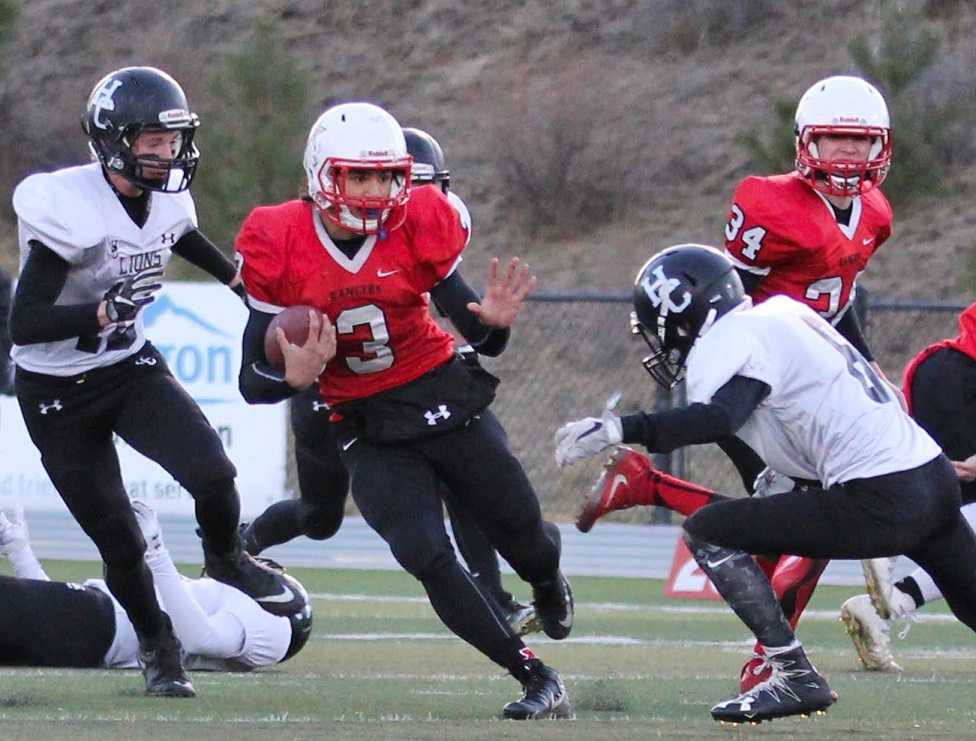 As the state championships pile up, the call from history gets louder for Dufur football.
The 1A Rangers won their 10th state title last year, second only to Vale's 12, and this year can become the second team ever to win five consecutive titles, matching Regis (1973-77).
They also enter the season on a 33-game winning streak. With another 13-0 season, they can match the state record of 46, set by Huntington (1968-72).
"I try to avoid thinking about that stuff," said coach Jack Henderson, who has a state-record 10 state titles. "But at the same time, in the back of your mind, you know that's hanging there. You know what it could mean in the end.
"But to get there, you have to ignore that."
If the Rangers are to continue their eight-man dominance, they must overcome an unusual obstacle. They enter the season with one senior on the roster, the fewest in their 33 seasons under Henderson, who is counting on a new cast of contributors to emerge.
"We have kids that we really think will develop this year," Henderson said. "Next year at this time, we'll be talking about what a great season they had in 2019."
Dufur won with speed last season as the team's lineup featured the state-champion 400-meter relay team of Cole Kortge, Anthony Thomas, Tanner Masterson and Asa Farrell. Of that group, the only one returning is Farrell, a senior running back and linebacker who was the 1A player of the year in 2018.
Expect to see the 5-foot-10, 190-pound Farrell -- the reigning state champion in the 100 meters (11.07 seconds) – with the ball in his hands often, not unlike past Dufur title teams that relied heavily on Dustin Underhill (1995), Luke Lindell (1999) and Bailey Keever (2015).
"We've been really successful from time to time in our program when we've had one real focal point in our offense," Henderson said. "It'll probably be a little more like that this year. When you have a kid that talented, you want to give it to him early and often. I'm sure he's looking to have a great season."
Last season, Farrell rushed for 998 yards and 11 touchdowns and caught 17 passes for 458 yards and eight scores. He also returned two punts for touchdowns.
"We expect him to be better than ever," Henderson said. "He's a threat to score every time he touches the ball."
The coach joked that Farrell will line up "wherever he wants." Keeping him healthy will be a priority, so when the Rangers get a game in hand, "Asa can come stand next to me," Henderson said.
Helping to shoulder the load will be burly sophomore running back Kaleb Pence (5-9, 200) and junior quarterback Cooper Bales, who moves from end to replace the graduated Derek Frakes.
Dufur lost a two-way all-state lineman in Russell Peters but has some experienced building blocks up front with juniors Trey Darden (6-5, 220) and Hunter Wagenblast (5-10, 245) and sophomores Thomas Scott (5-11, 165) and Jerry Hernandez (5-9, 195).
"I think our line has a chance to be better than it was a year ago," Henderson said.
The shortage of seniors is glaring, but of bigger concern is lack of overall depth.
"Injuries could have a way bigger impact than they did a year ago," Henderson said. "We're quite a bit thinner. But we have good kids and good tradition."
The Rangers will get a big test in their second game when they visit St. Paul, the team they beat 38-32 in last year's state final. Henderson sees St. Paul, Hosanna Christian, Falls City and Camas Valley among the teams that could contend in a more wide-open 1A field this season.
"Overall, there's probably less of a feeling that one team's going to do it," Henderson said. "I think maybe there's four or five teams that could be there at the end, depending on how healthy they stay."