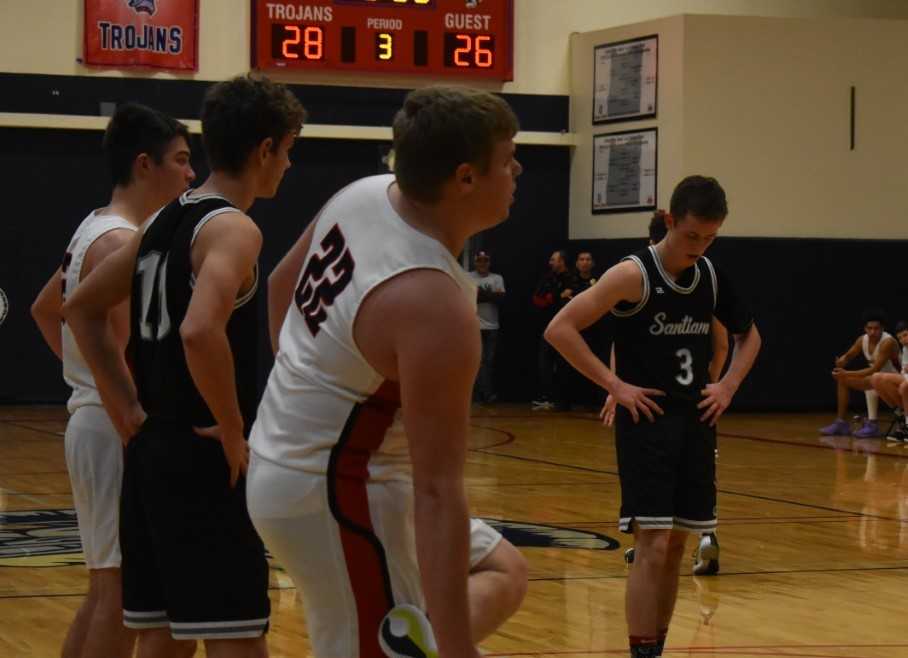 MT. ANGEL – Sophomore forward Chaz Storm scored nine of his 20 points in the fourth quarter as No. 5 Santiam came from behind to defeat No. 8 Kennedy 51-47 in a 2A Tri-River Conference boys basketball game Thursday.
Trailing 45-41, the visiting Wolverines rallied behind the 6-foot-6 Storm, whose three-pointer put his team ahead 46-45. Senior forward Hunter Reeser added a basket to make it 48-45, and Santiam held on for the key win.
"Kennedy always battles. Everyone in our league battles," said Reeser, who scored six of his 10 points in the fourth quarter. "It was a tough battle and we came out on top."
The win keeps Santiam (10-2, 3-0) tied for second place with No. 1 Western Christian (9-3, 3-0), behind No. 9 Sheridan (9-2, 4-0) in the rugged Tri-River.
Kennedy (7-6, 3-2) got 23 points from senior guard Luke Hall and 16 points from sophomore guard Riley Cantu.
Santiam led 26-16 midway through the second quarter but Kennedy closed to within 26-21 at halftime. The Trojans completed a 12-0 run in the third quarter, the final five points coming from Hall, to take a 28-26 lead.
Cantu credited Hall for sparking the Trojans.
"It helps out a lot because it makes the offense a lot easier, making plays off of him and creating shots with other guys," Cantu said. "We were moving the ball around. We missed some shots early but we got some of them falling in the third quarter and played some great D."
Free throws by senior Colin Thurston and a three-pointer by senior Kobe Dyer put Santiam ahead 31-28. The Wolverines led 41-37, but Kennedy responded with eight consecutive points to pull in front 45-41.
It set the stage for the late rally by Santiam, which avenged a loss to Kennedy for the consolation title at the 2A tournament last year.
"This just kind of showed the adversity that we can go up against, and all the challenges that we can go up against," Reeser said. "We're still going to work hard and show how determined we are to reach our goals."