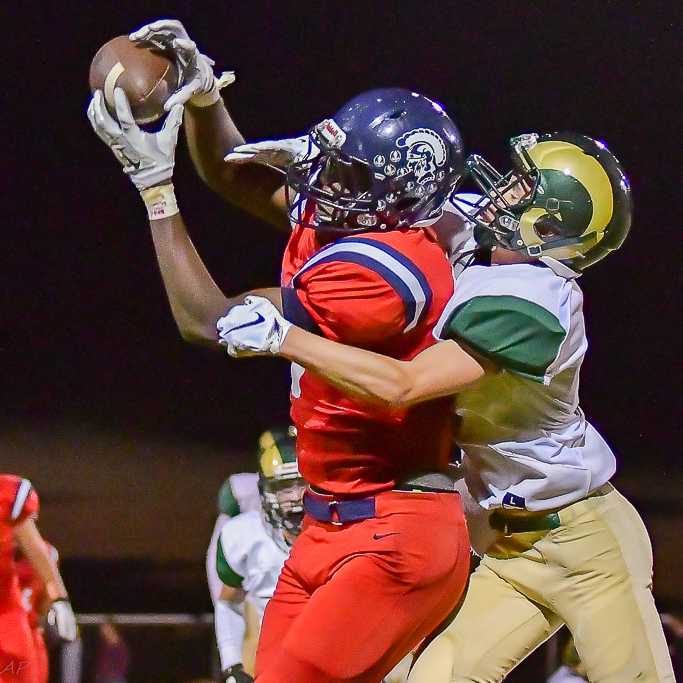 MT. ANGEL -- No. 2 Kennedy came out firing on all cylinders in its home football opener against Regis on Friday.
The Trojans have high hopes on bringing home a 2A championship, and might have the talent to make that happen.
"We're able to execute on offense and defense," said Kennedy coach Joe Panuke, whose team plays host to No. 1 Santiam next week. "We create turnovers and get the momentum going our way, it makes a big difference."
Kennedy got the momentum early Friday thanks to junior Bruce Beyer. His 36-yard interception return for a touchdown put the Trojans (2-0) on the board early and got the crowd excited. Beyer broke a school record last week against Blanchet Catholic when he returned an interception 102 yards for a touchdown.
"When it's in the air we go get it," Panuke said. "Focus on the ball and keep it in front of us. It's led to big plays, and that's what makes defense fun."
In the team's two wins, the defense has allowed six points. It has shown how versatile the team is on both sides of the ball.
Emorej Lynk, a 6-foot-3, 200-pound junior running back, has been another big key for Kennedy. In Friday's win, he ran for 103 yards and four touchdowns on 10 carries, giving him seven touchdowns in two games.
"He's a special talent," Panuke said. "But he's also a great teammate. He may get some great runs but he's also blocking his heart out for his buddies as well. He'll do anything for his guys."
Said Lynk: "I think if we all keep playing like this we could go all the way to state."
Quarterback Dylan Kleinschmit completed 9 of 12 passes for 99 yards with one interception. Sophomore running back David Reyes (5-5, 145) rushed for 60 yards, including a 15-yard touchdown in the third quarter.