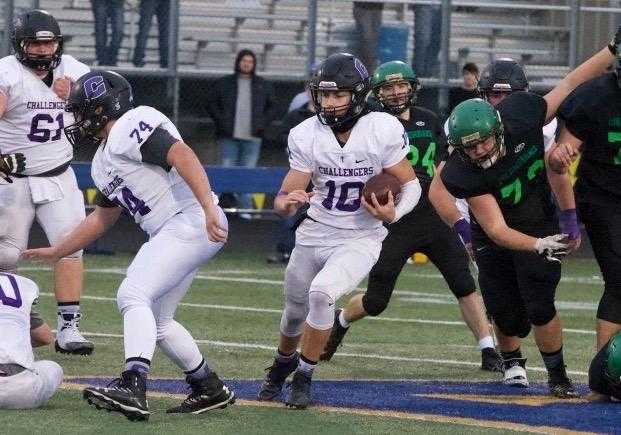 Nearly halfway through the regular season, Cascade Christian appears to be a serious threat to reach its third consecutive 3A football final.
The Challengers continue to light up the scoreboard at a rate of 48.0 points per game, and their defense is gelling nicely, posting back-to-back shutouts over Harrisburg and Pleasant Hill the last two weeks.
But they will tell you that much has changed since last season.
"Last year, by this time of year, we kind of knew who our guys were," Cascade Christian coach Jon Gettman said. "I think last year's team had a little bit more depth in the skill positions. This year we're still kind of fleshing that out, trying to find out where the pieces fit."
No. 3 Cascade Christian (4-0) faces its biggest test of the season so far when it plays host to No. 1 Hidden Valley (4-0) on Friday in the Far West League opener for both teams. The Challengers drilled Hidden Valley 51-7 last year, but the Mustangs, who moved to the top spot in the OSAAtoday 3A coaches poll this week, are much improved.
"Across the board, athletically they match up with anyone," Gettman said. "They'll out-athlete us, for sure. They can run and pass, and defensively, they get after it. They like to bring pressure and confuse you, and they run to the ball."
In last year's meeting, Hidden Valley outgained Cascade Christian 356-306 but was undone by six interceptions. The Challengers returned two interceptions for scores in a 39-second span late in the second quarter to open a 28-7 lead.
Cascade Christian senior quarterback Kiegan Schaan, who ran for four touchdowns against the Mustangs last year, is back to direct the attack. The 6-foot, 190-pound Schaan, one of the state's top dual threats, has passed for 781 yards and eight touchdowns and run for 445 yards and seven scores.
"He's definitely further ahead of where he was last year," Gettman said. "He just understands the reads better. He's more confident. He's an effective passer and he's able to back that up with some incredible runs."
Six of Schaan's touchdown passes have gone to junior receiver Kristian Fralich (5-7, 150), who has 19 catches for 445 yards.
"They kind of got a feel for it last year. It just carried over," Gettman said of the Schaan-Fralich connection. "Kristian does a good job of adjusting routes to coverages. He's very quick. He gets up to his top speed fast. And he's strong. He can run through arm tackles."
Cascade Christian's defense is led by senior linebacker Elijah Smith and Fralich, who has three interceptions. But the Challengers have not played against an offense the caliber of Hidden Valley, which is averaging a 3A-best 50.3 points per game.
Mustangs junior quarterback Sam Vidlak has passed for 962 yards and 13 touchdowns with one interception. He has big targets in 6-4 junior Lawrence Matusik (16 catches, 350 yards, three touchdowns) and 6-3 junior Jeremiah Noga (23 catches, 349 yards, five touchdowns).
Hidden Valley also has a strong running game that features 5-10, 185-pound junior Tobias Powers, who has rushed for 524 yards and six touchdowns, averaging 11.9 yards per carry.
"Hidden Valley is going to challenge us in every way," Gettman said.
The Mustangs were 1-7 in 4A in 2017 and met the criteria to move down one classification last year, when they finished 6-4, their first winning record since 2012.
A look at other top games in Week 5:
6A
No. 6 Jesuit (2-2) vs. No. 3 Central Catholic (3-1) at Hillsboro Stadium: The longtime rivals meet again for a nonleague game. Jesuit will try to rebound from last week, when its 43-game Metro League winning streak ended with a 42-41 overtime loss to Aloha, despite 276 rushing yards from Kade Wisher. Central Catholic is coming off a 35-29 win over previously undefeated Sherwood in which Cade Knighton completed 18 of 22 passes for 293 yards and two touchdowns. The Crusaders surrendered more than 400 passing yards to Aloha last week.
No. 9 North Medford (4-0) at Sheldon (1-3): Are these records for real? Perennial power Sheldon is trying to stabilize after getting off to an 0-3 start for the first time since 1992, but it won't be easy with North Medford and Jesuit up next. The Black Tornado is 4-0 for the first time in five years, in part because of the play of junior running back Devin Bradd, a transfer from Eagle Point. The game is the Southwest Conference opener for both teams. Since North Medford beat the Irish in 2013 – ending their five-year conference winning streak – Sheldon has won the last five meetings, including 35-6 in 2018.
No. 8 Sherwood (3-1) at No. 5 West Linn (3-1): Since opening the season with a 35-27 loss to Central Catholic, West Linn has won three in a row. The Lions are getting big seasons from senior quarterback Ethan Coleman (1,286 yards, 16 touchdowns) and senior receiver Casey Tawa (30 catches, 472 yards, seven touchdowns). Sherwood suffered its first loss last week, falling to Central Catholic 35-29. Bowmen linebacker Bryan Cuthbertson had 18 tackles, including one sack, in the loss. Sherwood will be looking for payback from last year, when West Linn won 26-20 in double overtime.
5A
No. 7 Wilsonville (3-1, 2-0 Special District 1 West) at Forest Grove (3-1, 2-1): Wilsonville, last year's 5A runner-up, is gaining some traction after opening with a 40-0 loss to Crater. Junior Jayce Knapp has thrown 10 touchdown passes in the last three games, three to junior Payton Dart (21 catches, 305 yards). The game represents a golden opportunity for Forest Grove, which got off to a 3-1 start last year before losing at Wilsonville 53-6, a game in which the Vikings trailed 48-0 at half. Forest Grove shut down Cleveland 14-8 last week, getting two sacks from Cameron Bennett.
No. 2 West Albany (4-0, 4-0 Mid-Willamette Conference) at No. 9 Lebanon (2-2, 2-2): West Albany, tied for first place in the Mid-Willamette with Silverton, faces a dangerous road game at Lebanon, which is coming off narrow losses to Silverton (29-25) and McKay (42-41 in overtime). The Bulldogs have held opponents to a state-low nine points this season. Their offense features senior quarterback Carson Van Dyke, who threw for 241 yards and three touchdowns in a 35-21 win over Lebanon last season.
4A
No. 2 La Grande (4-0, 1-0 Greater Oregon League) at No. 7 Baker (3-1, 1-0): The first of two Greater Oregon meetings between the teams, who will play again at La Grande in the regular-season finale Oct. 26. La Grande has swept all four games against the Bulldogs the last two years, winning 26-6 and 35-0 in 2018. The Tigers got three touchdown passes from Parker Robinson to beat 3A Clatskanie 43-0 last week. Baker's only loss came against Homedale, Idaho.
No. 3 Mazama (4-0, 1-0 Skyline Conference) at North Valley (3-1, 0-0): Mazama plays the second of four consecutive road games when it faces the Knights in a Skyline contest. The Vikings have won the last six in the series, including 34-0 last year. Mazama's defense, which has allowed 27 points all season, will zero in on North Valley running back Elijah Colas, who ran for 127 yards in a 27-14 win over Junction City last week. North Valley's only loss was 24-7 to 3A No. 1 Hidden Valley.
3A
Nyssa (3-1) at Umatilla (4-0): The teams meet in the Eastern Oregon League opener. Umatilla, which went 1-7 last year, is 4-0 for the first time since 2008, when it started 7-0. Nyssa has won 10 in a row over the Vikings, mostly blowouts, such as last year's 55-6 rout. But Umatilla's defense is much improved, holding teams to 6.5 points per game after allowing 43.9 last season. The Bulldogs have outscored their last three opponents 117-8 after opening with a 40-0 loss to 4A Baker. Last week, Nyssa freshman Andrew Enders ran for 111 yards on six carries to help beat Payette (Idaho) 48-0.
1A
No. 1 Adrian/Jordan Valley (4-0, 3-0 Special District 3 East) at No. 6 Elgin (4-0, 3-0): The game matches the state's two highest-scoring teams – at any level – in the Antelopes (65.3 points per game) and the Huskies (63.5). Adrian has been on a roll since knocking off four-time reigning 1A champion Dufur 66-8 in the season opener. Elgin is coming off an impressive 62-32 win over Powder Valley in which Tristan Simpson rushed for 191 yards, passed for 140 yards and accounted for four touchdowns. Adrian beat Elgin 50-20 last year. The Antelopes play at Powder Valley next week.