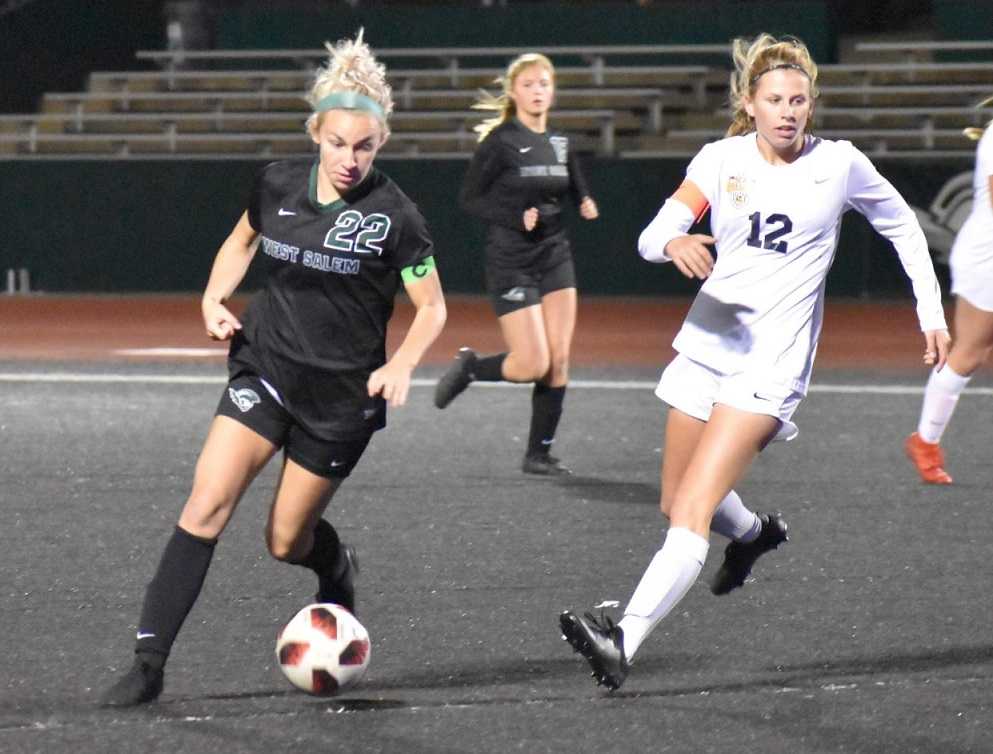 West Salem's girls soccer team has posted several impressive wins this season, but it was a tie that made the state stand up and take notice of the Titans.
They drew 0-0 with two-time reigning 6A champion Jesuit on Sept. 16, ending a 43-match winning streak for the Crusaders, who outscored opponents 241-7 during that stretch.
Considering Jesuit -- ranked No. 4 in the nation by TopDrawerSoccer.com and No. 1 in the OSAAtoday 6A coaches poll -- beat West Salem 9-0 and 10-0 last year, the tie marked a huge step forward for the Titans.
"It was a bit more of an emotional win," first-year West Salem coach Whitney Pitalo said. "It really gave the girls confidence that the state championship is within reach. For us, it was a big benchmark and also a big motivating factor."
The third-ranked Titans (8-0-3, 3-0-1 Mountain Valley Conference) are proving that they belong among the state's elite teams. They defeated 5A No. 4 Wilsonville 5-0 and 6A No. 2 Mountainside 4-0 and tied 6A No. 4 Sherwood 2-2.
Their other tie was a 1-1 match against Mountain Valley Conference rival South Salem on Oct. 4, a result slowed their momentum.
"It really brought us back down," Pitalo said. "There's a lot more work to do. We can't rest at any moment, any point, or a good, competitive team can knock us off."
The Titans brought back much of last year's team -- which finished 11-5-1, was conference runner-up to Summit and fell to Jesuit in the quarterfinals -- and added one of the state's premier strikers in senior Paige Alexander, a University of Oregon commit.
Alexander helped lead Silverton to the 5A final as a freshman but did not play the next two seasons, instead opting to train with the Portland Thorns Academy. Alexander, who transferred to West Salem in the middle of her sophomore year, decided to play her senior season and has been a force, recording 18 goals and 10 assists.
"She's just an incredible player," Pitalo said. "She's fast, she's dynamic. She's dangerous, she's hard to defend. And she just has the highest work rate of anybody on the field. She's a high-energy player."
Alexander gets plenty of support from senior center midfielder Fatima Jimenez, who has 10 assists. Jimenez has been the leading scorer for her club team, CFC Zenith, the five-time reigning state champion.
West Salem has allowed only seven goals all season. The Titans have a sturdy back line that features senior center backs Sarah Rice and Olivia Orozco, who keep the heat off stellar senior goalkeeper Abbey Knoll.
Pitalo said she believes that Rice and Orozco – who are committed to Arizona and Western Oregon, respectively – are "the two best center backs in the state. They're both tall, aggressive, and good ball-winners. They both have the ability to dribble out of pressure and pass."
Pitalo was hired as coach after the resignation of Jaime Rodriguez, now an assistant with the South Salem boys. Pitalo, a 2012 South Salem graduate who played in college at USC, also is in her fourth season as an assistant for the Willamette University women's team.
"I don't think I ever thought of coaching as something that I would do forever, but it would be something that I really would enjoy and help me transition from being a player to a working-class adult," she said. "But I have noticed from coaching the last four years that I really love it. It's probably going to be something that I stick with."
She has the team on track to unseat Summit as the conference champion. The Titans play at the first-place Storm (8-3, 4-0) in the regular-season finale Oct. 25.
"I think we're going to prepare for Summit like we're preparing for the playoffs," Pitalo said. "We just played the other two Bend teams, and every time after the game, they would say, 'Beat Summit.'"