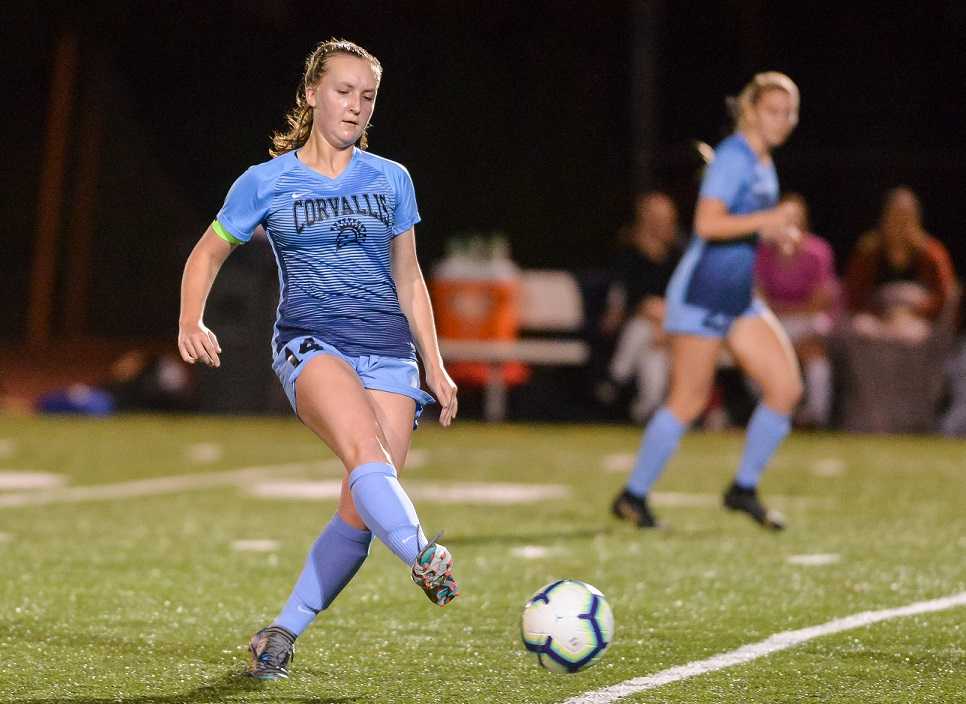 For the most part, scoring goals hasn't been an issue for the Corvallis girls soccer team this season.
The Spartans have made up for the graduation of high-scoring forward Jordan Taylor with a balanced attack that produces 4.8 goals per game, the most in 5A.
But there are times, according to coach Kelli Rice, that the goal seems to shrink on the team, as it did during 1-1 ties against La Salle Prep and Crescent Valley and a 2-0 loss to 6A South Salem.
If the Spartans, who made the quarterfinals in 2017 and semifinals last year, are going to make another playoff run, they can't afford to waste any chances, especially without the opportunistic Taylor.
"She scored quite a few big-time goals for us, especially in the playoffs," Rice said. "So that will be the key this year. Just making sure we finish our opportunities will be the biggest thing."
Corvallis (9-1-2, 5-0-1) brought back most of last year's team, which won the Mid-Willamette Conference and finished 10-5-2. The Spartans, ranked fourth in the OSAAtoday 5A coaches poll, have raised their game in their second season under Rice, outscoring opponents 57-6.
Corvallis can repeat as outright conference champions Tuesday night by beating No. 6 West Albany (8-2-1, 5-0-1) in a first-place showdown. The Spartans finish the regular season at home Thursday with a nonleague game against 4A No. 1 Marist Catholic, then will focus on going after the first state championship in school history. They have never appeared in a final.
"We have the leadership. The girls can play, there's no doubt about that," said Rice, a 2004 Corvallis graduate who played at the University of Portland. "It'll be an exciting playoff, one that we should be able to make a run in."
Recent playoff success should benefit the Spartans, who are well positioned at No. 3 in the OSAA power rankings, behind Crescent Valley and North Eugene.
"It's kind of a learning curve to try to get past the first or second round of the playoffs," Rice said. "That's where a lot of teams get stuck. The fact that essentially our seniors this year have been able to do that for the past two years, hopefully that bodes well for us."
Much of the offense has come through senior midfielder Marcella Allen, sophomore forward Camryn Pugh and junior forwards Anna Dazey and Sara Matsuba. The defense has been rock solid, led by senior Indigo Martin-Llinas, junior Ellie Hintzman and senior goalkeeper Ana Bechtel.
Rice said that the team's experience has "kind of made my job easy. The girls have a lot of good chemistry. That comes from the leadership and being around each other quite a bit. That's a huge thing for us. That's kind of the staple of the team."