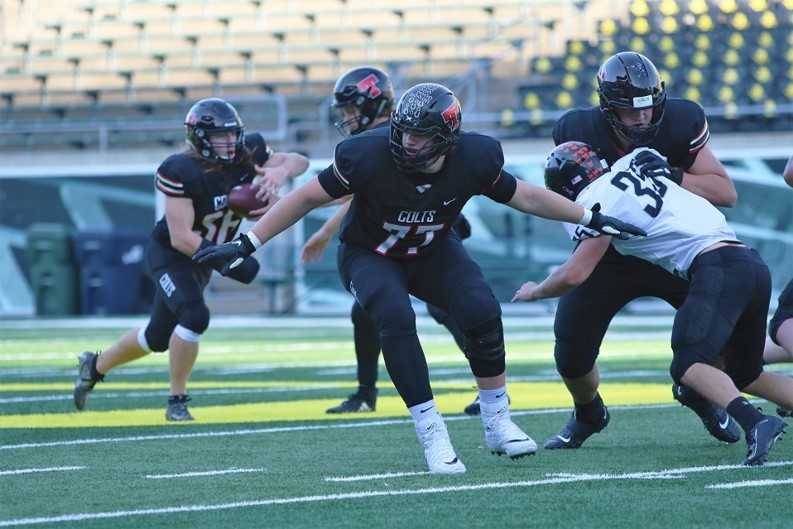 EUGENE - Thurston took another emphatic step toward defending its 5A football title Saturday, methodically wearing down Silverton 44-14 in a semifinal at Autzen Stadium.
It was the 16th consecutive win for the Colts, who left no doubt as to why they are the No. 1 seed.
"It feels great," said senior quarterback Cade Crist. "We've been waiting for it all year, we've worked for it, we're here and we're ready."
No. 1 Thurston (12-0) used a balanced offensive attack to keep No. 4 Silverton (10-2) off balance all game long, racking up 436 yards of total offense, while holding the Foxes to 217 total yards. Senior running back Wesley Kommer did the damage on the ground, running for 194 yards and four touchdowns on 24 carries.
"He's an animal," said Crist. "There is no one like him in the state. He's so hard to bring down and he's such a fighter."
Thurston coach Justin Starck agreed with his senior quarterback on Kommer's importance.
"I just can't say enough about Wes," said Starck. "He's a workhorse, he's a warrior -- every cliche you could use. He's going to show up with his hard hat and lunch pail and go to work next week."
Crist did the work through the air, passing for 172 yards and a touchdown on an efficient 14-of-21 passing.
"He rose up in a big moment on a big stage and had a tremendous game," said Starck of his senior quarterback.
But the most impressive part of the Colts lineup might be the massive offensive line (averaging 278 pounds) that opened the holes for Kommer and protected Crist in the pocket.
"It's fair to say that we have the best O-line in the state," said Crist. "They work so hard every day. It shows that we are the best team in the state. It's gonna be a matchup problem for whoever we play."
Thurston is one of the most experienced teams in the state, as many players were a part of last year's championship team that had three losses during the regular season.
"This group had to forge their way through last year," said Starck. "They had some bumps along the way and they were young and developing. Now, they are veteran football players. Some of them have played 35 varsity football games. They are just an experienced group of players."
Silverton's coaches and players would agree.
"They do a lot of things well," said Silverton coach Josh Craig. "They can throw the ball, they can run the ball, they are pretty dialed in. They are big and physical, senior heavy and they have a lot of confidence."
"Thurston is an incredible team," added Foxes senior Grant Buchheit. "Super well-rounded, good pass, good run, good defense, just a good team."
Thurston received the kickoff and wasted no time in showing off its balanced offense by going 67 yards on seven plays (four runs, three passes) to take a 7-0 lead on a 21-yard touchdown run by Kommer.
Silverton answered on its opening drive as they marched 80 yards on 8 plays to even the score at 7-7. Foxes sophomore quarterback Jordan McCarty completed three passes for 75 yards on the drive, including a 13-yard touchdown pass to senior Nathan Kuenzi.
The Colts wasted no time on its second drive of the game, going 51 yards on three plays to jump back ahead 14-7 on a 4-yard touchdown pass from Crist to sophomore Jacob Newell. The big play on the drive was when Crist found junior Dawson Muggy for a 41-yard pass to the 10 yard line.
Thurston made the first defensive stop of the game when senior DB Caleb Scott intercepted a McCarty pass and returned it to midfield for the Colts. Both teams traded punts after the turnover, but Thurston gained great field position at the Foxes 44 yard line when Silverton's punt went only 23 yards.
Using a balance of passing and running plays, the Colts went 44 yards in 9 plays to take a 21-7 lead on another touchdown run by Kommer. Thurston held the Foxes to another three and out, but then Silverton made its first big defensive play to get right back into the game.
Silverton junior linebacker Owen Magill scooped up a Kommer fumble and returned it for 35 yards to the Colts 22 yard line. After a couple penalties on both teams, McCarty found Buchheit for a 21 yard touchdown pass on 3rd and 20 to pull the Foxes within 21-14.
Thurston ran off the final four minutes of the half with an 11 play, 75 yard drive that ended in a 20-yard field goal by Gavin Levesque to give the Colts a 24-14 lead at halftime. Thurston had 253 total yards (154 passing, 99 rushing) in the first half, while Silverton had 149 total yards (141 passing, 8 rushing).
With Silverton scheduled receive the second half kickoff, it was still anybody's ballgame. Thurston had other ideas. The Colts intercepted the Foxes on the first play of the second half and then marched 57 yards on 10 plays to take a 30-14 lead on a 7-yard touchdown run by Kommer, his 3rd of the game.
"That was a complete momentum shift," said Buchheit. "If we could have gone down and scored it would have been a totally different ballgame."
Thurston wasn't done. Less than three minutes later, after holding the Foxes to another three-and-out series, Kommer rumbled 47 yards for his 4th touchdown of the afternoon to give Thurston a commanding 37-14 lead.
"That was the game plan all week," said Crist. "We were going to come out and punch them in the mouth and we were going to go aggressive all game. We made adjustments at halftime and executed perfectly in the second half."
After holding Silverton on fourth down, Thurston went to work again, going 64 yards on 6 plays to take a 44-14 lead with 7:29 left in the game. The 40-yard touchdown run by junior running back Jeremy Foss was the final points of the game.
McCarty finished 16 of 28 passing for 199 yards with two touchdowns with three interceptions for Silverton. Kuenzi had six catches for 42 yards and Buchheit added three catches for 70 yards. Thurston held Silverton to 18 rushing yards for the game.
Thurston will play No. 2 Crater (11-1) for the title Saturday at Roseburg High School.