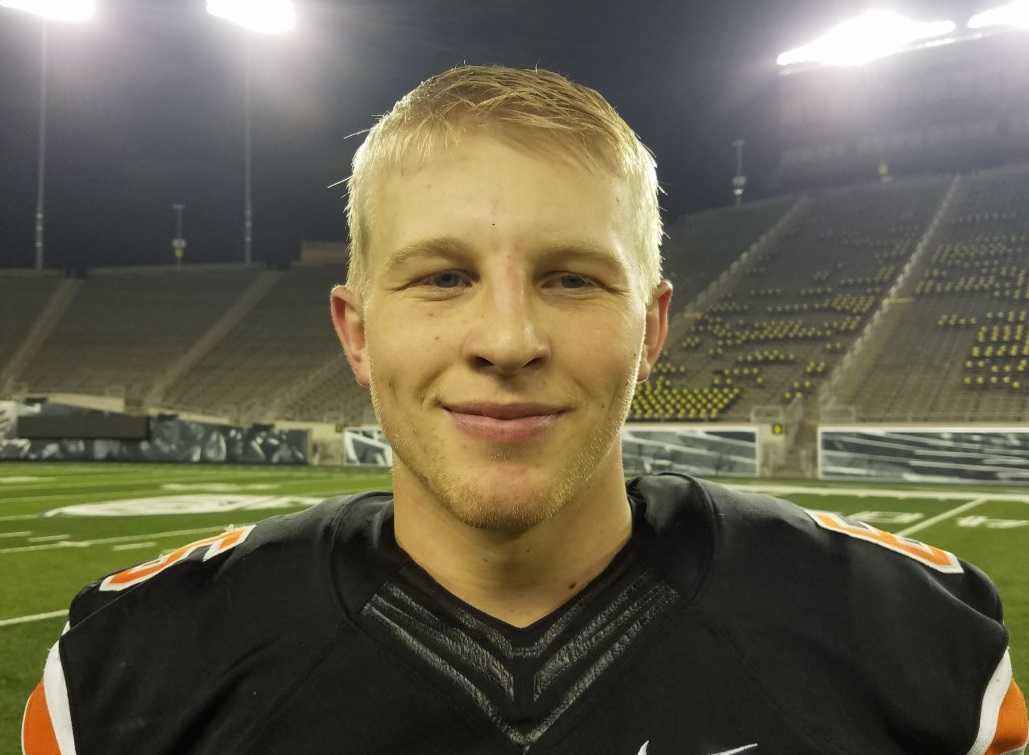 EUGENE - Crater set up an all Midwestern League final in 5A football next week, running by West Albany 30-24 in a semifinal at Autzen Stadium on Saturday night.
The Comets got a 69-yard run down the right sideline by backup running back Brady Brock to break a tie with 4:48 remaining. Then, Tyler Ennis intercepted a tipped pass to seal the victory with 1:20 left, as the Bulldogs were driving for a possible winning score.
The 69-yard run was Brock's only carry of the game.
"Brady Brock does not carry the ball a lot for us, but he's just as good as any of our other backs," said Crater coach Randy Waite. "Gavin Acrey was kind of tired, so we got Brady in there with some fresh legs and he took one to the house. That was great for Brady and great for us."
"It was about what I expected," said West Albany coach Brian Mehl. "I thought we were going to go down and score at the end of the game and kick the extra point and win the game. I was pretty confident that was going to happen. Then, the ball got tipped and bounced in a weird way."
No. 2 seed Crater will face No. 1 seed Thurston, defending state champion and winner of 16 straight games. Crater's only loss is to Thurston, 31-20, way back on Sept. 9 in a league game. Thurston defeated Silverton 44-14 in the first semifinal on Saturday.
"They have gotten a lot better, but so have we," said Waite of Thurston. "Our kids have been looking forward to that, hoping we'd get another shot at them. I know they will be ready for us. It will be a good game."
Coach Waite will be looking for a much cleaner game from his team this time against Thurston.
"We turned the ball over way too many times," said Waite. "We gave them lots of short fields. We've got to make sure we clean that up. We're just gonna be ready to compete with them."
"It's a big game," said senior quarterback Trever Davis. " We are looking forward to Thurston next week. We just have to not stab ourselves in the back. We can't hurt ourselves. We just need to go after them."
"We all want revenge," added Acrey. "We just have to play our game and do what we do."
With the top two ranked defenses in 5A football squaring off in crisp, cool weather (43 degrees at kickoff), tonight's game was expected to be a defensive battle. Crater came in with four straight shutouts and a state-leading six on the season. Not to be outdone, No. 3 West Albany led the state by allowing only 7.7 points per game this season.
After a slow opening few minutes to the game, the defensive battle didn't materialize as the two teams traded the lead four times in the opening half. West Albany broke through first with 5:38 remaining in the opening quarter, going 48 yards on five plays to jump ahead 7-0 on a three-yard touchdown run by senior Connor Wolfe.
It was the first points allowed by the Comets in 18 quarters. Bulldogs senior quarterback Carson Van Dyke found junior Caeden Zamora for a 34 yard pass play to get down to the 3-yard line and set up the touchdown run.
The shock of being scored on didn't faze Crater, but it surely woke them up.
"We knew they were going to score on us," said Waite. "Our kids are competitors."
The Comets came right back with a 7-play, 32 yard drive of their own and got a 32-yard field goal by Trever Davis to get within 7-3. Crater then held the Bulldogs to a three-and-out, forcing a punt to get the ball right back.
Comets senior Acrey then got a chance to show off his speed, as he took the ball and ran 77 yards untouched down the left sideline to give Crater a 10-7 lead.
"The big plays tonight hurt us," said Mehl. "We gave up two plays over 50 yards and I don't think we've done that all year."
Crater held West Albany to another three-and-out series, but then failed on a fake punt attempt on fourth-an-three to set up the Bulldogs in excellent field position. West Albany took advantage, going 43 yards on five plays to take the lead right back, 14-10. Zamora found the end zone on a three-yard touchdown run after a direct snap. Bulldogs senior running back Porter Phillips had a 36-yard run down to the 10-yard line to set up the touchdown.
Crater came right back behind the running of Acrey and passing of Davis. Davis found Trevor Jaasko for a 10-yard touchdown pass to retake the lead, 16-14. Crater missed the PAT attempt.
The Comets marched 68 yards on eight plays on the drive, with Acrey gaining 45 yards on the ground. West Albany regained the lead, 17-16, on a 28-yard field goal by Seth Jackson as time expired in the first half.
Crater outgained West Albany 213-128 in total yards in the opening half as Acrey carried it 13 times for 140 yards. Phillips had 57 yards on nine carries to lead the Bulldogs.
West Albany received the second-half kickoff and immediately went to work. The Bulldogs used as mix of passing and running to go 63 yards on seven plays to up their lead to 24-16 with 8:52 remaining in the third quarter on a 26-yard touchdown pass from Van Dyke to Zamora.
Crater wasted no time in answering, going 67 yards on eight plays in less than three minutes to even up the score at 24-24 on a three-yard touchdown run by Acrey. Davis hooked up with Jaasko on a 40-yard pass completion to set up the touchdown run. Davis hit junior Dawson Douglas on the two-point conversion to tie it up.
Crater forced West Albany to punt on the ensuing possession, but the Bulldogs immediately got an interception by senior Blake Bowers to regain possession heading into the final quarter. The Bulldogs drove inside the 20-yard line, but the Comets forced a turnover on downs at their own 13-yard line and took over.
That's when Brock went down the right sideline for 69 yards to give the Comets a 30-24 lead with 4:48 remaining.
"Brady, when we needed him most, busted out a huge one," said Acrey. "that's what finished the game."
West Albany had one more chance and was driving for a potential winning score, but on first down at Crater's 42-yard line, the ball got tipped and Tyler Ennis picked it off with 1:20 remaining. Crater ran out the clock and started celebrating.
Crater finished with 380 yards of total offense (99 passing, 281 rushing). Acrey had 22 carries for 179 yards and 2 touchdowns. Davis was 9 of 14 passing for 99 yards with one touchdown. Davis added 33 yards rushing on six carries.
West Albany had 297 yards of total offense (131 passing, 166 rushing). Phillips led the Bulldogs with 19 carries for 121 yards. Van Dyke was 10 of 18 passing for 131 yards one touchdown. Zamora hauled in five catches for 84 yards and two touchdowns.