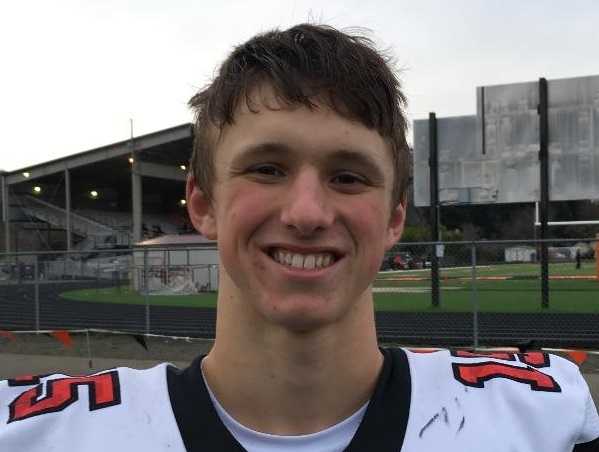 ROSEBURG -- For much of the season, the talk in 3A football was about dynamic Hidden Valley.
So when Santiam Christian prepared to face the explosive Mustangs in the OSAA/OnPoint Community Credit Union 3A final Saturday at Roseburg High School, the Eagles had a little something to prove.
"A lot of people thought Hidden Valley was unstoppable," Santiam Christian junior running back Marcus Fullbright said. "Them having a big name, it just gave us something to go get."
Behind a big game from Fullbright, the second-seeded Eagles (13-0) did just that, rallying in the fourth quarter to pull out a 41-34 win over the Mustangs (12-1) in a battle of unbeaten teams.
Fullbright rushed for 198 yards and five touchdowns, including a one-yard run with 1:06 left to break a 34-34 tie, to lead Santiam Christian to its second title. The other one came in 2011.
The Eagles let a two-touchdown lead slip away in the second half, fell behind by seven points in the fourth quarter, but responded by making the big plays down the stretch to overtake the Mustangs.
"I think that's the character of this team, they don't panic," Eagles coach Matt Bain said. "These guys are really tough to try to stop, and when they pulled that momentum and got ahead, it was punch time. But we didn't give up. We punched them back."
Hidden Valley scored back-to-back touchdowns -- a 12-yard pass from junior Sam Vidlak to sophomore Nate Vidlak and a 1-yard run by senior Tanner Noble -- to pull ahead 34-27 with 5:08 remaining.
Santiam Christian stalled on its next possession, but got the ball back at its own 45-yard line with 3:04 left.
On the next play, sophomore quarterback Ely Kennel ran to his left and appeared to be headed out of bounds, but at the last moment cut up the sidelines for a 55-yard touchdown to tie 34-34 with 2:52 on the clock.
"I was thinking I was going to go out of bounds, and then at the last second, I was like, 'I'll get a few more yards,' and it just opened up," Kennel said. "I was surprised, too."
Bain praised the running of Kennel, who rushed for 138 yards and one touchdown on 15 carries.
"He is quick, he can shift gears pretty fast and change direction really well," Bain said. "He's a good athlete. He's tough to corral."
Hidden Valley junior Lawrence Matusik fumbled on the ensuing kickoff return, and Eagles junior Seth Austin recovered at the 19-yard line. Santiam Christian drove to the 1-yard line, where the Mustangs stood down and let Fullbright score the go-ahead touchdown with 1:06 to go, giving them time to respond.
Sam Vidlak -- who completed 39 of 55 passes for 479 yards and three touchdowns -- nearly provided an answer for Hidden Valley.
The Mustangs reached the Santiam Christian 25-yard line with 12 seconds left, but a pass to Nate Vidlak to the 8-yard line was nullified by a holding penalty, and the threat evaporated.
"I felt pretty confident, like we all did," Sam Vidlak said. "But at the end of the day, we didn't finish how we wanted to. We didn't execute when it mattered."
It was a tough blow for Hidden Valley, which dropped down from 4A last year and is ticketed to return to 4A next season. The Mustangs, appearing in their first final since 1978, were going for their first title.
"We wanted it this year," said Sam Vidlak, who finished the season with 44 touchdown passes and three interceptions. "We should have got it. We didn't execute at the end."
The loss obscured a brilliant performance by Mustangs junior receiver Jeremiah Noga, who caught 18 passes for 270 yards and one score.
"He had a terrific season, a terrific game," Sam Vidlak said of Noga. "He shows up in the big moments."
But Saturday, it was Santiam Christian coming through in the clutch. Runners-up in 2017, the Eagles lost in the first round last year, a defeat that fueled them this season.
"That loss last year really just gave us a push," said Fullbright, who rushed for 1,740 yards and 33 touchdowns this season. "We knew what we had to do this year, and we went out and got it done."
Fullbright rushed for touchdowns of 1, 2 and 11 yards as Santiam Christian opened a 20-7 lead in the third quarter.
Hidden Valley rallied to tie 20-20 on a three-yard run by Noble and a 17-yard touchdown catch by Matusik, but Fullbright responded with a 50-yard touchdown run to put Santiam Christian ahead 27-20 early in the fourth quarter.
"He's the rock of our offense," Kennel said of Fullbright.
The Mustangs surged ahead 34-27, but the Eagles didn't buckle.
"Coach Bain really preaches mental toughness," Kennel said. "We knew there was going to be adversity in this game, so we were prepared for it.
"It's our dream. It's our goal all year. It's great for our seniors, especially, because they played two years ago and lost."