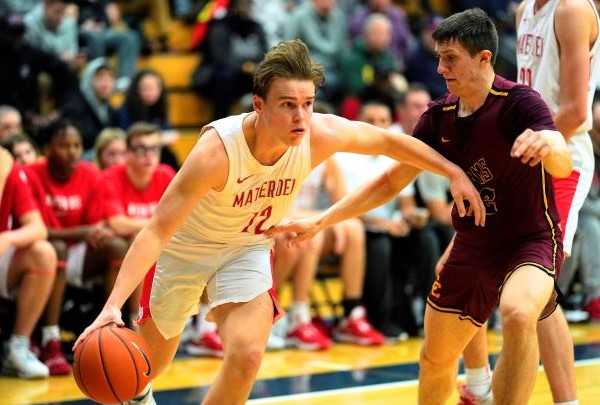 HILLSBORO -- Central Catholic entered the Les Schwab Invitational boys basketball tournament on quite a roll.
Convincing nonleague wins over No. 3 Jesuit, No. 6 West Linn and No. 4 Lake Oswego vaulted the Rams to No. 1 in the OSAAtoday 6A coaches poll, ahead of preseason pick Jefferson.
But after throttling No. 7 Grant by 44 points in the first round of the LSI on Thursday, things got a little tougher in Friday's quarterfinals as the Rams fell 70-57 to national power Mater Dei of Santa Ana, Calif.
Mater Dei features as many as seven future Division I players, including Kentucky-bound senior Devin Askew, a 6-foot-3 guard ranked as the No. 24 prospect in the class of 2020 by ESPN.
Central Catholic came out fired up and traded the lead with the Monarchs nine times in the opening 10 minutes of the game. The Rams also held Askew scoreless for the first 16 minutes. Then the game changed when foul trouble sent Ram bigs Gaige Ainslie and Luke Johnson to the bench in the second quarter, and Mater Dei took advantage.
The Monarchs closed the half on a 13-2 run to take control of a close game and turn a one-point deficit into a 10-point halftime lead. Mater Dei never let the Rams within nine points in the second half, handing Central Catholic (5-1) its first loss of the season.
"When Gaige and Luke got into foul trouble and both picked up their third fouls, that really hurt us defensively," Rams coach David Blue said.
The Rams had multiple shots go in and out during the Monarchs run and missed a couple of easy layups.
"We had a three that went in and out. I thought it was going down," Blue said. "Then we missed two layups. As always, when we miss something like that, they came down and hit a three on the other end.
"It seemed to be like that way tonight for us. Some of the shots that we've been making didn't go down. Give credit to Mater Dei. Some of it, those are shots we just missed. If you want to win and beat teams like this that come into the LSI, you have to make shots."
Askew struggled to score throughout the game, finishing 1 of 15 from the field, but other Monarchs stepped up. Four players finished in double figures, led by 6-foot-9 Harrison Hornery, who had 20 points off the bench. Hornery made 7 of 9 field goals, including 4 of 6 three-pointers.
"That's how we play," Hornery said. "Our goal is to get a lot of guys in double figures. We got back into playing our game as a team. We were getting away from that. We lost two games in Vegas that we definitely shouldn't have. We got back to playing really fast, and that opened it up for everyone."
"Everybody contributes on our team," added 6-9 junior Wilhelm Breidenbach. "You need five guys to win a basketball game. Everybody on our team can really play, and we are really starting to gel and work together."
Breidenbach finished with 11 points, a game-high 11 rebounds and four assists. Nick Davidson, a 6-8 junior, had 13 points, five rebounds and two blocks. Senior guard Ryan Evans drilled three three-pointers on his way to 12 points. Aiden Prukop added nine points and seven rebounds.
"We played well. We came out a lot stronger, with a lot more energy than we did last night," Breidenbach said. "Obviously there is always stuff to improve on. We've just got to keep working and getting better everyday."
Although Askew didn't shoot the ball well, he contributed in other areas and controlled the game from the point during his 30 minutes. Askew had a game-high eight assists with no turnovers and eight rebounds.
Darius Gakwasi, a 6-5 junior who sat out against Grant, returned from illness to lead the Rams with 23 points. Gakwasi made 8 of 15 field goals, including 5 of 9 three-pointers. Isaiah Amato added 10 points for the Rams.
"The ball fell for Darius tonight," Blue said. "I was glad to see him play. The guys were glad to see him here. He knocked down some shots. I was proud of all of our guys. They all gutted it out tonight. I'm proud of all their effort. Now we just need to play better."
The Monarchs held a 44-32 rebounding edge and shot 40 percent from the field, including 8 of 28 from three-point range. Mater Dei was 12 of 15 on free throws, while Central Catholic made 5 of 8. The Rams shot 37 percent on field goals, including 8 of 20 on three-pointers.
Mater Dei will play Norcross (Ga.) in the semifinals at 7 p.m. Saturday. Central Catholic will face Churchill at 4 p.m. Saturday.
Blue said that the Rams will get back to practice and be better.
"We are trying to get better every day," said Blue. "We've got a game tomorrow. We have long term goals, so we have to make sure we practice the habits, the little things, like finishing and making smart decisions. Those are the things that separate the good teams from the really good teams. We want to be a really good team."
Friday's other quarterfinals:
Norcross 54, Churchill 49: JT Thor, a 6-10 senior, collected 20 points, six rebounds and four blocks as the Blue Devils (14-0) handed Churchill (5-1) its first defeat. The Lancers, who led by four points in the middle of the third quarter, got 15 points from Brian Goracke and 12 points from Evan Pia.
Jefferson 76, Crater 58: Democrats freshman Marquis Cook made 10 of 14 shots and finished with 26 points and six rebounds to lead the win over the 5A Comets. Lamar Washington had 16 points and nine rebounds for Jefferson, which had a 47-30 edge in rebounds. Crater's Nate Bittle, a 6-11 junior who had 41 points on Thursday, finished with 16 points, 12 rebounds and three blocks, shooting 5 of 17. The Comets shot 30.6 percent, including 5 of 31 from three-point range. The Democrats meet Eastside Catholic (Wash.) in a semifinal at 8:30 p.m. Saturday.
Eastside Catholic 62, Bishop Gorman (Nev.) 59: Jaylan Tuimoloau scored 25 points, making 11 of 15 shots, and Shane Nowell had 15 points, 10 rebounds and five assists for the Crusaders. Eastside Catholic trailed eight-time reigning Nevada champion Bishop Gorman by 12 points in the first quarter.