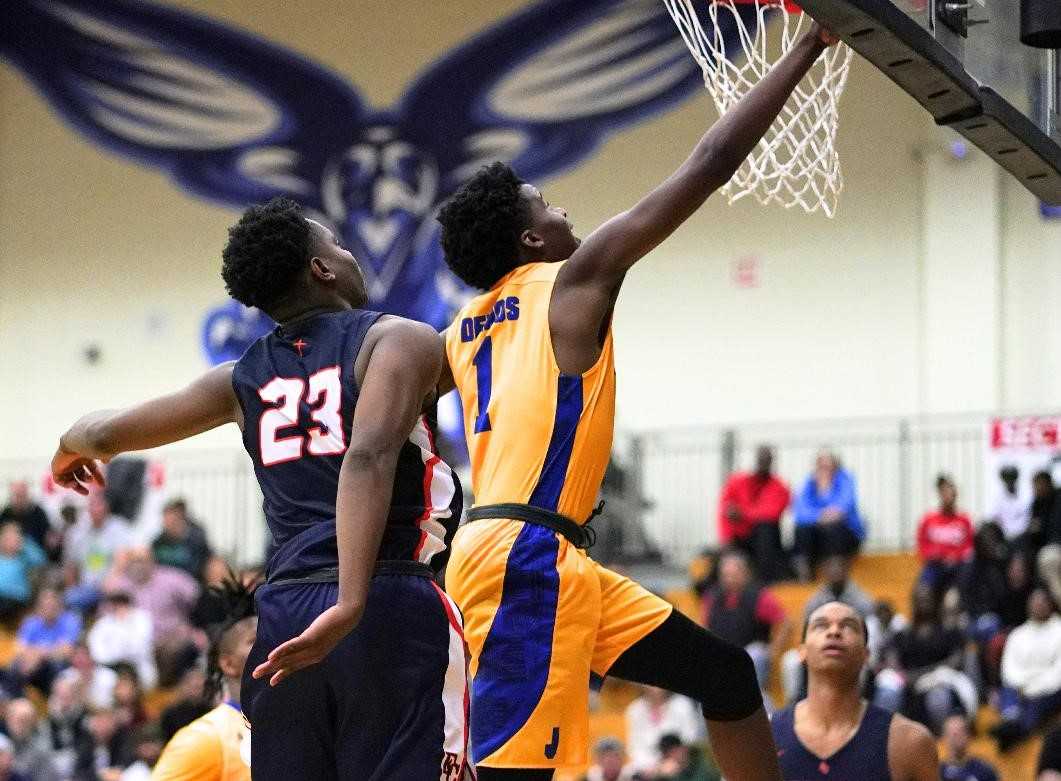 HILLSBORO -- A much-anticipated showdown in the Les Schwab Invitational semifinals between two of the top boys basketball teams in the Northwest turned into a dud, as Eastside Catholic from Seattle dominated Jefferson from the opening tip on its way to a 58-39 victory at Liberty High School.
The Crusaders jumped on Jefferson with a barrage of three-pointers, dunks and intense, in-your-face pressure defense. Eastside Catholic led 9-0 after less than two minutes, and after giving up two baskets, went a 13-0 run to lead 22-4 after one quarter.
The game was basically over.
"It ruined us," Jefferson junior Kam Robinson said. "It is hard to come back from that kind of first-quarter deficit."
Eastside Catholic had a good reason to be ready.
"Jefferson talks a little bit," Eastside Catholic coach Brent Merritt said."They got us a little motivated."
When asked what was working for them at the start of the game, Merritt said that it all started with defense.
"We play pressure defense," Merritt said. "I thought we hadn't played our style of defense since this tournament started. We had to get back to doing us and pressuring and being motivated and excited to play defense."
"We knew they were a top team in Oregon, so we knew we had to bring the fire," said Jaylahn Tuimoloau, who led the Crusaders with 17 points. "We had to lock in and run our stuff and limit our mistakes we made last night."
"The game plan was to come out and punch them in the mouth at the beginning of the game," added Nolan Hickman. "That is what we did, and we got the W."
Things didn't get better in the second quarter, as the Crusaders scored the first eight points to extend the lead. When 6-foot-5 junior Shane Nowell powered home a breakaway two-handed dunk and sank a three-pointer from the left side, the lead had ballooned to 33-7.
"They knocked us down and we never got up," said Jefferson coach Pat Strickland. "It was very tough to recover from. You just can't go out there with that kind of effort against that type of team, with no aggressiveness or no cohesiveness, or this will always be the outcome.
"I give them a lot of credit. You can't give a team like that an inch. They came out with a great game plan. I thought we were a tough and physical team, but they were definitely tougher tonight and it showed in every facet of the game."
The Crusaders pushed the lead to 42-16 by halftime, and the first-half stats reflected their dominance. Eastside Catholic held an 18-11 rebounding edge and scored 22 points off 14 Jefferson turnovers, getting seven steals.
Nowell and Tuimoloau combined for 22 first-half points on 9-for-12 shooting, including 3 for 5 on three-pointers. Grant Hunt had six assists and Hickman drilled two three-pointers as the Crusaders made 7 of 13.
Jefferson did not give up and showed some second-half grit, upping the intensity to outscore Eastside Catholic in the third and fourth quarters. The Democrats held the Crusaders scoreless for more than four minutes in the third quarter and then for five more minutes in the fourth quarter.
"It was a gut check," Strickland said. "We had to come out and show some kind of energy and some kind of fire."
For the game, Eastside Catholic held a 32-22 rebounding edge and outscored Jefferson 26-6 in points off turnovers. The Crusaders shot 47 percent, including 8 for 15 on three-pointers.
Freshman Marquis "Mookie" Cook led the Democrats with 16 points, but was 0 for 7 on three-pointers. Jefferson shot 40 percent from the field and made 2 of 16 three-point attempts.
With the win, the Crusaders set up a finals showdown with Mater Dei (Calif.) at 8:30 p.m. Monday at Liberty. Mater Dei was impressive in defeating Norcross (Ga.) in the first semifinal, 63-45. Jefferson will play Norcross in the third-place game at 7 p.m. Monday.