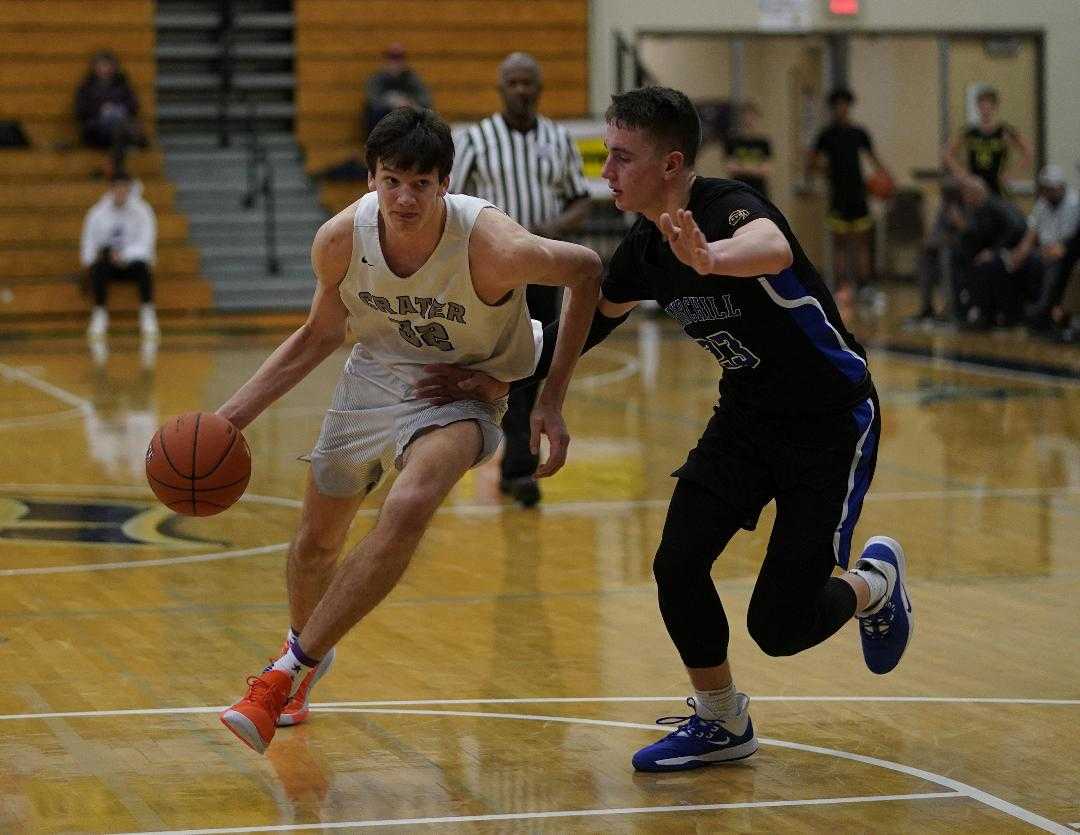 HILLSBORO -- As Midwestern League boys basketball rivals, No. 1 Churchill and No. 3 Crater need no introductions.
Their matchup on the final day of the Les Schwab Invitational on Monday at Liberty High School was a possible preview of the 5A title game.
The Lancers came in with a clear experience edge over the Comets. Churchill returns 11 seniors and four starters from its runner-up team from a year ago, although, senior guard Isaiah Wallace is currently injured and not playing.
Crater, fourth-place a year ago, plays five underclassmen in its rotation and has 6-foot-11 Nate Bittle, one of the top-ranked juniors in the nation.
Bittle was the difference on Monday as he scored the Comets' first 13 points and then dominated the paint defensively in the second half, helping Crater (5-3) pull away for a 64-53 victory over Churchill (5-3).
"Nate was dialed in and ready to go," Crater coach Chris Schmerbach said. "He was hitting an array of shots and doing an array of things."
Bittle finished with game-highs of 31 points, 16 rebounds, six blocked shots and three steals. He was 12 of 20 from the field and 2 of 4 on three-pointers. He finished the four-game tournament averaging 29 points, 13.8 rebounds, 3.5 blocks, 1.8 assists and 1.8 steals.
"He's just a special player and I'm just blessed to coach him," Schmerbach said. "It's a good win. Coming to the LSI, playing against top level teams. I'm really proud of the way we came out and competed today. It's not always easy when it's the early game. In the second half our defense was a lot better. We still have a lot of things to fix and get better."
Playing in front of Oregon men's basketball coach Dana Altman, Bittle showed off his arsenal of offensive moves.
He started out on the right block and made an inside basket. Then came a free-throw line jumper and a three-pointer from the left side. Bittle added two driving layups and long two-pointer. He also got 6-5 Eastern Washington signee Kaelan O'Neil, the Lancers best post player, to pick up two early fouls.
"When I get going, what's going through my head is, 'Noboby on this floor can guard me, I'm the man.' I think I showed that tonight," Bittle said.
Churchill kept pace in the opening stanza, as 5-8 sophomore Samaje Morgan did a good job penetrating, scoring seven first-quarter points. Crater held a 17-15 lead after one quarter.
The teams traded baskets during a back-and-forth second quarter, as the Lancers' 6-4 senior Brian Goracke started to get hot, hitting two three-pointers on his way to 13 first-half points.
Bittle kept attacking and also got O'Neil to pick up his third foul midway through the second quarter. Bittle finished the half with a pretty left-handed scoop layup off the glass while being fouled. He sank the free throw for a 36-33 Crater lead at halftime.
Bittle had 23 points at the break. There were nine ties and six lead changes in the opening half.
"He's such a great player," Churchill coach Kelly Bokn said. "I'm really impressed with how much he has improved. His presence in the middle is huge. I'm excited for Nate, excited for Crater and excited for the state of Oregon. He is a phenomenal young prospect."
Churchill focused more on Bittle early in the second half and the Comets' guards made them pay. Hunter Chubb got two layups and Jayden Vranes added another as Crater went on an 8-2 run to start the half, pushing to a 44-35 lead. Three Lancers picked up their fourth fouls in the quarter, including O'Neil, forcing Churchill deep into its bench.
"I felt like we earned our fouls," Bokn said. "We were just slow moving to the ball and we did a lot of watching today, instead of moving our feet. Hats off to Crater for making us pay for that."
"We knew we had to play hard," Bittle said. "Coach emphasized we've got to get stops on defense, which will lead to us scoring on offense. That is what we did."
"I thought foul trouble on them was big, and we did a good job of continuing to attack," Schmerbach said. "Probably, for the first time this year, we didn't force it in there."
Goracke kept the Lancers in striking distance with a nice one-handed jam and a couple of inside hoops off of offensive rebounds. Crater also struggled at the line, missing four free throws in the third quarter.
Early in the fourth quarter, the Lancers cut the lead to four points as Dylan Carson got an offensive rebound putback. They would get no closer.
Crater buckled down on defense, as Bittle controlled the paint with 11 rebounds and four blocks in the second half, holding the Lancers scoreless for more than six minutes. The Comets scored the next eight points, capped by an alley-oop dunk by senior Kruger Edwards.
Although Crater made just 12 of 21 free throws in the second half, they were able to pull away.
Chubb added 10 points, four rebounds and three assists and Edwards had 12 points, four assists and three rebounds. Crater shot 54 percent from the field and made 19 of 30 free throws.
Goracke led Churchill with 21 points. Morgan had nine points, five assists, four rebounds and two steals. Carson had 11 points and a team-high seven rebounds. The Lancers made 36-percent of their field goals and just 6 of 23 three-pointers.
In addition to the LSI, Churchill and Crater will be competing against 6A schools Lake Oswego and Clackamas, respectively, in the MLK day tournament Jan. 20 at Portland State University.
On Jan. 21, they play their first league game at Churchill.
"It's a great rivalry," Bittle said. "I think today we showed we are the No. 1 team in the state. I'm proud of my teammates."
"Churchill is a great team and they are going to use this as motivation to be stronger next time we face them," Schmerbach said.
"We are trying to work through areas of improvement that we want to focus on," Bokn said. "Whenever you play great teams like Crater, your weaknesses are going to be exposed. Some of those were exposed today. We will go back to the practice floor and try to work on those. We are not our best self right now and we have a lot of areas to improve on."
Southern Oregon hoops fans might want to mark down Feb. 25 on the calendar. That's when the Lancers visit Central Point in the penultimate game of league play. Churchill will be gunning for its eighth league title in the past nine seasons.
Consolation championship
Clackamas 75, West Linn 60: Two of the top teams in 6A battled to leave the LSI with a winning streak in the consolation final. No. 9 Clackamas used a big first half and the all-around play of 6-7 junior Ben Gregg for a 75-60 victory over No. 6 West Linn.
Clackamas led 40-20 at halftime, as Gregg was sensational. Gregg finished with game-highs of 35 points, 11 rebounds, eight assists and three blocks. Gregg made 14 of 20 field goals, including 3 of 6 three-pointers.
Izzy Baker added 11 points and Ryan Lewis pitched in 10 for the Cavaliers, who shot 66 percent for the game. Senior Micah Garrett led the Lions with 24 points.