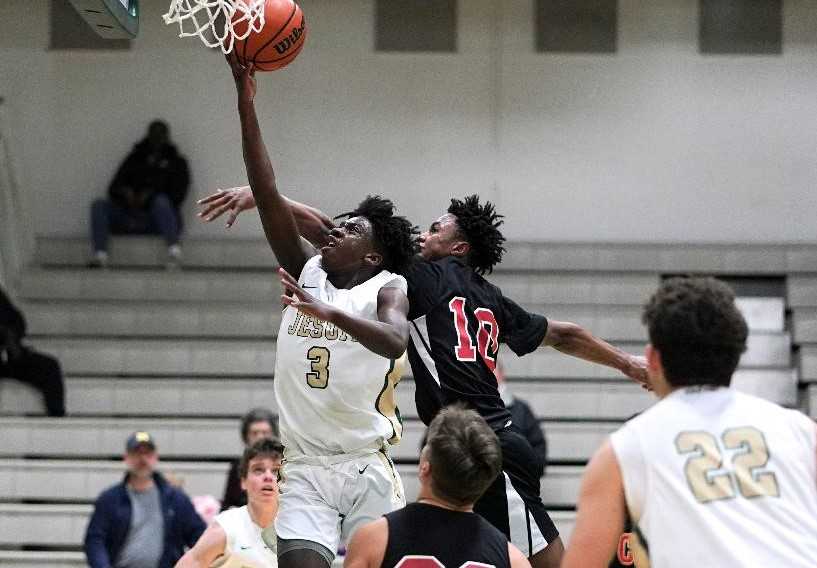 PORTLAND – Last year, Jesuit carried the underdog label all the way to a 6A boys basketball title.
This year, after graduating four starters from that team, the Crusaders are relishing another chance to surprise.
No. 3 Jesuit added to its early-season momentum Tuesday night with a 55-46 home win over No. 6 Clackamas. The Crusaders (8-3) now hold wins over three teams ranked in the top 10 of the OSAAtoday 6A coaches poll, as well as a victory over 5A No. 2 Wilsonville.
"I love that underdog feeling," junior point guard Roy Bunn said. "We got that last year, and we shocked the state. Keep counting us out. We're going to stay grinding in practice every day."
Jesuit got 14 points from junior guard James Lang, 13 points from Bunn and 12 points from senior guard Matt Levis to turn back Clackamas (6-3), which had won four in a row.
The Crusaders opened a nine-point lead in the first half, but the Cavaliers surged in front 32-30 in the third quarter. That's when the 5-foot-9 Bunn keyed a 12-0 run that proved to be the difference.
Bunn dropped a three-pointer, scored on a drive, found Levis for a three-pointer and hit two free throws. When Levis stole an inbound pass and converted a layup, Jesuit was up 42-32.
"First half, I came out a little passive," Bunn said. "So I started to be more aggressive. When I'm more aggressive, it opens up shots for my team."
Clackamas forward Ben Gregg, a 6-9 junior who is averaging 22 points per game, led his team with 14 points. But after making a three-pointer with 5:16 left in the third quarter, he did not score again.
The Crusaders were wary of Gregg's deep shooting ability, which they witnessed first-hand at the Les Schwab Invitational during the holiday break. They double-teamed him in the post and crowded him on the perimeter, sending help on dribble drives. Gregg finished 5 of 11 from the field, including 3 of 6 from three-point range.
"We had to see how many threes he was going to make," Jesuit coach Gene Potter said. "He's going to shoot over the top of most normal high school kids. We did the best we could on the perimeter, and just tried to surround him with bodies in the post, and make him try to kick it out to the perimeter."
With Gregg held in check, the Cavaliers struggled to match the guard-dominated Crusaders.
"They did a really good job of spreading the court and attacking," Clackamas coach Cameron Mitchell said. "They were able to get past our guys."
Levis credited the play of Bunn, who has expanded his role from last season, when he came off the bench to provide energy and defense. Levis said Bunn gives a new dimension to the point guard position that was held down by Will Sheaffer last season.
"Having another defensive guard fill that role is perfect," said Levis, the only returning starter from last season. "He's got Sheaffer's mentality, but he can shoot just a little bit better. No dis on Sheaffer, but having that threat in Roy – driving and being able to shoot – that's really killing teams."
Potter said that his team's shooting gives Bunn gaps to attack.
"Roy's doing a really good job of feeling out the defense," Potter said. "Tonight he took advantage of being able to get to the rim a couple times."
The Crusaders showed patience on offense to wear down Clackamas. After the Cavaliers pulled within 49-44 with 3:40 left, they took more than a minute off the clock before Levis scored on a drive with 2:17 remaining.
"It's not so much that we want to take a bunch of time off the clock," Levis said, "it's more that if we make them play defense for 30 seconds, they're going to be like, 'OK, this is starting to get tiring. I don't want to play defense anymore.' And it's at that moment that we crack them."
Potter said he likes how hard his team is competing so far.
"I'm pleased with where we are right now," he said. "We've just got to continue to get better, and kind of know who we are. Sometimes we get out of our element a little bit."
The team's identity isn't far off from last season, according to Levis.
"We're really just playing guard ball again," Levis said. "I think Mr. Potter has refined how we play guard ball. The most dangerous part is we're not just going to attack, it's we can finish at the rim, or we have four shooters on our perimeter. So it's hard for them to defend the entire court."
Clackamas will try to rebound Friday when it opens Mt. Hood Conference play at home against Sandy. The Cavaliers also are hopeful that Gregg – who left in the final minute with an unspecified injury – can bounce back soon.
"It wasn't enough tonight, but that's OK," Mitchell said. "They're the defending state champions, and we were with them the whole game.
"We're making progress. We took a step back energy-wise tonight. It was a weird energy in the gym. It was quiet. But it doesn't matter. We didn't respond. And they're also a really good team."