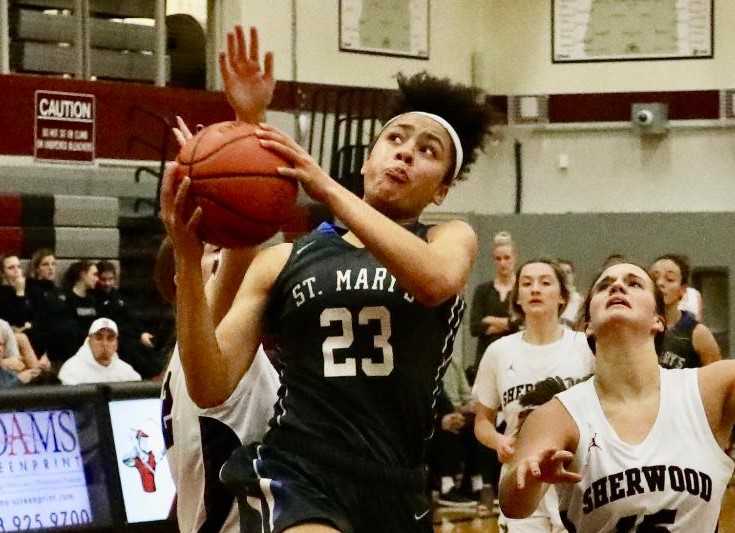 The arrival of 6-foot-1 freshman point guard Sofia Bell has provided a jolt for the St. Mary's Academy girls basketball team.
Already being recruited by major colleges, Bell has helped the Blues get off to an 8-2 start. She is averaging 10 points, six rebounds and five assists, shooting better than 40 percent from three-point range, and using her long frame to rack up deflections on defense.
"She does a little bit of everything," Blues coach Dewey Taylor III said. "I've been lucky enough to work with her for a number of years and had a chance to see her grow into something pretty special."
With Bell and senior Anna Eddy sharing time at point guard, St. Mary's Academy has developed a balanced attack. Six different players have led the Blues in scoring this season, including senior wing Marley Johnson, who is averaging a team-high 18 points per game.
"The kids are doing a great job of sharing the ball," Taylor said. "They push each other to be more efficient."
Bell scored a season-high 18 points in the team's second game against South Eugene, making 5 of 6 shots from behind the arc. Her size, athleticism and versatility has helped open up the offense as she can shoot and pass over smaller defenders and blow past bigger ones.
"She plays the point guard position at an elite level," Taylor said of Bell, the daughter of former Roosevelt standout Greg Bell, who played at Oregon. "She's an elite shooter, and she definitely has a really good handle. With her height and basketball IQ, her passing is pretty special. It's fun to watch."
Colleges have taken notice. At one game this season, Oregon State coach Scott Rueck and Oregon coach Kelly Graves were on hand. The early recruiting of Bell reminds Taylor of former Blues star Bendu Yeaney, now a junior on the team at Indiana University.
"When Bendu was an incoming freshman, I was blown away when Ohio State and some of these other people were coming in to watch her even before she played a high school game," Taylor said. "Sofia is getting that same attention. I don't think there's a school in the Pac-12 that's not paying attention to her."
Is Bell on the level of Yeaney at the same stage?
"Bendu was almost a freak athletically," Taylor said. "Sofia's skills are on that level that Bendu's athleticism was. She is 6-1 and athletic, has the skills to handle it and shoot it, and probably her biggest skill is her IQ."
Bell also excels in the classroom as a 4.0 student. She began taking Saturday classes at St. Mary's Academy as a seventh-grader, according to Taylor.
"She'd come in for extra science classes, things that she was doing for fun," Taylor said. "She's just a kid that enjoys being intelligent."
With Bell on board, the Blues are hoping to avoid the same fate as last season, when they started 8-1 but finished 12-13, at one point losing 10 games in a row.
They are heading into their most difficult stretch of the season. They play Friday at No. 1 Beaverton (6-4) before opening 6A Three Rivers League play next week with home games against No. 9 Oregon City (8-1) and Tualatin (8-1).