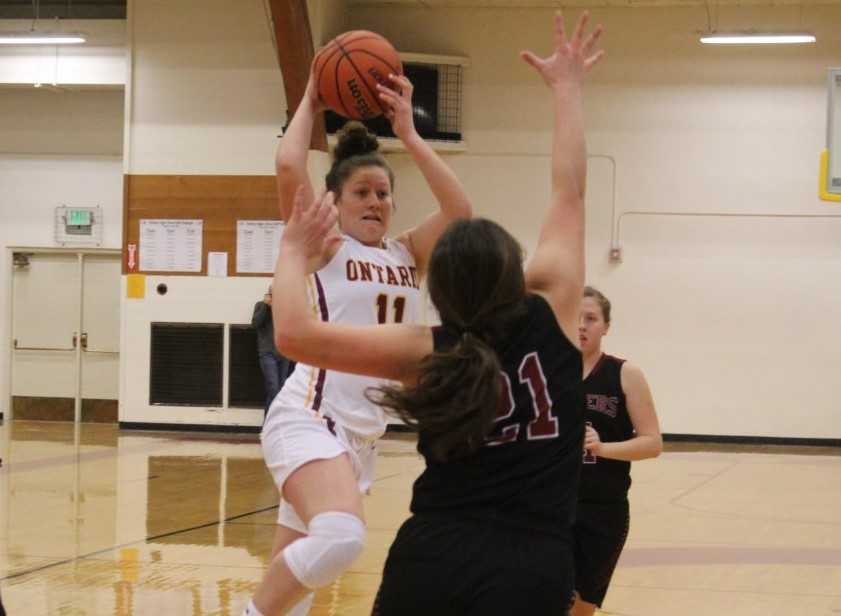 ONTARIO – McLoughlin's girls basketball team ended a four-year losing streak in the 4A Greater Oregon League with a 30-29 win at Ontario on Saturday.
Emma Leber, a 6-foot-1 sophomore forward, scored the go-ahead basket with 4.6 seconds left for the Pioneers (8-8, 1-0), who had lost 21 consecutive league games dating back to a win over Ontario nearly four years ago. McLoughlin went a combined 4-61 the last three seasons.
"You realize no girl on this team has ever won a league game," McLouglin coach Chris Bryant said. "This is pretty great for this team."
The game was scoreless until midway through the first quarter when Ontario's Jessica Jagelski hit a jumper from the free-throw line. Leber had the lone field goal for the Pioneers in the quarter as Ontario led 6-3.
McLoughlin took its first lead on a Leber free throw with 1:47 left in the first half. The game was tied 12-12 at half.
The Tigers (1-10, 0-1) went on a 7-0 run to start the third quarter and led 24-20 at the start of the fourth quarter. With 1:07 left in the game, Ontario's Amy Hernandez sank one of two free throws to give Ontario a 29-28 edge.
McLoughlin took advantage of its last chance when Leber received the ball under the basket and banked in the easy shot. Ontario's last effort by Megan Houston hit the rim and bounced off, and the Pioneer drought was over.
"Even when we were down, these girls never gave up," Bryant said. "Winning a league game is a big thing for MacHi."
Leber scored a team-high 10 points for McLoughlin, which got five points each from Kadence Brown and Darby Rhoads. For Ontario, Lexy Jordan and Hernandez each finished with five points.