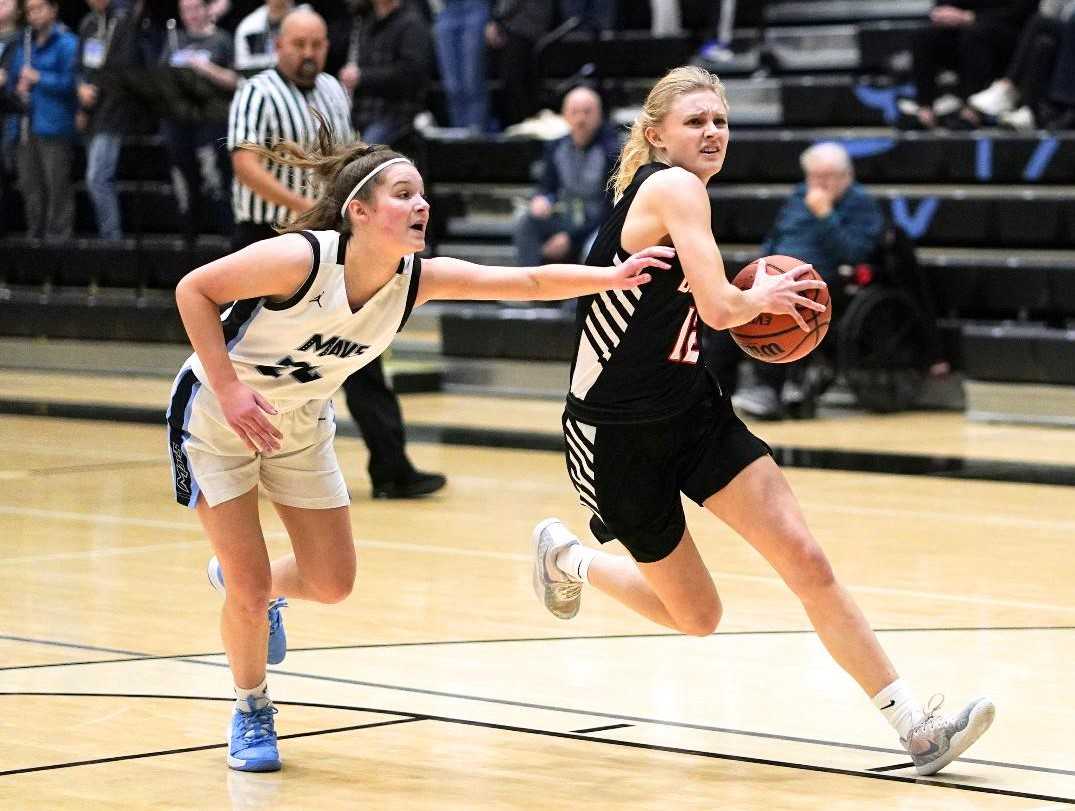 BEAVERTON – The free-throw marksmanship of Beaverton senior point guard Mary Kay Naro was enough to offset a brilliant offensive performance from Mountainside senior wing Cameron Brink in the Metro League girls basketball opener for both teams Tuesday night.
Naro made 12 of 14 free throws in the fourth quarter as the No. 1 Beavers held on for a 55-49 road win over the No. 3 Mavericks, who got 28 points from Brink, including 20 in the second half.
"They kept coming, and I was like, OK, I'll shoot them," Naro said of the free throws. "I kind of got in a groove, just blocked everything out and put them in."
Naro finished 13 of 18 from the line and scored a team-high 21 points for Beaverton (8-4), which beat Mountainside (7-6) for the second time in two meetings this season, the other a 53-43 nonleague win Dec. 29 in the POA Holiday Classic. The Beavers, who have designs on their first league title since 2013, screamed in celebration in their locker room after the game.
"It was really important," Beaverton coach Kathy Naro said of the win. "I'm just proud of -- it wasn't pretty, but I thought we showed some real tough moments and perseverance. It was just really good to get over the hump and get through a game like that."
Mountainside, in its second varsity season, continues to be a work in progress around the Stanford-bound Brink, who transferred after winning two 6A titles in three seasons at Southridge.
"That's a senior-dominated team, and we have a sophomore-dominated team, and we made sophomore mistakes," Mavericks coach Glen Lee said. "We'll get there."
The 6-foot-4 Brink was encouraged by the performance.
"It was a little shaky, but we fought hard," Brink said. "We improved from the last time we played them. I feel like our defense was better, and I feel like we adjusted to their defense better. We hit more outside shots this game, for sure. But there's still a lot more we need to work on."
Beaverton led wire-to-wire. The Beavers bolted to a quick 7-0 lead as senior Sydney Erikstrup scored on a steal and three-pointer and senior Laura Erikstrup pump-faked and drove past Brink for a layup.
Mary Kay Naro said the fast start "was really important. We talked about before the game being settled and taking good shots. Laura had a nice ball fake, and took her to the rim. We moved the ball well, and that's when you get good shots, when it's team basketball. It was awesome."
Beaverton made its first five shots, and the Beavers' defense swarmed early, forcing four turnovers before the Mavericks made their first basket.
"We started off with a lot more energy in this game," Kathy Naro said. "We were keyed in with what we were trying to do, and did it well. Last game against them, it took us a half to get into the game. I thought we were very dialed in from the get-go."
The Beavers pushed the lead to 10 points in the second quarter, but Mountainside pulled within 26-22 in the third quarter behind back-to-back three-pointers from sophomore Carly Stone. When Mavericks sophomore Taylor Smith hit a three-pointer, the lead was down to 31-29 late in the third quarter.
Beaverton got a key three-pointer from senior Jordyn Reverman to finish the third quarter up 35-29, extended the edge to 41-31 and held on under Brink's fourth-quarter scoring barrage. Brink connected on two step-back three-pointers, the second one cutting the lead to 48-44 with 1:04 left.
"She's phenomenal," Kathy Naro said. "The way she's shooting the ball now, I'm so excited to see her in college. She's unbelievable. You can tell how much she works on her game because she just continues to get better and better at all-around skills."
Brink, who finished 12 of 18 from the field, said she has been working on the step-back three-pointers with her trainer.
"I'm starting to do that more," Brink said. "I feel like that's definitely my role on this team is to do what I can on offense to help us get where we need to be. But it's definitely both ends of the floor for me."
Lee said of Brink's performance: "She should play like that. She made some incredible plays. But we need to do a little bit better job of getting her the basketball when she has the open spots. And we didn't do that. But it's a learning process, and we're going to get there."
Mountainside never got closer than four points in the fourth quarter as Mary Kay Naro kept dropping free throws.
"They scored every time down, so we definitely needed them," Kathy Naro said.
Reverman and Sydney Erikstrup finished with 12 and 10 points, respectively, for Beaverton. Sophomore Lindsey Wilson added nine points for Mountainside.