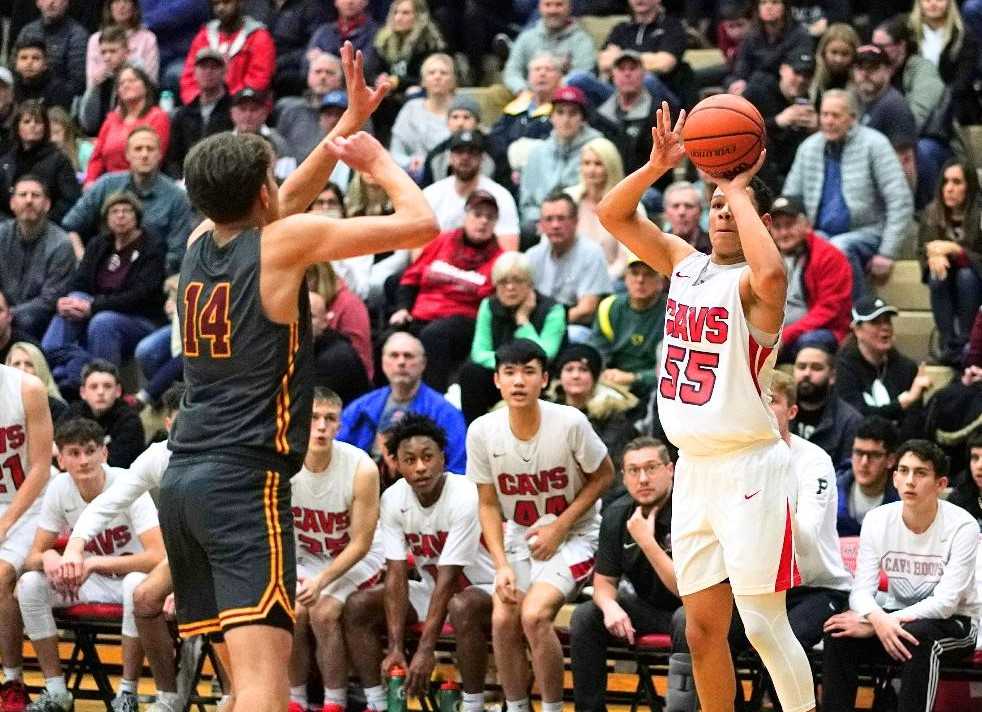 CLACKAMAS – Any notion that No. 9 Clackamas is little more than the Ben Gregg show was dispelled in convincing fashion Friday night.
The rest of the Cavaliers capitalized on the defensive attention paid to their 6-foot-9 junior star to frolic past No. 2 Central Catholic 71-61 in a pivotal Mt. Hood Conference boys basketball game.
Gregg finished with eight points, but four of his teammates scored in double figures – led by junior wing Damon Erickson's season-high 18 – in the team's most complete performance of the season.
"Who would've thought that, right?" Clackamas coach Cameron Mitchell said of the scoring breakdown. "If you would've told me that would happen, I'd say you're crazy."
Gregg called it a "great team win."
"This game really showed that all of us can play," Gregg said. "That shows that it's a team effort, not just a one-man team. I couldn't be more proud of my guys. Everybody played great."
In addition to Erickson's big night, junior forwards Izzy Baker and Ryan Lewis scored 14 points each and sophomore guard Jackson Jaha chipped in with 10 points off the bench for Clackamas (9-3, 3-0).
"As a team, we can score in many different aspects," Erickson said. "Ben is one of the best players in the state, or in the country, but we have a lot of contributors outside of Ben. The attention he gets just allows everyone to make plays. It just frees up space."
Central Catholic (8-4, 1-2), which finished its nonleague schedule ranked first in the OSAAtoday 6A coaches poll, lost for the second time in three games. The Rams thought they got a wake-up call last week when they fell at home to Gresham 72-63, but Friday showed they have plenty of work to do, according to senior guard Isaiah Amato.
"They just came out ready to play and they pretty much outphysicaled us," Amato said. "Same thing as Gresham happened. We went through slumps. We just didn't make shots. And we didn't get the stops we needed."
Erickson made three three-pointers in the first quarter as Clackamas pulled ahead 20-13. The Rams were within 30-28 at half behind 14 points from junior guard Darius Gakwasi
But after Gakwasi scored the first basket of the second half to make it 30-30, Clackamas took command. Baker scored eight points during a 17-2 surge that put the Cavaliers up 47-32 late in the third quarter.
At times, it almost looked too easy for Clackamas as Gregg drew the defense away from his teammates.
"I was kind of wondering, 'How are we getting all these wide-open lanes?'" Mitchell said. "And I just realized, because they were putting two guys on Ben, and it was just opening up."
The Rams were intent on not letting Gregg go off on them.
"Ben's a top 100 player. Ben's good, so we knew we had to pay attention to him," Amato said. "But we also need to stop the other guys. That's what hurt us."
Gregg showed off his passing skills early in the fourth-quarter by finding Lewis for back-to-back baskets, the first one on a no-look pass. The lead reached 59-42 when Gregg scored on a drive with 4:54 left.
Gregg didn't force his offense, finishing 3 of 8 from the field.
"When he got the ball, he did such a great job of finding the open man, as he always does," Mitchell said. "I was just talking to him, and he was just so happy. He didn't let it get him frustrated that he had a low scoring night. It kind of shows a lot about him as a person."
The win was the perfect way for Clackamas to start off a sort of weeklong mid-term exam. They play 5A No. 4 Crater in the MLK Invitational on Monday at the Chiles Center, then go on the road for two big conference games against Barlow on Wednesday and No. 5 Gresham on Friday.
"We knew we had a stretch of really hard games, and this was a good one to get out of the way," Gregg said. "The confidence is high right now, so that's good. We've just got to bring that on Monday now."
Erickson said the Cavaliers "showed up with a lot of attitude and heart" to face the Rams.
"We played as hard as we could, and everyone contributed," Erickson said. "We thought we came in underrated. They were No. 1 or No. 2, and we just showed why we can be up there with everyone else."
Gakwasi scored 25 points for Central Catholic, which also got 14 points from senior guard DeRay Seamster and 12 points from sophomore forward Luke Johnson.
The Rams leave Saturday for Moraga, Calif., where they will play California power De La Salle on Monday.