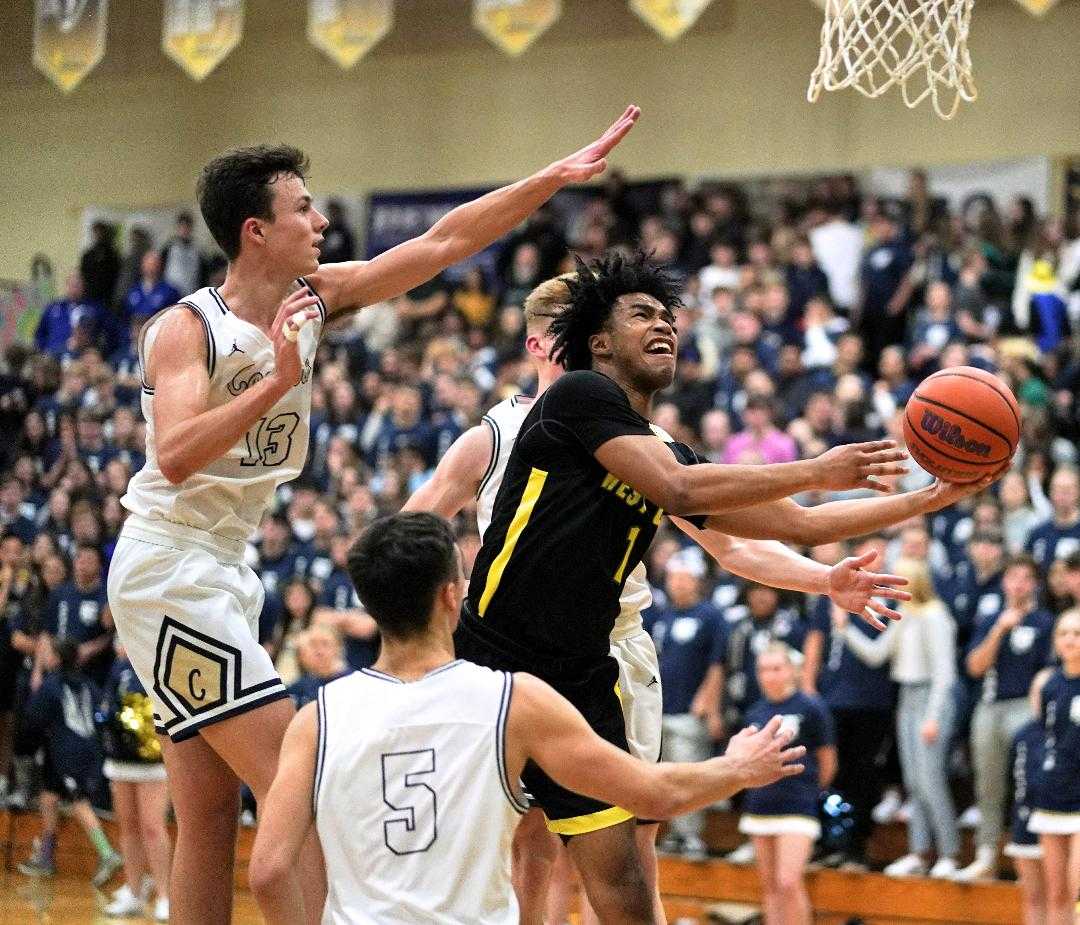 CANBY – For the better part of one half Friday night, No. 4 West Linn appeared to have walked straight into an ambush in a Three Rivers League boys basketball game at unranked Canby.
The upstart Cougars, off to a 3-0 start in league play, were playing before a packed house in their biggest game in years. And when they opened a 15-point lead in the second quarter, the Lions were reeling.
"It's like we got hit in the mouth, and we were kind of playing on our heels," West Linn coach Eric Viuhkola said.
But the Lions (11-5, 4-0) collected themselves at halftime, came out in the third quarter and overwhelmed Canby, pulling away for a 61-49 win to take sole possession of first place in the Three Rivers over idle Lake Oswego (7-8, 3-0). Senior guard Micah Garrett led the way, scoring all of his team-high 17 points in the second half.
"We just had to come out with more energy," Garrett said. "At the beginning, we were kind of sleepwalking in the first half. We just had to pick it up, and we did it.
"We can't start off lazy in the first half. We can't underestimate any team. We've just got to come out hard every game. They showed us what's up."
It was a sobering loss for the Cougars (9-7, 3-1), who have made dramatic improvement after finishing 7-16 last season. It was Canby's 18th consecutive loss to West Linn, dating to 2011.
"We got content with where we were," said Cougars junior guard Diego Arredondo, who made five three-pointers and finished with a game-high 18 points. "We were up 15, and then we were just like, 'We got this,' and we didn't."
After trailing 28-18 at half, Garrett sparked the comeback, scoring nine of West Linn's first 13 points in the third quarter to help cut the lead to 33-31. Senior guard Colton Young hit a three-pointer for a 34-33 lead, and freshman point guard Jackson Shelstad added two free throws to make it 36-33 after three quarters.
Viuhkola praised Garrett for his determination.
"I think Micah's one of the best players in the state," Viuhkola said. "That performance, it was the first time where I felt like he goes, 'Hey, I'm going to take this team and I'm putting them on my back, and we're not going to lose.' For me, that's a lot of growth, because he knows that he's a captain, that he's a leader."
Garrett said he didn't start the game with the right mindset.
"I feel like I wasn't as aggressive as I should've been," he said. "So I had to pick it up. … It was a sense of urgency. We know that we should be going hard all the time. We didn't do that in the first half."
Once the Lions cranked up their intensity, the Cougars struggled to move the ball, committing four turnovers in the third quarter before they could even get off a shot.
"We were ready for it, we were just slow the whole second half," Arredondo said. "I don't know what happened. We were just flat."
Canby was within 42-39 when Arredondo made a three-pointer with 5:15 left, but Garrett answered with a three-pointer as West Linn scored the next seven points to open a 49-39 lead with 3:33 to go.
After an 18-point first half, the Lions scored 43 points in the second half. In addition to Garrett's explosion, Shelstad scored 10 of his 12 points after halftime and senior wing Parker Durbin scored all seven of his points after the break.
"We just attacked the basket," Viuhkola said. "Offensively, we're pretty darn good. When we play together and we attack and we get paint touches, we do a lot of good things."
The Lions, who have won seven in a row since falling to Clackamas in their final game at the Les Schwab Invitational, believe they are building toward something big.
"It's just the beginning now," Garrett said. "We're trying to make it to the Chiles Center."
One of the keys is the maturation of the 5-foot-11 Shelstad. He is finding his way after coming into the season drawing comparisons to former West Linn star Payton Pritchard.
"A lot of people try to hate on me, but I just like to play my game," Shelstad said. "I don't worry about what anybody's saying. The high school game is different. Kids are bigger and stronger, so it was an adjustment. Getting to the hoop is not as easy. I had to get stronger and get tougher.
"Early in the season, I thought I played timid at times. Now I'm just playing harder, especially on defense. I'm getting on the ground and getting loose balls."
Canby, which hasn't had a winning season since 2011 and hasn't won a playoff game since 2008, can take some positives from Friday as it moves forward. The Cougars showed purpose and patience on offense in the first half in opening a 26-11 lead.
"We outplayed them in the first half. We were the better team," Arredondo said. "So that gives us confidence for the future."
Sophomore guard Alexander Evans and junior guard Riley Knutson added eight points apiece for Canby.