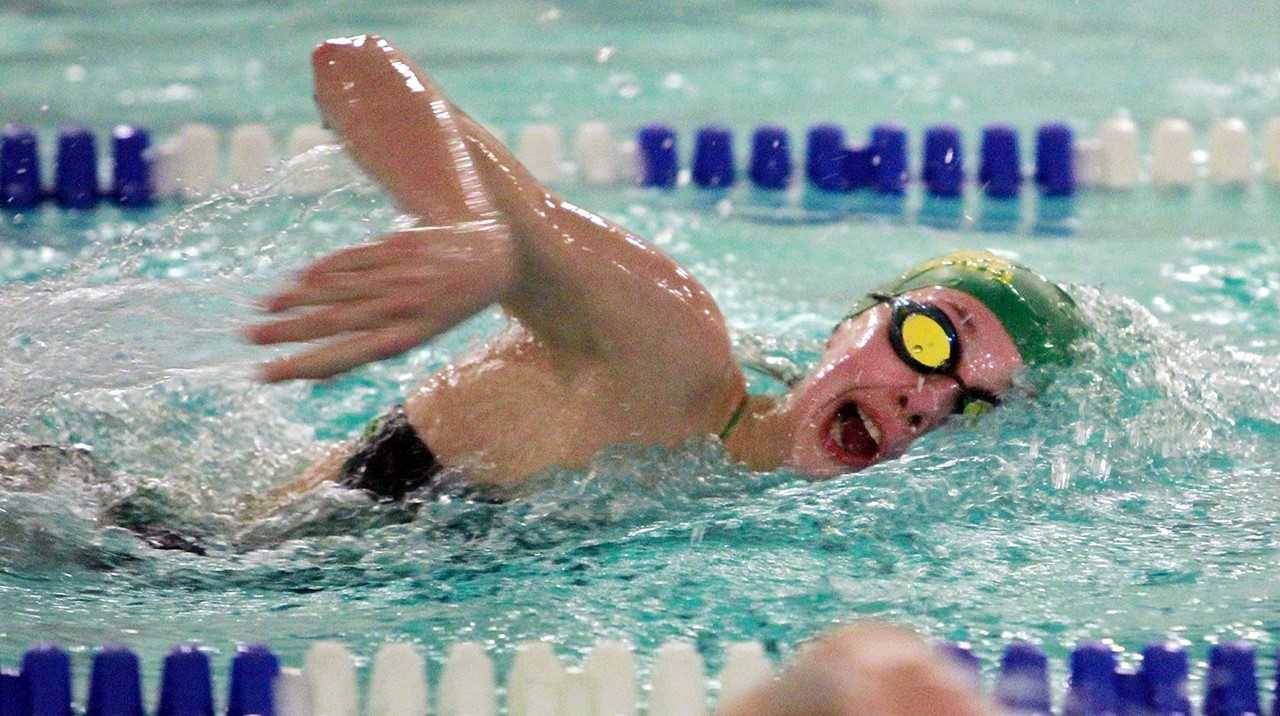 West Linn clinched at least a share of the Three Rivers League girls swimming dual meet title Thursday with a 98-72 win over host Tualatin in a battle of unbeaten teams.
The Lions improved to 5-0 with the win over the Timberwolves (4-1) and can complete a perfect run through the Three Rivers by beating Canby in their final dual meet.
It is West Linn's first dual meet title in 10 seasons under coach Katie Wilson. A 2004 West Linn graduate, Wilson was a member of the Lions' last dual-meet champion.
West Linn, which finished 3-3 in Three Rivers duals last season, is improved despite graduating former 200 individual medley state champion Katelyn Laderoute, now on the team at Washington State.
"That was hard, but we've got a group of pretty fast freshmen that helped fill that spot," Wilson said.
The freshmen came through Thursday against Tualatin.
Helena Jones continued her outstanding freshman season by finishing first in the 50- and 100-yard freestyle and swimming the anchor for the winning 200 freestyle and 400 freestyle relays; Kaitlyn Rumsey won the 500 freestyle; Sophia Pulaski finished second in the 200 freestyle and 100 butterfly and swam a leg on both winning relays; and Krista Golgotiu was part of the 200 freestyle relay.
West Linn also got a big meet from junior Gabby Calvi, who won the 200 freestyle and 100 backstroke. Anna Boyer added runner-up finishes in the 50 and 100 freestyle.
Jones, who trains with Lake Oswego Swim Club, has helped elevate the Lions this season.
"She's one of the fastest in the state," Wilson said. "Especially after losing Katelyn, it's good to have someone to take those spots and anchor the relays. We can always expect a good swim out of her."
The Lions won Thursday despite being without one of their faster swimmers, Maggie Metcalf, who sat out with an injury, and many of them dealing with illness.
"It's been going around really bad here," Wilson said. "Gabby was sick last week, so she's still recovering this week. She had pretty good swims considering that."
Metro: Jesuit's girls and boys prevailed against Metro League rival Sunset on Thursday in a showdown of two of the state's elite programs at Tualatin Hills Recreation Center.
The five-time reigning 6A champion Jesuit boys cruised to a 104-66 win over the Apollos. The Crusaders girls – who beat Sunset for the 6A title last year after finishing runner-up to the Apollos the previous two seasons – posted a 96-74 win.
The results put both Jesuit teams at 4-0 and both Sunset teams at 3-1 in Metro duals. Each team has one league dual remaining.
In the boys meet, Jesuit got two wins each from junior Marco Nosack (200 IM, 100 breaststroke), freshman Diego Nosack (100 butterfly, 500 freestyle) and sophomore Matthias Kreutzer (50 freestyle, 100 freestyle). Marco Nosack and Kreutzer also swam on two winning relays for the Crusaders, who finished first in all but two events.
Jesuit's boys lineup is "probably as good last year," according to coach Bryan Butcher. "The boys who have been on the team every year have progressively gotten better. We've seen a lot of maturity in some of the boys from freshman year to junior year. They're coming to me with lots of goals they want to do."
Fay Lustria won the 200 IM and 100 butterfly and swam on two winning relays to lead Jesuit's girls, who also got wins from Hannah Cooney (500 freestyle) and Emma Matous (100 breaststroke).
The Crusaders overcame strong performances from Sunset's Tia Lindsay and Hannah Trainer.
Lindsay won the 100 freestyle and 100 backstroke, defeating Jesuit senior standout Isabella Wallace in both races. Lindsay won the 100 freestyle, 52.11 to 52.62, over Wallace, the reigning 6A champion in the event.
Trainer finished first in the 200 freestyle and 50 freestyle.