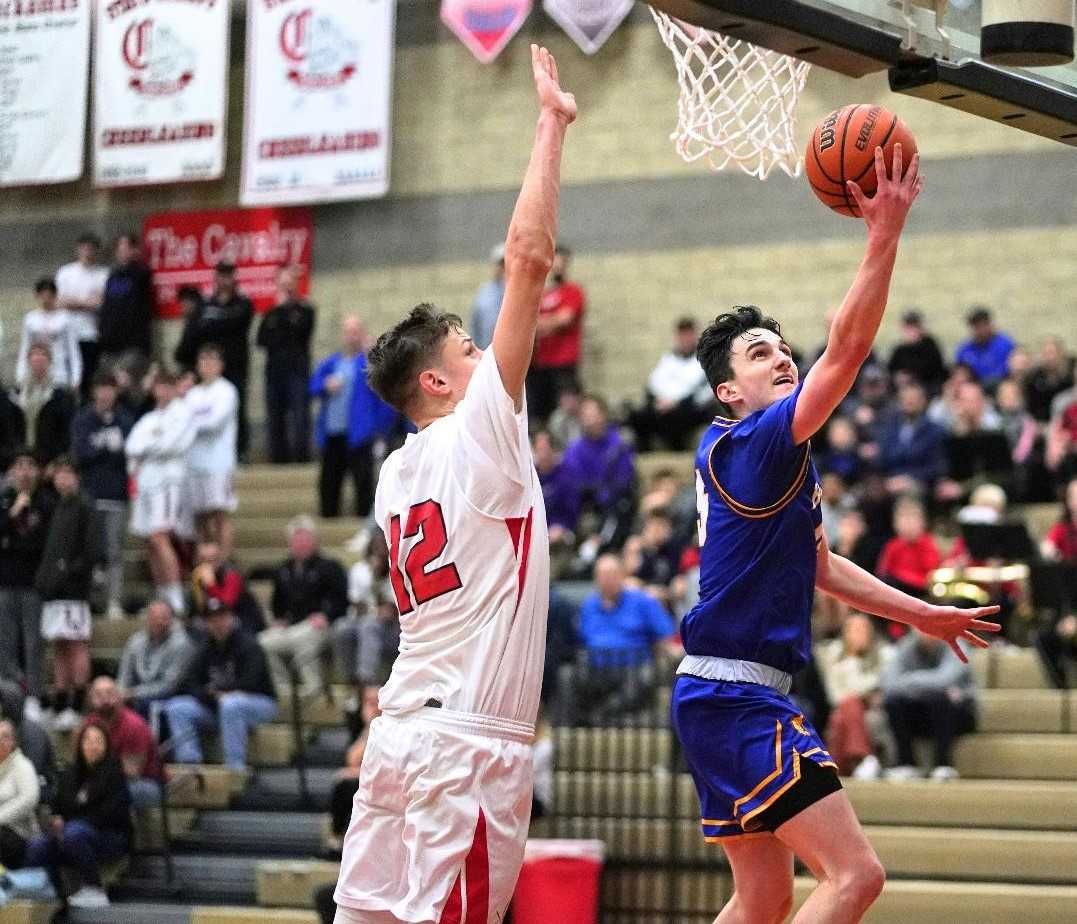 CLACKAMAS – The way Barlow's boys basketball team was playing early in the season, a Mt. Hood Conference title seemed like a tall order for the Bruins.
Despite having two of the program's all-time top scorers in seniors Jesse White and Evan Inglesby, Barlow sputtered out of the gate, losing six of its first 11 games.
"We did not play well in December," coach Tom Johnson said. "I think we were a little shocked at how we played."
A month later, and the seventh-ranked Bruins not only are on top of their game, they are on top of the conference. They assumed sole possession of first place Tuesday night by going on the road to outduel No. 4 Clackamas 82-76 in overtime.
White and Inglesby scored 30 and 29 points, respectively, as Barlow (14-6, 9-1) extended its winning streak to nine and took a one-game lead over the Cavaliers (15-5, 8-2) with four conference games remaining.
"We've been trying to make up ground for those six early losses," White said. "I think the chemistry, the camaraderie, has really come together in the last month. We're just trying to keep that going forward."
Inglesby said the Bruins took a long look in the mirror last month.
"We got together and said, you know, 'What are we doing wrong?'" Inglesby said. "We watched a lot of film, had team meetings about roles and stuff, and got that all figured out. Everyone's happy. And nine in a row now … feels awesome."
Clackamas, which had won five in a row, got 26 points from 6-foot-9 junior forward Ben Gregg and 24 points from sharpshooting junior guard Damon Erickson. The Cavaliers matched Barlow shot for shot and were in position to win, leading by three points with 5.9 seconds left in regulation.
Barlow, with possession under its basket, called timeout to set up a play. The Bruins inbounded to the top of the arc to Inglesby, who hit a three-pointer with two seconds left to force overtime at 71-71.
"It was a lob over the top, because we knew they had a shorter guy on me," Inglesby said. "I caught the ball, made a move and rose up and shot. It's a shot I've practiced thousands of times. It feels good to hit in that moment."
The play was designed for White to come off staggered screens by Inglesby and junior Wilson Weber, but Inglesby found himself open enough to shoot.
"I thought he was going to hand it off until I saw him pull it," White said of Inglesby. "I said, 'If he's pulling that, it's in.' I didn't have any hesitation when he shot that."
Barlow senior forward Joey Wolcott opened overtime with a three-pointer and the Bruins led the rest of the way.
Inglesby scored on a drive to put Barlow up 79-76 with 32 seconds left. Gregg missed on a deep three-point attempt with 21 seconds to go, Wolcott scored on a runout layup to make it 81-76 with 14 seconds left, and the Bruins closed it out.
Inglesby said the momentum from the tying three-pointer carried over into overtime.
"That shot is huge," Inglesby said. "Our crowd is fired up, our bench is fired up. So we just had to continue that in the first couple minutes of overtime. We're a senior group, so we just had to stay composed and stick to our gameplan, and we'd get it done."
The Bruins and Cavaliers looked every bit like two of the state's top teams.
"It was one of the more entertaining games I've coached in," said Johnson, who recorded his 601st victory. "It was big shot after big shot by both teams. We got a little lucky down the stretch. You've got to get a little lucky. Obviously, the game could've gone either way. You've got to give yourself a shot, and that's what we did."
The Cavaliers led by as many as 10 points in the second quarter. The 6-3 Erickson was outstanding, connecting on his first six three-point attempts and finishing 6 of 9 from deep. Gregg scored 16 of his points after halftime, including three three-pointers.
It just wasn't enough for the Cavaliers, who will try to bounce back Friday at No. 3 Central Catholic (14-6, 7-3).
"Nothing but good things," Clackamas coach Cameron Mitchell said of the game. "We played really hard, we played really well. They made a couple more shots, so I'm not too worried about it.
"I told my assistant that we didn't give it away. They made shots. We defended them the way we wanted to. You can live with that."
The Bruins beat Clackamas 69-52 at Barlow on Jan. 22, but they expected it would be different facing the Cavaliers on their home floor, where they hadn't lost this season.
"We knew we were going to have to dig for this one," White said. "I mean, this is for league. We've got to win out, but this is a statement game."
Inglesby said the Bruins knew they had the firepower to stay with the Cavaliers. Not only did Inglesby and White have big games, but Barlow got a key contribution from the 6-4 Wolcott, who made four three-pointers and finished with 18 points.
"Our shots were falling, their shots were falling. It was a good, old-fashioned shootout for a little bit," Inglesby said. "We feel like we're a little bit snubbed in the rankings, so we used that as motivation and came out there and played our game, and got it done."