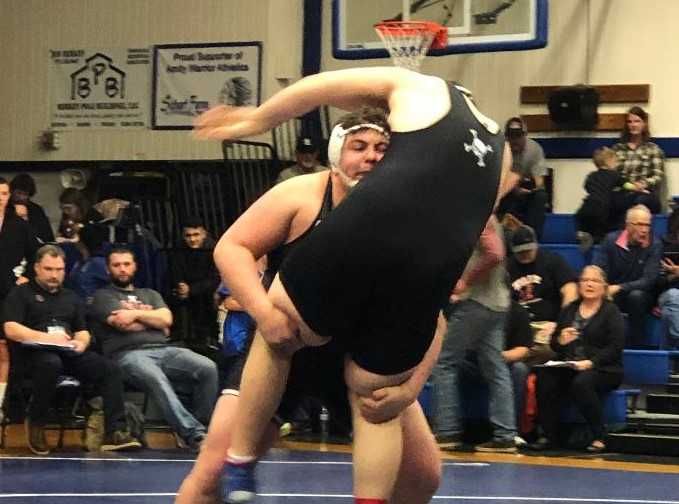 Dayton's wrestling team had high hopes for its current crop of seniors when they were freshman.
Unfortunately, injuries held many of them back in recent seasons, keeping the Pirates from realizing their vast potential.
This year, though, it all seems to be coming together for Dayton. Powered by their seniors, the Pirates won a district title for the first time in four years last weekend, scoring 282.5 points to oust reigning champion Willamina/Falls City (229.5) in the 3A Special District 2 tournament at Amity.
Dayton had five champions and three runners-up and qualified nine wrestlers to the state tournament.
"We got everybody to state that we needed to," Pirates coach Rob Henry said. "We have a pretty competitive district. Those teams have a lot of good athletes, and it was nice to basically lead the tournament from start to finish. At times we've been up and down this year, but everything really came together for us."
The Pirates' headliner once again was senior heavyweight Blake Larsen, a two-time state champion. Larsen rolled through his division, beating junior teammate Ethan Russel by third-round technical fall in the final.
"He's wrestling great," Henry said of Larsen, who won state titles at 195 as a sophomore and 285 as a junior. "The way he moves at heavyweight, it leaves people in awe."
Larsen is 42-1 this season, losing only to an unbeaten Washington wrestler. After being hospitalized with pneumonia, Larsen left the next day for the Sierra Nevada Classic in Reno, where he finished first. He suffered his only loss a week later.
Larsen has evolved into a college prospect.
"He hadn't really thought much about college wrestling until last year, then he started thinking about it," Henry said. "Once the colleges saw how he wrestles at heavyweight, he's in pretty high demand."
Dayton also got district titles from seniors Ryan Penrose (113) and Daniel Garcia (220) and sophomores Tony Cisneros (126) and Jimmy Larsen (132). The Pirates' runners-up were Russel (285), senior Travis Sherman (138) and sophomore David Bowlin (182). Senior Leonel Rosas (195) placed third.
Garcia, Sherman and Rosas are looking to finish their careers strong after being plagued by injuries.
Garcia missed the last half of his freshman season with a concussion and sat out his junior year with a leg injury from football. Sherman was sidelined for his freshman and sophomore years with a knee injury and complications from surgery. And Rosas missed his freshman year with a knee injury and his junior season with a concussion.
Garcia was outstanding at district. The previous week, he was pinned by Amity senior Russel Brown and Yamhill-Carlton senior Dylan McInnis, but defeated them in the semifinals and final, respectively.
Sherman, a state runner-up last year, lost to sophomore Michael Fox of Willamina/Falls City 5-2 in the district final. In the Oregon Wrestling Forum 3A rankings, Sherman is No. 1 and Fox is No. 2.
"I anticipate them meeting in the state finals," Henry said. "It'll be the rubber match."
Rosas suffered a knee injury in a semifinal loss but rebounded to finish third.
"He had dominated everybody in our district, so he should've won," Henry said of Rosas. "Hopefully his injury isn't too bad. We've got two weeks between now and state."
Penrose won 10-6 in the final against Amity junior Blake Runion in a matchup of the top two ranked 113-pound wrestlers in 3A. Penrose, ranked No. 1, has been a force all season.
"There have been people who have left his weight class because they don't feel they can beat him," Henry said of Penrose, whose only two losses came at the Sierra Nevada Classic.
Dayton, which hasn't won a state title since 1997, believes it can make a run this year. The Pirates are ranked second to Burns in the final OSAAtoday 3A coaches poll.
"I think Burns is the favorite, but if we can get four or five guys in the finals, that's going to score a lot of points," Henry said. "I think every single one of our qualifiers can place in the top four. I think we have a chance. We're definitely not the favorite, though."