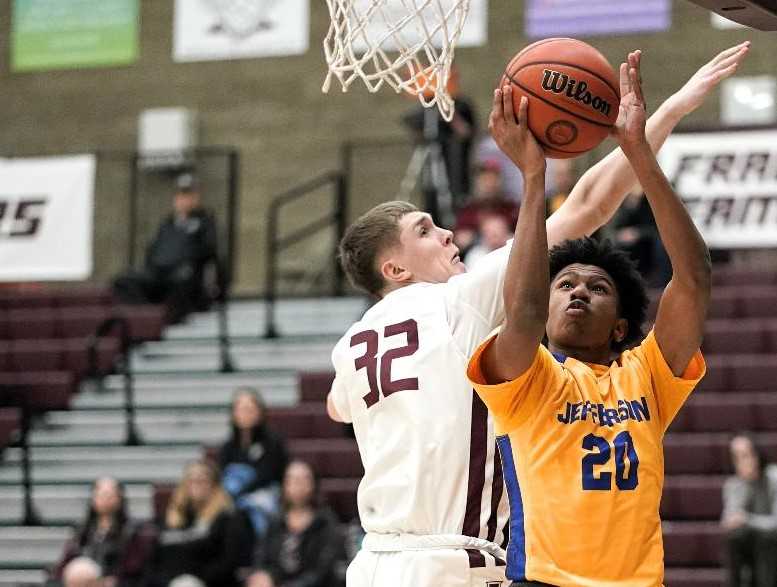 PORTLAND – Sure, Jefferson's boys basketball team takes satisfaction in winning another Portland Interscholastic League title, its eighth in a row.
But the second-ranked Democrats, 6A finalists the last three seasons, are playing the long game. So after winning 76-61 at Franklin on Tuesday night to clinch the league title outright, they measured themselves by a higher standard.
"It's playoff time of year, and we've got to learn how to put people away," Jefferson coach Pat Strickland said. "My guys felt too comfortable. They've got to do a better job of not letting up at all."
Jefferson (19-4, 14-0) had its moments in beating the third-place Lightning (13-9, 9-5), showing off its speed and athleticism to dominate in transition, shooting 56.1 percent and collecting 24 assists on 32 field goals.
Sophomore point guard Lamar Washington poured in 25 points, 6-foot-9 junior forward Kamron Robinson was active inside, racking up 16 points, and junior guard Keshawn Hall had eight points, eight assists and three steals. Junior Jalen Adams and freshman Marquis Cook added 12 points each.
The Democrats had some lulls, though, the kind that can be fatal in the postseason.
"He just told us that, if we want to win state, we've got to come out with energy, no matter what," Washington said of Strickland. "We've got to start playing playoff basketball."
Coming off back-to-back runner-up finishes in the 6A tournament, Jefferson knows that any shortcomings will be exposed in the playoffs.
"We're playing well offensively, but we need to start turning it up on defense," Robinson said. "Defense is our main thing to work on before the playoffs."
Jefferson played without a starter in 6-7 junior forward Nate Rawlins-Kibonge, who missed his second consecutive game after suffering an ankle injury in practice. He is expected back for Friday's game against Benson, according to Strickland.
Without the physical Rawlins-Kibonge, who is being nationally recruited for football as a defensive end, the Democrats had their hands full with Franklin's Tucker Pellicci, a 6-11 senior center. Pellicci scored 16 points in the first half, the final basket drawing the Lightning within 35-30 with 2:50 left in the second quarter.
But Jefferson stretched the lead to 43-32 at half and cranked up its defense to pull away in the third quarter. Hall scored three consecutive baskets during a 12-2 run that made it 60-39.
"When we have games like this – not a lot of people at the game – we've got to create our own energy," Strickland said. "We did say at halftime that we were a step slow with rotations, and to the ball, so we did have a pretty good third quarter with energy."
Franklin coach Scott Aker marveled at the athletic talent of the Democrats.
"They torture you with transition," Aker said. "I thought in the half-court stuff, we were OK, but they got the transition stuff cranked up and going. They've got five guys that can score. They're long, athletic. Somebody's going to have to be really good to beat them."
Pellicci was up for the challenge, finishing with 29 points and 11 rebounds. It was a dramatic improvement from the first game against Jefferson on Jan. 24, when the Hawaii Pacific-bound Pellicci had six points in an 80-58 loss.
"Tucker has come incredibly far in the last year," Aker said of Pellicci, who had a game with 30 pounds and 33 rebounds this season. "A year ago, you wouldn't have even known he was on the court with those guys.
"He worked his tail off, went in the weight room. And he's earned his scholarship. He gets a little fired up playing against other big guys. What we talked about tonight was, 'These are the kind of guys you'll play against every night, not just twice a year.'"
On the other side, the 6-4 Washington had a big night for Jefferson, beating defenders off the dribble and from deep to make 10 of 15 shots, including 5 of 6 from three-point range. He has taken a step from his freshman year, when he had a limited role.
"I feel a lot different," Washington said. "Coming into the season, I felt more confident. I have more freedom with the ball. I'm more of a playmaker this year than a role player.
"I take it to the basket early, so when they think I'm going to the basket, I can just shoot the three. Then when they come up, I can go by them and make plays for other people."
Strickland said that Washington is breaking out a shooting slump.
"He's been getting extra shots up," Strickland said. "Last game and this game, it really showed. He could be the leading guy in the state in steals. He knows how to get his hands into the passing lane, knows how to anticipate. At his size, he doesn't really look like he can do it, but he's really nimble and quick on his feet."
Jefferson has two league games remaining before it can turn its full attention to the playoffs.
"We're not totally where we need to be, but I feel like we're making huge strides to get there," Stickland said. "I would say we need to be at full stride by the last PIL game. I like the things we're doing."
Robinson also likes what he's seeing.
"As a team, we're more gelled," Robinson said. "We have very good chemistry compared to last year."