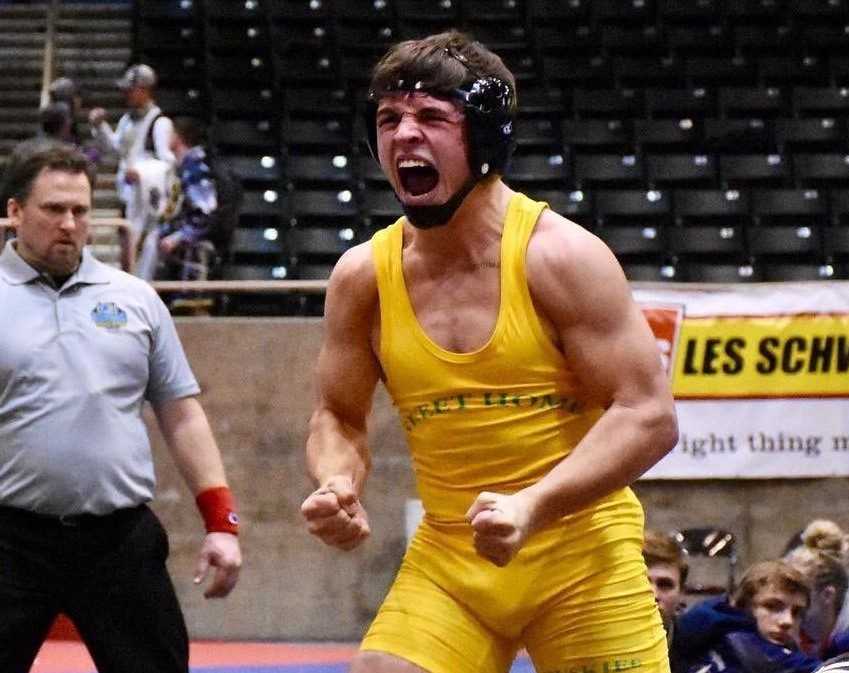 As the coach of five state championship wrestling teams, Sweet Home's Steve Thorpe has been witness to plenty of dominance at the district level.
But in the 4A Special District 2 tournament at Stayton last weekend, the Huskies did something that Thorpe hadn't seen before in his 24 seasons as coach. They qualified 23 wrestlers for state, more than they ever have during his tenure and more than any other team in the state this year, at any level.
"It's nice to get a bunch of kids through like you're supposed to," Thorpe said. "You can qualify 56, and we got 23 of those. I'm very proud of what they accomplished."
Sweet Home got titles from their two reigning state champions – seniors Travis Thorpe (160) and Jackson Royer (138) – as well as senior Nich James (182) and sophomores Christian Gregory (132) and Jesse Jamison (170). They also had seven runners-up and doubled up with qualifiers in nine divisions to score 477.5 points and lap runner-up Cascade (214).
With a horde of wrestlers headed to the 4A tournament Friday and Saturday at Veterans Memorial Coliseum, Sweet Home – ranked second in the OSAAtoday 4A coaches poll – will have lots of bodies to throw at No. 1 La Grande.
The Huskies lost to La Grande 45-19 in the final of the Oregon Classic last month but won't be backing down from the challenge at state. Since winning their eighth state championship in 2017, they finished fourth in 2018 and second last year, behind Tillamook.
"Every year we have the same goal. We want to try to win a state title," Steve Thorpe said. "We're always trying to trophy. I think we have a legitimate chance. I know that La Grande is a very good team, a quality wrestling program. They're the team that's picked to win it. We're not going in as the frontrunner, that's for sure."
Travis Thorpe, the state champion at 152 last year, improved to 49-5 at 160 by cruising to his second district title. He pinned Junction City sophomore Emmett Henderson in the final to remain unbeaten against 4A competition this season.
"He has matured so much in the sport," Steve Thorpe said of his son. "He handles his matches well. He has great mat sense. He's just wrestling free. He's willing to take chances, and he's willing to create opportunities in a match."
Royer ran his record to 39-6 by pinning his way through district, stopping Siuslaw junior Elijah LaCosse in the final to defend his title.
"He's kind of hit his stride at the late part of our season," Steve Thorpe said of Royer, last year's state champ at 132. "Everything he's done has been focused toward the state tournament."
James (37-5) also repeated as district champion by pinning Stayton junior Johnny Silva. A state runner-up last year, James is eager for another shot in his final season.
"That 182 bracket is loaded. It is a tough, tough bracket," Steve Thorpe said. "La Grande and Baker have two young kids that both beat Nich, but they're trying to get to that next part of it now. You never know with Nich. He's a pretty tough kid."
Gregory (30-10) pinned sophomore teammate Kaden Zajic to win at 132. Jamison won by fall over Junction City senior Brandon Andresen to take the 170 title.
The coach praised several under-the-radar performances.
Freshman Elijah Spencer finished as runner-up at 152 after a 6-4 semifinal upset of the No. 2 seed, Junction City senior Tanner Gibson. Junior Gavin Walberg pinned all of his foes at 145, except for a semifinal defeat to the champion, Cascade senior Kane Nixon. Freshman Trenton Smith won a wrestle-back to take fourth at 126.
Freshman Jake Sieminski (45-8) advanced to the 106 final but lost 7-3 to Junction City senior Cameron Truesdell, a state runner-up last year.
Other 4A teams winning titles last weekend were Tillamook (Special District 1), Mazama (Special District 3) and La Grande (Special District 4).
The 5A winners were Hillsboro (Special District 1), Thurston (Special District 2), Crescent Valley (Special District 3) and Crook County (Special District 4).