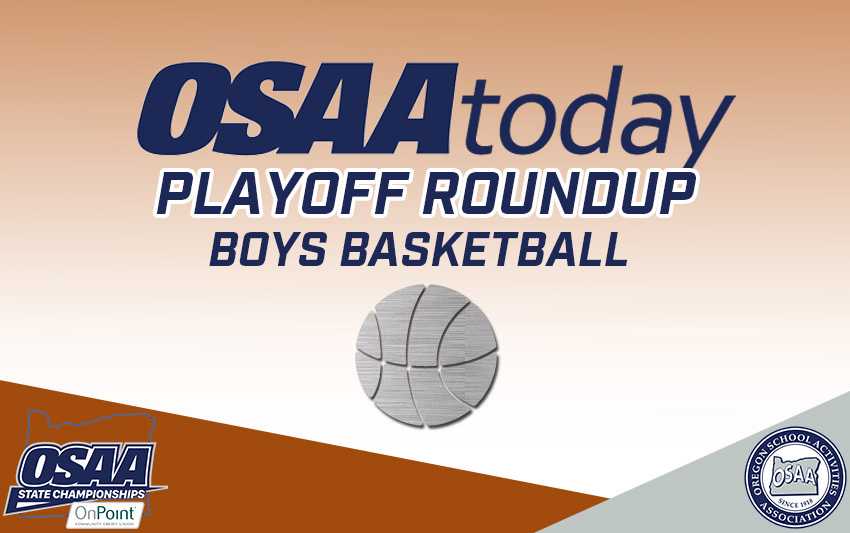 Below please find scores and recaps from Saturday's boys basketball playoff round of 16 games for 3A, 2A and 1A. The winners advance to their respective eight-team state tournaments next week.
We will add details as we receive them. Coaches may email johnt@osaa.org with information.
3A
No. 1 De La Salle North Catholic 55, No. 12 Yamhill-Carlton 39: League Player of the Year George Sadi had 10 points and Mathias Billings came off the bench to score seven more as the defending champion Knights opened up a 35-20 halftime lead. The DLSNC defense forced 19 turnovers for the game, preventing YC from mounting any kind of challenge. Sadi finished with 15 points and 14 rebounds and point guard Sakari Haynes did a great job of controlling the game's pace. The reserves also provided a big boost with 22 points. Freshman Seely Roberts led the young Yamhill-Carlton team with 17.
"I am really proud of my guys defensive intensity," said De La Salle North coach James Broadous. "We had a game plan and we stuck to it. We played a really good basketball team, a well coached team and we knew we would have to execute defensively to go Back to the Bay. Our guys did that today."
No. 6 Oregon Episcopal School 56, No. 16 Rainier 33: OES raced to a 21-8 lead after one quarter and held Rainier, a long-distance shooting team, to just one triple in the convincing road win. Connor Rea led Rainier's effort with 17 points.
No. 5 Creswell 49, No. 8 Sutherlin 42: Creswell overcame a three-point halftime deficit to take the home win. Kai Apo had 21 points and nine rebounds and Tyler Frieze added 15 points and six boards in what Creswell coach Jesse Thomas called a "back and forth, gritty defensive game." Collin Bodine had 19 to pace Sutherlin.
No. 4 Amity 85, No. 10 Nyssa 51: Sensational three-point shooting helped Amity blast to a 27-12 lead after one quarter and the Warriors won the next three quarters as well to take the comfortable home win.
No. 3 Salem Academy 54, No. 15 Pleasant Hill 46: Senior Luke Miller had 21 points, five rebounds and five assists and Benette Bos and Austin Miller teamed for 23 more in the Crusaders' win. Max Smith had 23 points and 12 boards to lead Pleasant Hill.
No. 11 St. Mary's, Medford 62, No. 9 Riverdale 55: St. Mary's broke open a close game with a 19-10 third quarter to lead by 13 with eight minutes to go.Riverdale cut the Crusader lead to just two in the fourth but St. Mary's post Tre Foster scored eight of his game-high 25 points with the game hanging in the balance to help the Crusaders hold on. James Forrester added 15 points off the bench for the home team. Isaac Abrams, Ethan Hill and Jackson Grimes scored 11 points apiece for Riverdale.
No. 7 Cascade Christian 55, No. 14 Umatilla 44: Tied at 15-15 after one quarter, the Challengers outscored Umatilla by 10 to take control at the half and never looked back. Cascade Christian forced 22 turnovers in the game, 17 of which were steals. Cody Reece and Donminic Lewis were the principal thieves, pilfering 10 between the two of them. Lewis had 22 points to top the Challengers in that category. Andrew Earl had 18 to lead Umatilla.
No. 2 Dayton 46, No. 24 Warrenton 35: Dayton fell behind 14-5 in the first half but outscored the Warriors by 20 the rest of the way to claim the hard-fought home win. Dawson Ashley had a dozen points and Payton Garrison added 10 for the victorious Pirates. Austin Little's nine point topped Warrenton.
2A
No. 1 Toledo 72, No. 15 Sheridan 46: The top-seeded Boomers led by only three after one and 12 at halftime, but opened the second half on a 20-1 run to put the game away. Conner Marchant had 22 and Mason McAlpine added 20 in the win.
"Hats off to Sheridan for giving us a great battle early," said Toledo coach Eddie Townsend. "But one thing I can say with certainty: It sure feels good to be going back to Pendleton!"
No. 7 Bandon 58, No. 9 Pilot Rock 48: Braydon Freitag scored 27 points to help Brandon win on the road. Jimmy Jones had six three pointers for Pilot Rock to keep the home team within touch. Taylor Corwin added 14.
"The boys played a good game tonight," said coach Vince Quattrocchi. "The bench was huge offensively and most of all defensively. Braydon played a hell of a game and did a great job of keeping his poise. Actually the team did a great job of keeping their poise. We bent but never broke."
No. 5 Oakland 67, No. 12 Kennedy 45: Colton Brownson had a double-double (23 points and 11 rebounds) in Oakland's big win. The Oakers also got 16 points from Triston Mask and 11 from Zach Cummings. Luke Hall had a game-high 24 points to lead Kennedy.
No. 4 Knappa 76, No. 13 Jefferson 52: A 31-13 third quarter propelled Knappa to the state tournament. Jefferson was down 10 early in the first half but fought back to within four at the break only to be besieged in the third. Eli Takalo had 25 and Devin Hoover 19 to lead Knappa. Senior Diego Rodriguez scored 21 points in his last game for Jefferson.
No. 3 Coquille 68, No. 14 Grant Union 55: Ean Smith scored 20 of his career-high 29 points in the first half and Cort McKinley added 15 points for the Red Devils, who advanced to the state tournament for the first time in 17 years.
No. 6 Columbia Christian 69, No. 11 Butte Falls / Crater Lake Charter Acad. 36 (FRIDAY): Columbia Christian, last year's state runner up, led wire to wire behind a suffocating defense and the hot hand of senior Isiah Mariscal, who scored 28 points and added four assists and four steals. Freddie Jackson chipped in with 20 points and seven assists and Mo Hartwich contributed 12 points, 10 rebounds and five blocks for the Knights, who led by 19 at the half.
"I was really pleased with our execution and effort throughout the game on the defensive end," said coach Bart Valentine. "We pressured a talented team out of their offense and made it difficult for them all night long."
Devin Malcolm paced Butte Falls with 23 points.
No. 10 Santiam 56, No. 8 Lost River 44: Santiam used five first-half three pointers from Chaz Storm to take a commanding lead at the break. The Wolverines increased their lead to 20 points early in the third quarter only to see Lost River rally within nine midway through the fourth. The Raiders would get no closer, however. Aiden McAuliffe and Jimmy Lyman combined for 21 points in the loss for Lost River.
No. 2 Western Christian 79, No. 19 Mannahouse Christian Academy 52:
1A
No. 1 Damascus Christian 58, No. 31 Umpqua Valley Christian 40:
No. 12 Ione/Arlington 42, No. 11 Perrydale 38: In a battle between two evenly matched teams and a packed gym, Ione was able to ride its crowd's intensity to a 22-16 lead at the halftime break. Perrydale came out in the third quarter with great defense and execution on offense to lead 30-28 and pushed its lead to five with less than three minutes to go, but the Cardinals' pressure defense created a few miscues down the stretch. Jace Troutman's short turn around in the lane gave Ione the lead with 1.2 seconds left, leaving the Pirates not enough time to get off a good look. Hunter Padberg topped the victors with 16 points. Senior Josh Crawford had 12 in his final game in a Perrydale uniform.
"It was a great game and unfortunately someone comes up short," said Perrydale coach Brian Domes. "I give Ione a lot of credit for the class they had with my players, shaking hands and hugging our guys in somber defeat."
No. 6 Nixyaawi 85, No. 19 Siletz Valley 41: The defending champion Golden Eagles won the first quarter, 22-0, en route to the easy home win. Mick Schimmel had 25 to lead the way while conference POY Tyasin Burns added 19.
No. 5 Trinity Lutheran 59, No. 20 Mohawk 41: Saints coach Eric Eidler called the game "sloppy," but it was never in doubt for Trinity Lutheran, which bolted to a 10-2 advantage, led by six after one, by 14 at the half and by 18 going into the fourth quarter. Matt Eidler led the way with 23 points, nine rebounds, six assists and eight steals. Scoot Gilbert added 16. Hunter Carter, Colten Ireland and Josh Rowe combined for 31 points in the loss for Mohawk.
No. 4 Crosshill Christian 78, No. 21 Dufur 64: Andrew Stoddard scored 33 points to lead Crosshill Christian in an intense, up and down game. Kruse Witham, Carter Knox and Liam Harris combined for 32 more in the game where Crosshill led by 15 at halftime. Trey Darden and Cooper Bales scored 19 points each for Dufur.
No. 8 Prairie City 54, No. 16 Days Creek 52: Cole Dieter, Lucas McKinley and Marcus Judd combined for 45 points to help Prairie City hold off a determined Day Creek at home.
No. 9 Joseph 43, No. 13 South Wasco County 40: Joseph won a back-and-forth defensive battle that wasn't decided until South Wasco County barely missed a three-point attempt at the final buzzer. Chase Murray had 13 points and Hadley Miller and Grahm Barber scored seven apiece for the victorious Eagles.
No. 2 Triad 71, No. 23 Crane 43: Triad led 35-9 after the first quarter in the workmanlike win. Michael Irvine led the way with 28 points. Micah Young and Ethan Roe teamed to chip in 12 steals and 11 assists. Young also had 11 points. Mitch Clark led Crane with 14 points.