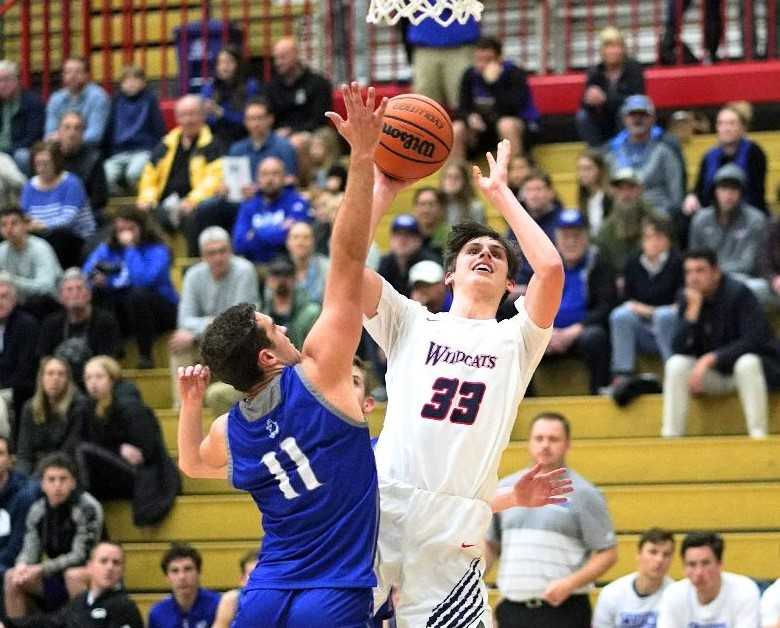 PORTLAND – Anyone trying to identify a darkhorse for the 6A boys basketball playoffs should take a long look at Westview.
With a deep mix of size, athleticism and shot-makers, the Wildcats believe they have been on the brink of something special all season, only to be plagued by inconsistency.
But after the No. 11-seeded Wildcats dispatched of No. 22 Grants Pass 62-39 in the opening round of the 6A playoffs Wednesday, it's clear that their stock is higher than ever. Their five-game winning streak includes a 52-47 victory at reigning state champion Jesuit, ranked No. 2 in the OSAAtoday coaches poll, in the regular-season finale.
"I think we've clicked and figured out what works, and now we're on our way to make a playoff run," Westview senior wing Wayne Jamison said.
Brady Grier, a 6-foot-5 junior wing, and Jamison scored 17 and 15 points, respectively, for the host Wildcats (17-9), who opened a 13-point lead late in the second quarter and gradually pulled away from the Cavemen (12-11) by shooting 59.5 percent from the field (25 of 42).
It was a more convincing win than the first time the teams met, when Westview won at Grants Pass 65-55 on Jan. 3. Grants Pass coach Tyler York said the Wildcats "just wore us out with their athleticism" on Wednesday.
"Their depth is a huge thing for them," York said. "And they had much more of an inside presence this game than when we faced them last time. They're going to be tough to beat. They're going to give whoever they play fits. They're playing great basketball at the right time."
Westview advances to play at No. 6 Barlow on Saturday with a berth in the eight-team state tournament on the line. The Mt. Hood Conference champion Bruins have won 14 in a row.
"That's what they've wanted all year. They've wanted the challenge," Wildcats coach Mike Wolf said of his players. "We scheduled tough. We played teams in California that are still in the state tournament there that have won 25 games.
"We know what it takes to play and compete against the very best teams in the state. And by the time we get to Saturday, that's all that's left."
If the Wildcats didn't already believe they were serious 6A contenders, the win over Jesuit, which snapped the Crusaders' 15-game winning streak, made it crystal clear.
"We needed that to come into the playoffs," Jamison said.
Grier said it was the first time he has ever beaten Jesuit.
"That meant a lot," Grier said. "It just boosted everyone's confidence on the team, mine for sure. I definitely know since beating Jesuit, we can beat anyone else in the state. And we know what Barlow does. We play them in the summer. I think we can hang with anyone."
Grier showed his ability to score inside and outside in the first half, putting up 10 points as Westview led 31-20. Jalen Grable, a 6-4 junior wing, flashed his athleticism in scoring seven of his 10 points before the break.
But the Wildcats knew they had yet to kick into gear.
"I feel like we've set a bar now, where guys come in up 11 at halftime, and they were disappointed that we weren't up 30," Wolf said. "That's not fair because that's a good team. They did a good job of making us take some shots that were probably a little bit out of our rhythm in the first half."
Westview got it going in the third quarter, putting up 20 points by making 8 of 11 shots. Grier, Jamison and senior guard London Smalley hit three-pointers. Smalley and Grable turned steals into baskets. And 6-6 junior Aiden Grady came off the bench to score on a nifty spin move inside.
"The guys trust each other now. They're finding each other and understanding where the opportunities are in the offense," Wolf said.
York was impressed.
"They execute really well," York said. "When you execute things and you put nine, 10 guys that can shoot the ball out there … they're a very good ballclub."
Now Westview has a shot at making the state tournament for the first time in three years. The Wildcats got close last year but fell 56-54 at Lake Oswego in the round of 16.
"We've ramped up the intensity. We've been competing harder than ever," Grier said. "We've had little bumps in the road, but it's starting to come together here. We just want to keep going. I think we're definitely where we want to be, and we've paved the way that we want to go."
Junior guard Morgan Law made four three-pointers and scored 16 points for Grants Pass. Senior forward Cade Ealy and senior guard Justin Farris added eight points each for the Cavemen, who shot 14 of 43 from the field, including 6 of 29 from three-point range.