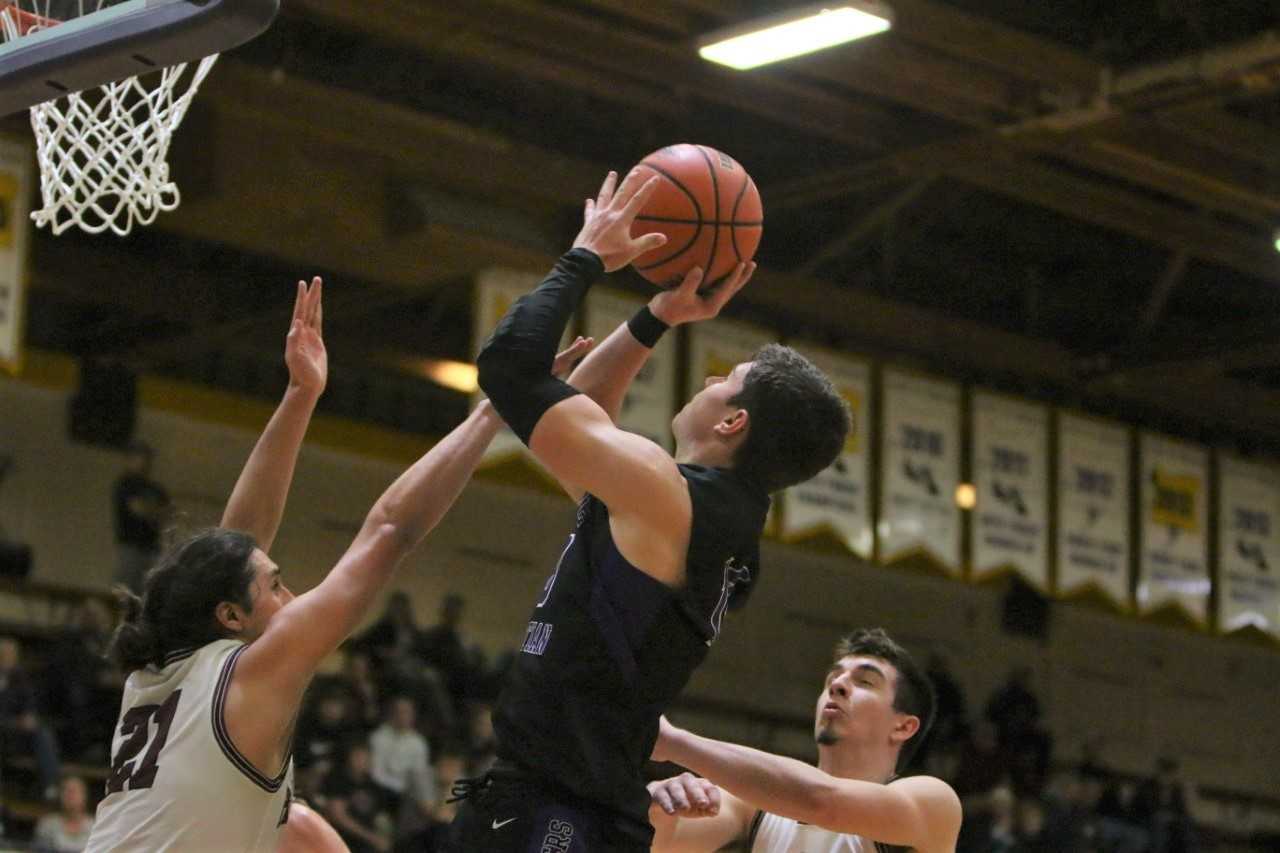 COOS BAY -- No. 10 Cascade Christian defeated No. 2 Dayton 53-45 on Thursday night to become the fourth lower-seeded team to win in the quarterfinal round of the OSAA/OnPoint Community Credit Union 3A boys basketball tournament at Marshfield High School.
After Dayton (22-7) tied the game at 40-40 with 4:40 left in the fourth quarter, Cascade Christian (22-5) got four quick points to push back ahead, then made 6 of 6 foul shots in the final minute to seal the victory.
"We do a thing at the end of practice called 'win the game,' where you got to make your free throws," Cascade Christian coach Brian Morse said. "We've really focused on that the last two weeks and it really made a difference at the end."
Cody Reece, a 5-foot-7 sophomore guard, provided a spark for the Challengers on defense and led a balanced attack with a team-high 13 points. Reece also got two big offensive rebounds late in the game.
"He had a heck of a game," Morse said. "He is a little sparkplug. We call him 'the menace' because he is so incredibly ferocious on defense and on offense, he attacked and made some shots and got us going."
Senior guard Layne Collom added 11 points, four rebounds and three assists for Cascade Christian and junior Donminic Lewis added 10 points and seven rebounds. Senior Kiegan Schaan chipped in nine points and junior Matt McPheeters added eight for the Challengers.
"We are all reliable," Reece said. "We trust each other as a team, we put in the work to get here and it's just nice to see the shots go in when they needed to. We are fighters, we have been the whole season. We are undersized, but we all have grit. We moved as a unit tonight and really executed."
Cascade Christian held a 26-20 rebounding edge and made 17 of 21 foul shots, compared to 5 of 10 for Dayton.
"They played hard tonight and we played hard tonight, we just didn't play smart tonight," Dayton coach Ron Hop said. "We didn't space the floor and we didn't drive the ball, we settled too much."
Hop thought the rebounding difference was key, especially when Reece got two offensive rebounds late in the game.
"We got outrebounded tonight, that's the difference. You can talk about the other stuff, but the rebounding was the difference," Hop said. "The shortest guy on the floor got two big rebounds when we needed one. That tells you the whole story right there. We did not aggressively go get the ball. We should have outrebounded that team and we didn't. That's the difference in the game."
Junior wing Dawson Ashley led the Pirates with a game-high 14 points, with 11 coming in the final quarter. Ashley made 3 of 4 three-pointers but didn't get many looks at the basket through the first three quarters. The Challengers' defensive game plan was on point.
"Our coaching staff did a great job with the game plan and our players executed it perfectly," Morse said. "We knew what we wanted to do and the players went out and did it.
As far as all four of the lower seeds winning today, it was not much of a shock to Morse or Hop.
"I said it last night at the coaches dinner -- any of these teams can beat anybody," Morse said. "We are the lowest seeded team and we beat four of the teams that are here. It is a great thing. It just shows the parity in 3A this year. It's really exciting that any of these teams had a chance to win."
"If you don't play well, this year in particular, all of the teams are really, really close," added Hop. "The teams that got in rhythm today are the teams that won. I'm disappointed that we didn't play a good game for us. Not that we lost, that we didn't play well, that is what is disappointing for me."
Cascade Christian will face St. Mary's in a battle of private schools from Medford in the semifinals at 8:15 p.m. Friday.
Thursday's other quarterfinals:
No. 9 Oregon Episcopal 58, No. 1 De La Salle North Catholic 51: Oregon Episcopal (20-7) never trailed in the game and rode the hot-shooting of 6-foot-1 junior guard Charles Willmott to win convincingly over two-time reigning champion and No. 1-ranked De La Salle Catholic North (19-7). In the teams' three previous meetings in the Lewis & Clark League this season, De La Salle North Catholic won by 16, 20 and 10 points. Willmott led the Aardvarks with a game-high 28 points, making 8 of 12 field goals and 5 of 7 three-pointers. Senior Luca Pejovic-Nezhat added eight points, five rebounds, three assists and three blocks. Senior Ryan Monshi chipped in eight points and five rebounds. Junior guard Ubedei McGautha led the Knights with 18 points, six rebounds and five steals. High-scoring senior guard George Sadi added 15 points, but was held to just 7 of 25 field goals, including 0 for 5 on three-pointers.
No. 5 Creswell 74, No. 4 Amity 59: Creswell (21-5) jumped out to a 38-23 halftime lead and then stretched it out to 62-35 at the end of the third quarter in handling Amity (20-7). Creswell made 25 of 56 field goals and 7 of 18 three-pointers. Senior guard Tyler Frieze led the Bulldogs with a game-high 21 points. Senior Kai Apo was active on both ends, chipping in 19 points, five rebounds and six steals. Senior Dallton Dewey added 17 points and five rebounds. Junior guard Landon Distler led the Warriors with 13 points. Junior Keenan Graham added 12 points, seven rebounds and five assists. Junior post Josh Wart finished with nine points, 12 rebounds and four blocks.
No. 6 St. Mary's 71, No. 3 Salem Academy 55: In a battle of Crusaders, St. Mary's of Medford (16-9) used a big third quarter to turn a five-point halftime deficit into a 13-point lead on their way to the win over Salem Academy (19-6). St. Mary's senior Tre Foster got a steal and breakaway two-handed slam midway through the third quarter to ignite a 16-3 run over three minutes of game time. St. Mary's has now won 11 of 12 games after starting the season 5-8. Foster finished with game-highs of 28 points, 13 rebounds and five blocks. Junior wing Will Kranenburg added 14 points, six rebounds, four assists and four steals. Senior guard Josh Banton added 10 points and junior Luke Bennion chipped in nine. Junior guard Benett Bos led Salem Academy with 20 points and seven rebounds.
Photos of state championship events are available online from Northwest Sports Photography at 4nsp.com