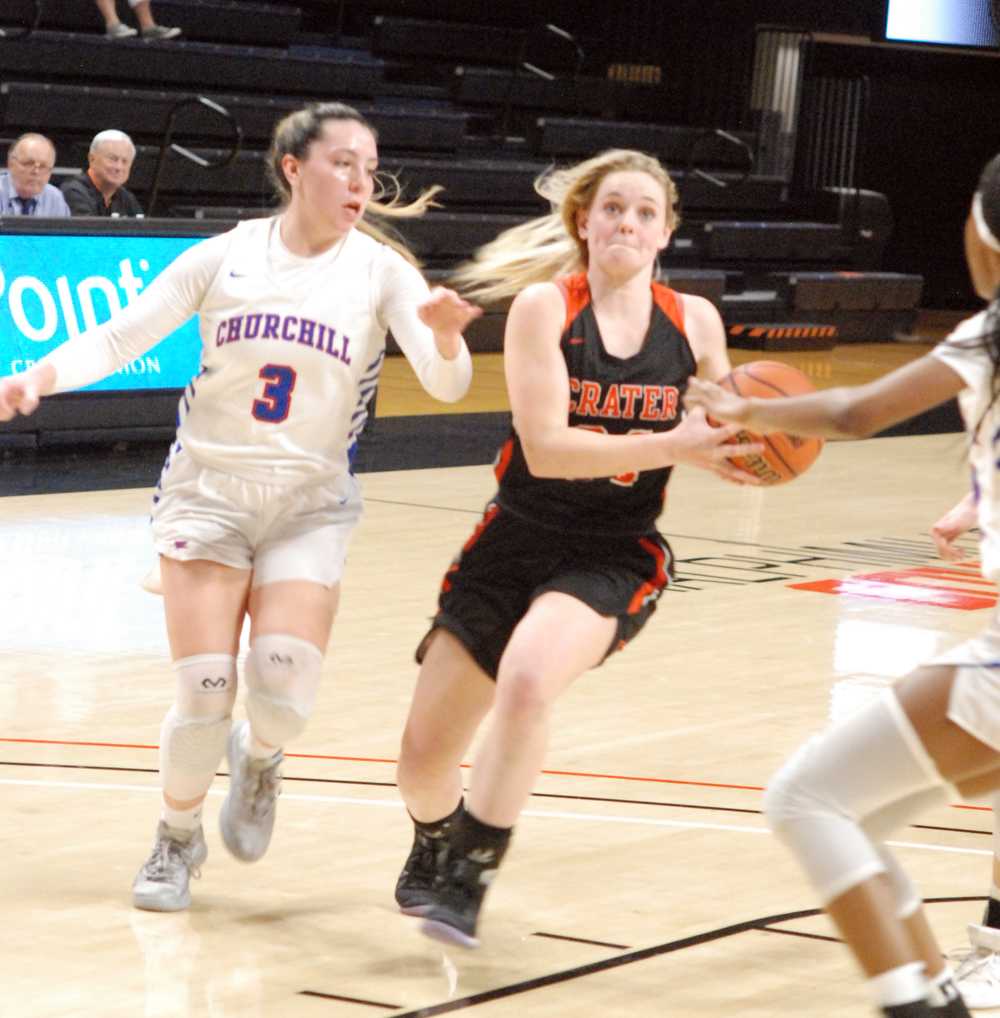 CORVALLIS: Crater rallied from an early hole and answered a second-half Churchill run with one of its own to pull off the 48-46 upset of its Midwestern League rivals in a quarterfinal contest at the OSAA/OnPoint Community Credit Union 5A Girls Basketball Championships on Tuesday afternoon in Corvallis.
Superior depth was the difference in the game. Crater played 11 players in the game and 10 scored. The team's two leading scorers combined for just nine points.
"Depth, that's been our thing all year," Comet coach Scott Dippel said. "It's hard these days in sports to have 13 kids stay happy with their minutes but I think it showed tonight that we were able to diversify what we were doing and it changed the game."
The win avenged two regular-season defeats to the Lancers, both by seven points.
Dippel said that in preparation for this game he told his team that they failed to make 3-4 plays in that second game a couple of weeks ago that was the difference between winning and losing.
"The ultimate test of coming back on that is to win here," he told them.
Early on, it appeared that fourth-seeded Churchill was going to have its way with Crater once again. With Tiara Bolden pouring in eight first-quarter points, including two "nothing but net" three pointers, the Lancers built a 10-4 lead after the first quarter.
Crater countered by putting in its second five and they provided a huge spark.
"We were kind of stagnant defensively," Dippel said. "I thought our second group that came in changed the entire flow and complexion of the second quarter."
Freshman Hope Rousseau scored from up close in the opening seconds of the quarter to extend Churchill's lead to eight but sophomore Kayleigh Gugliotta countered with a triple and Allison Waters added two free throws to start Crater on the comeback trail. Churchill standout Danika Starr, who averages 17.5 points per game, stopped that run with a layup off of a nice Stella Scott pass, but that only slowed Crater's momentum. The Comets, employing pressure defense that clearly bothered Churchill, ran off the next 13 points to go up 22-14. Gugliotta's coast-to-coast drive was a highlight of the run, as was the work of Taryn Dance and Madison Dutkiewicz.
Dippel said he knew that Churchill would make a run in the second half.
"They're a fantastic team," he said.
Sure enough, the Lancers, down 24-16 at the half, rallied behind long distance shooting from Bolden and Sophie Elstone and went ahead, 33-31, on a short jumper in the lane from Starr with 2:13 remaining in the quarter.
Crater's second unit responded to the adversity like champions, as Teya Amidei hit a three from the wing to put the Comets back in front. Sophie Elstone answered with a three-ball from the corner to put Churchill back in front. Crater came right back with a driving layup from Kate Stidham while being fouled to tie in the game's most exciting sequence of plays. Stidham missed the and-1 and Starr hit one from the charity stripe to give Churchill the 37-36 lead going to the fourth.
Crater was first on the board in the final period, when senior Presly Robison dialed long distance for three. Senior Kayana Woodard followed with a three-ball of her own to give the Comets a five-point lead.
"Kayana Woodard hit a huge shot, one she doesn't necessarily take but in the offense it was open and she took it," Dippel said.
The teams traded baskets but not much more happened until Bolden hit a contested three, her fifth triple of the game, to get Churchill within 44-42 with 2:28 to play. The play of the game happened shortly thereafter. Crater post Averi Young missed two free throws but teammate and leading scorer McKenzie Hirsch, who had only four points at that stage, came up with a HUGE rebound to give the Comets another possession. Dance hit Young inside for a layup, which extended Crater's advantage to four with 1:43 remaining.
When Churchill missed a subsequent layup, the Lancers were forced to foul. If Crater made all of its free throws, the end game would have lacked suspense. But the Comets helped Churchill stay alive by making just two of four from the line. And when Starr scored and was fouled, her subsequent free throw brought Churchill within 48-45 with 16 ticks remaining.
Churchill called time out to set up its defense and it worked, because Sophie Elstone's steal of the inbounds pass gave Churchill possession. Natalie Elstone launched a three from long range but it caromed off the front rim to Scott, who was fouled trying to lay the ball in. She made the first, but with only 2.2 seconds remaining, had to miss the second and did so expertly. Starr got her hands on the ball but could not control it sufficiently to get off a shot. The horn sounded, sealing the Crater upset.
"Down the stretch our senior leadership made all the difference," said Dippel. "The players had an incredible amount of energy especially in that second quarter. I knew they were coming back but to be able to sustain that at the end of the third quarter was also key.
Woodard led Crater in scoring with nine points. Robison contributed eight. Four other Comets had five.
Bolden finished with a game-high 17 points to lead Churchill. This, despite playing just 21 minutes after picking up her second foul six minutes into the game and sitting the remainder of the half. Starr added 13, nine after halftime.
In other girls 5A quarterfinal games:
No. 1 Silverton 73, No. 8 Ridgeview 26: Top-seeded Silverton, which lost two straight games at State a year ago, shot 8-of-14 from long distance through three quarters and cruised to the semifinals. Using a balanced scoring attack, the Foxes ran off 13 straight to lead 19-12 after one and extended their lead to 38-16 by halftime. When they hit back-to-back triples, courtesy of Ellie Schmitz and Riley Traeger; to open the third quarter and increase the lead to 28, the game was essentially over. Five players scored in double figures for Silverton, led by sophomore guard Lilly Horner, who scored 15 and was 4-of-5 from beyond the arc. Schmitz and Traeger scored 13 apiece while Truitt Reilly and Chloe O'Connor each chipped in 12. Paige Pentzer and Alaina Clark scored eight apiece for Ridgeview, which was making its initial state tournament appearance.
No. 3 Wilsonville 49, No. 6 Lebanon 29: Wilsonville, seeking to improve on last year's third-place finish, overcame foul trouble and far too many missed layups to win comfortably over Lebanon. The Wildcats outrebounded Lebanon, forced more turnovers and used their athleticism to put pressure on the Warriors in transition.
Wilsonville coach Justin Duke said that nerves probably accounted for his team's uneven performance.
"There are high expectations with this group especially coming off last year and where we've been all year," he said. "The first game is always a little nerve wracking."
Kayla Hieb scored off the opening tip in a game where Wilsonville never trailed. The Wildcats used a Keira McNamee triple as part of a 6-0 run that built an 8-2 first-quarter lead. Lebanon did not get closer than four the rest of the way despite exhibiting deft passing at times and showing off the rugged inside play of senior Ellie Croco.
That four-point margin, which arose late in the first half, was doubled at halftime thanks to two identical baseline jumpers from Wildcat reserve Maura Schramm. Athletic, entertaining point guard Sydney Burns had a strong second half as Wilsonville consistently pulled away from a Lebanon team that simply could not score the basketball and made only 9-of-50 shots for the game. Croco had 13 points and 10 rebounds to lead the Warriors.
Burns had 11 points and seven rebounds to pace Wilsonville, which shot only 31.7 percent for the game.
"Our shot selection was pretty poor at times," said Duke.
And yet, his Wildcats won a state quarterfinal against a good Lebanon team by 20 points.
"They're really tough," he said of his players. "Making mistakes doesn't really bother them. We focus a lot on how we handle mistakes but we have a short memory and the kids are quick to move on to the next play."
No. 1 La Salle Prep 65, No. 7 Corvallis 46: Freshman guard Rhyan Mogel, who averages 6.3 points per game, poured in 23 points, 12 more than her previous career high, as defending state champion La Salle Prep survived a scare from a gritty, well-coached, fearless Corvallis team in the nightcap from Gill Coliseum.
Playing error-free basketball and converting on its open looks, Corvallis took a 17-14 lead after the first quarter, sparked by eight points from Elka Prechel and a late three from Ruby Krebs.
La Salle Prep used an 8-0 run early in the second, which featured two Emily Niebergall three pointers, to build a five-point lead. The Falcon lead grew to as many as eight, thanks to 11 second-quarter points from Mogel.
"Everybody on our team can score," said Mogel. "They wanted to lock down Emily and Addi [Wedin] and that opened it up for me."
Pesky Corvallis, with only one player taller than 5-7 in the regular rotation, did not go away and, when Krebs converted a scramble play into a three-pointer as the half expired, the Spartans were down only two, 35-33.
Late coming out of the locker room for the second half, La Salle Prep's lack of warm up led to early off-target shots. A corner three from Krebs gave the Spartans the 36-35 lead. Mogel got the lead back for LSP not once but twice. The second time, at 39-38 was for good. Fellow freshman Ella Wedin followed with a three pointer and the Falcons never looked back.
"It feels good," said Mogel about contributing so heavily to a win. "Our goal is to take it one game at a time and get to the championship so I'm just glad to help my team out."
Addi Wedin complemented Mogel's 23 with 18 of her own, 12 coming after halftime, as she used her superior physical strength to overpower the Spartans on the interior. Niebergall also finished in double figures with 10 points.
Elka Prechel, she of the rainbow threes, led Corvallis with 13 points. Krebs and Anna Dazey had 12 apiece.
This was a clean game, with the teams combining for just 12 turnovers. It also was highly entertaining, as the underdog Spartans provided a stern test for the heavily favored defending champs before finally succumbing.