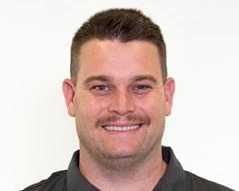 For a California native, James Holan is well-schooled on Oregon high school football.
He first got acquainted with it during his playing days at Linfield College, where he was a starting guard on the 2004 national championship team. And as an assistant at Simon Fraser University in British Columbia the last two seasons, he recruited Oregon players.
"That was my job, to kind of know what was going on," Holan said. "And going to college there for five years, you know about Tigard, Tualatin, Lake Oswego, Clackamas, Jesuit, Central Catholic – all those names ring familiar. And a lot of those same guys are still coaching at those schools."
Holan no longer is just an interested observer, however. He has dived head-first into the Oregon scene as the coach at Clackamas, where he was hired early this month.
"When the Clackamas job opened up, it was a no-brainer for me because they've got such a rich tradition of athletic success, not just with football," Holan said. "And I wanted to compete at the highest level in Oregon. Coming to Clackamas has allowed me to do that."
Holan hopes to bring stability to the Cavaliers. After the 2018 season, Joe Bushman resigned to end a 13-year coaching tenure that included 94 wins and a 6A title in 2017. He was replaced by Terry Drake, who stepped down after Clackamas finished 4-5 last season, losing in the first round of the 6A playoffs.
The record represented the Cavaliers' fewest wins since 2011. From 2013 to 2018, they averaged 10.3 victories.
"I know for them it was a little bit of a down season," Holan said. "When you're as good as they have been, making the playoffs just isn't enough. My biggest thing coming in, I just want to instill an elite culture and make sure these guys are dialed in on the little things. If our guys are doing the right stuff, the wins will take care of itself."
Holan played in a struggling high school program at Tamalpais (Calif.) in the Bay Area before being immersed in Linfield's winning culture, which shaped much of his coaching philosophy.
"Going from a brutal situation in high school to Linfield, it was really eye-opening for me," he said. "My biggest goal has always been to give kids a way better experience than I had in high school. That they would have a coach that was involved, a coach that cared, you know, somebody that was holding them accountable."
After graduating from Linfield, Holan worked as an offensive line coach at College of Marin in the Bay Area for one season, then landed at Mission Hills High School in San Diego County, where he served as offensive line coach and offensive coordinator. In his four seasons at Mission Hills, the team went to two state finals and lost in the semifinals twice.
He returned to the Bay Area to coach at Piedmont High School, serving as defensive coordinator in 2013 and 2014 and head coach from 2015 to 2017.
During his time at Piedmont, the Highlanders reached the state semifinals twice (2014, 2016) and quarterfinals twice (2015, 2017). He compiled a 24-13 record as the coach.
"We had a tremendous run, for that school, especially," Holan said. "They were always kind of a middle-of-the-road team, and we were able to get the culture going in the right direction."
Holan moved to Simon Fraser in 2018 when Thomas Ford, a former Linfield teammate, was hired as the head coach and offered him a spot on the staff. Holan was the offensive coordinator for two seasons.
With Holan and his wife, Ashlee, expecting their first child this month, he sought a return to high school coaching. And with their ties to Oregon – Ashlee is from California but went to University of Oregon and has relatives in the Portland area – he began to pursue job openings in the state.
"The decision to come back down to high school was a lot about family for me," Holan said. "I can't see myself having the newborn and being on the road for eight, nine weeks during the offseason. It was a big family decision."
From Canada, Holan has been working by pbone to fill out his coaching staff. He will be the offensive coordinator and Jesse Brand will stay on as defensive coordinator.
"There are a couple of needs left, but I was able to retain a lot of the quality coaches that were in place," said Holan, who consulted Bushman during the interview process. "I'm not looking to make wholesale changes. There's a lot of quality people there."
Holan is hoping to take Clackamas to Linfield's high school team camp in June.
"I'm going to bring the passing game from Simon Fraser, because we were pretty successful there," Holan said. "What I'm hoping to bring to Clackamas is a multiple-based offense, a balanced offense. We're not going to be reinventing the wheel. We want to keep it simple – simple for us, confusing to them. We want to control the tempo and we want to be the best blocking team."