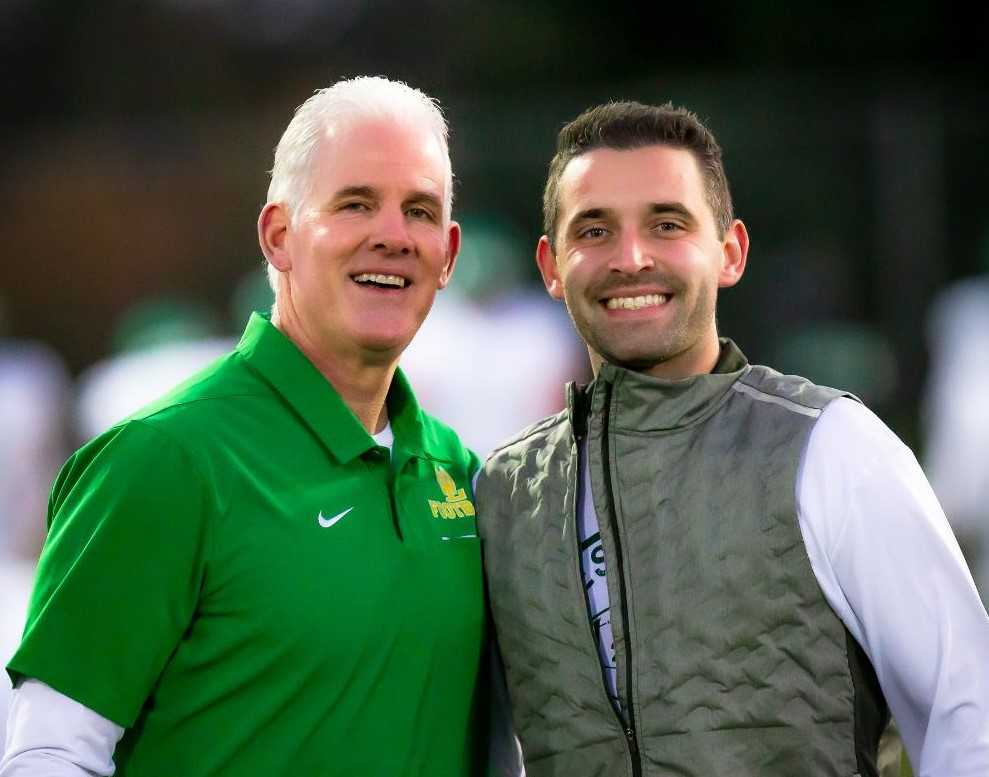 It didn't take long for Chris Miller to return to Oregon high school football.
Miller, who ended a highly successful six-year run as West Linn's coach after last season to coach with Houston in the XFL, has been hired as the coach at Franklin. He will coach the Lightning along with his son, Dillon, who will be the assistant head coach and offensive coordinator.
"When the XFL shut down, I went from a nice $135,000 salary down to zero, and I had to make a midstream adjustment, as we called it in Houston," Miller said. "I had four opportunities, so I kind of weighed the pros and cons, and this one really gave me the opportunity to coach with my son."
Miller went 33-29 in six seasons at South Eugene (2002-06, 2013) and 60-16 in the last six seasons at West Linn, winning the 6A title in 2016. At Franklin, he succeeds Wes Warren, who went 1-8 in each of his two seasons.
"It's a great challenge. I enjoy challenges," Miller said. "It's an opportunity to be a mentor and role model to these kids and impact a different community. We'll see if we can make a little noise in the PIL."
Miller said 4A Sisters reached out to him about its vacant head coaching position. He also had offensive-coordinator opportunities at 5A Churchill and West Valley of Yakima, Wash. He said Churchill coach AJ Robinson had been talking to him about joining the Lancers' staff since December.
"I committed to him at one point before this opportunity popped up," Miller said.
Miller said he is eager to coach with his son. Dillon, the starting quarterback for Sheldon's 6A runner-up team in 2011, assisted his father in the West Linn program for five seasons and was set to be the Lions' freshman coach this year under newly hired Keanon Lowe.
"He's got a great pedigree," Miller said of Dillon, the offensive coordinator and quarterbacks coach at West Linn last season. "He's really good with kids. He's pretty excited about the opportunity, and that got me jacked up and excited about it. I'm going to give him a lot of the reins, and let him kind of run with it, let him spread his wings as a coach."
Chris Miller said he made it clear to Franklin administrators that his goal is to coach in college. He said he plans to evaluate college opportunities after his first season at Franklin, and if he lands a college job, he believes Dillon would be in a good position to apply for the Franklin job.
Miller said the remodeled stadium and facilities at Franklin were "very appealing."
"The school is absolutely beautiful and the facilities are gorgeous, so it's a place I feel comfortable and good about spending time," he said. "The facilities are off the charts. My son said it best in the interview with the PIL folks, he said, 'You guys have such a great facility over there, it deserves a good football program.'"
Franklin hasn't had a winning season since finishing 7-4 in 2013. The Lightning has three playoff wins in school history, the last one coming in 1996.
"One of the main things is getting kids to come back to Franklin that might've left for other schools, Central Catholic or Grant or Jefferson," Miller said. "We want to grow the numbers there."
Miller said that Warren, who went 28-6 in three seasons as the coach at Lincoln before taking over at Franklin, will remain on the staff as the defensive coordinator. He said that since he was announced as Franklin's coach Thursday, he has been inundated by inquiries about openings on the staff.
Miller has scheduled an online meeting with his players for Saturday. The coaching transition is complicated by social distancing guidelines for the coronavirus crisis, but he is hopeful to work with the players in groups of 10 in the next month or so.
"Really, the first goal is to excite the kids," he said. "With such a short window in getting these kids ready, less will be more, so we'll keep it basic and simple -- but yet some new, unique things and schemes I ran in Houston that folks around here haven't seen.
"I'm going to have fun creating and building some new relationships in a new community."